Your dad used to love gardening. He spent hours in the yard, caring for his plants. Now, he shows little interest in going outside, seems irritable and is withdrawn. You may be wondering how to engage him but need help. You're not alone.
Caring for a Loved One With Dementia
Over 50 million people worldwide are living with Alzheimer's or dementia. Caring for a loved one in this condition can be a long and stressful road. You love that person, and it's hard to see them go through something so debilitating. Those experiencing dementia also commonly suffer from symptoms of anxiety and depression. The good news is, there's hope. Being informed about your loved one's condition helps you know how you can help them.
Memory Care Communities provide structured, calming environments and active schedules to help seniors with dementia enjoy life while staying secure.
At Atlas Senior Living, we take a holistic and modern approach to caring for those with cognitive impairments. Every part of the day offers a chance to celebrate small victories and reflect on past accomplishments when possible. From preparing brain-healthy meals for them to encouraging them to pick up a new hobby, bringing purpose and joy to our memory care residents is how we honor them.
Why is it important to calm someone with dementia?
Those with dementia benefit greatly from structure, schedules and activities that engage the mind and soothe the soul. Helpful programs like art activities, games, physical activity and healthy meals at Atlas Memory Care Communities give residents the chance to experience joy again and feel a bit more in control.
Physical and mental activity calms anxiety and improves brain function
Studies indicate that exercise can boost memory and brain activity by improving sleep, enhancing mood and improving stress and anxiety. Problems in these areas frequently cause or contribute to cognitive impairment. The Mayo Clinic also recommends engaging in regular physical activity to help prevent memory loss. Even leisurely activity can benefit older adults; no marathons are necessary.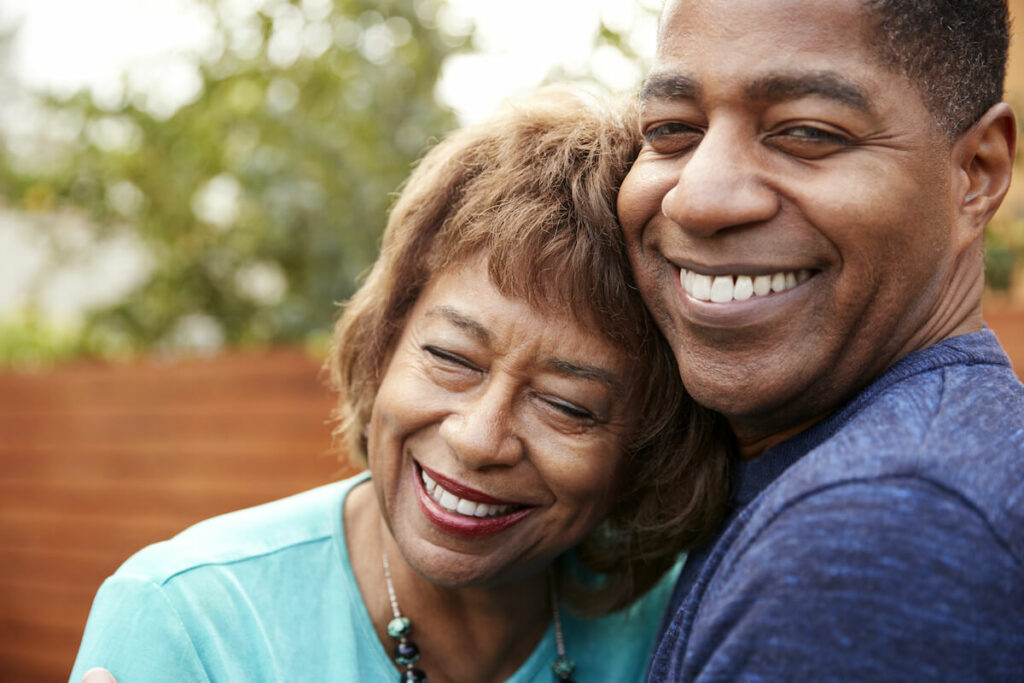 Staying active mentally is also critical to brain health. Studies indicate that regularly participating in socially and mentally stimulating activities like games, computer work, reading and problem solving slows the progression of mild cognitive impairment (MCI). This is great motivation to keep up with that bingo game or weekly crossword puzzle.
What about tailored care for my loved one?
Atlas Senior Living's SPIRIT Memory Care program takes a customized approach to memory care. Residents receive an individualized care plan designed to help them feel safe while adding meaningful experiences every day. The program is effective at finding activities from which each resident can happily benefit. It allows residents and associates to build relationships and get more comfortable with one another while nurturing the individual needs of each resident in our care.
Our small, intimate neighborhoods allow us to put each person's exclusive needs at the center of everything we do. As a result, families have the confidence and reassurance that their loved ones are receiving tailored attention and are encouraged to partner with our communities on activities and programming. An overview of our locations is below.
Community
Description
Madison Heights and Kelley Place, Enterprise, AL

Dedicated entirely to memory care
Higher-than-average staffing ratio
Scenic trips and restaurant outings

Madison at the Range, Madison, AL

A homelike, engaging community
Sensory skill stations for memory care

Madison Heights, Evans, GA

A tailored environment serving only memory-loss or Alzheimer's residents in the Augusta and Evans GA area

Legacy at Savannah Quarters, Pooler, GA

Upscale senior living on 10 acres of land near Savannah, GA
Unique, tailored programs, two courtyards, greenhouses, world-class spa and wellness center

Legacy Reserve at Old Town, Columbus, GA

Upscale community in Columbus, GA
Surrounded by scenic parks, fine arts, state-of-the-art medical care, shopping and entertainment

Legacy Ridge at Alpharetta, GA

Beautiful grounds
Convenient shopping trips to Walmart, Publix, and Kroger
Close access to parks, hospitals, and physicians' offices

Legacy Ridge at Buckhead, Atlanta, GA

Boutique environment
Beautiful outdoor spaces, morning walks, tai chi, painting, card games, Netflix, classic movies, women's and gentleman's groups

Legacy Ridge at Marietta, GA

Beautiful grounds
Scheduled transportation services
Close to shopping malls, grocery stores, doctors' offices and post offices

Legacy Ridge at Neese Rd, Woodstock, GA

Warm, comfortable lifestyle
Located near downtown Woodstock's shops and dining, Dupree Park and Woodstock Baptist Church

Legacy Ridge at Sweetwater Creek, Lithia Springs, GA

Vibrant lifestyle in an upscale setting
Close to restaurants, Sweetwater Creek State Park and within 10 miles of WellStar hospitals

Legacy Ridge at Woodstock, GA

Warm environment with southern charm
Convenient location close to local eateries and shops, 10 minutes from Northside Hospital

Madison Heights at the Prado, Macon, GA

Brain fitness and memory enhancement activities
24/7 specially-trained memory care associates
Director of Dining Services served former presidents Ronald Regan and George H.W. Bush

The Goldton at Southaven, MS

Vibrant, independent community
Regular trips to local casinos, theaters, dining and shopping

Madison at Clermont, FL

Licensed nursing, on-call 24/7
Specially-trained memory care associates
Local outings, tours and activities

Madison at Ocoee, FL

24/7 specially-trained memory care associates
Brain fitness and memory enhancement program

Madison at Oviedo, FL

Leadership team with over 50 years of assisted living and memory care service experience combined
Awarded Best Of 2020 in senior living by SeniorAdvisor

The Atrium at Boca Raton, FL

Specialized care in a modern environment
Memory care residents are given the atmosphere, programs, events, dining options and caring associates necessary to continue living life vibrantly.

The Goldton at St. Petersburg, FL

Active, vibrant community
Located near supermarkets, parks, worship venues, doctors' offices, and local restaurants

Legacy Reserve at Fritz Farm, Lexington, KY

Secure modern design in an inviting and upscale environment
Never more than 15 residents
Intimate neighborhood

Oakview Park, Greenville, SC

Secure memory care neighborhood
Weekly ice cream trips
Trips to local attractions, parks and restaurants

Spring Park, Travelers Rest, SC

Advanced levels of assisted living and memory care services under one roof
Secure memory care neighborhood
Socials and events for family involvement

Fairview Park, Simpsonville, SC

Dedicated memory care environment for seniors in the Greenville County and Simpsonville area
Outings to farmers markets, parks and cultural centers
Finding a robust memory care program that offers social interaction, mental stimulation, a healthy diet and exercise will improve your loved one's well-being. You'll sleep easy knowing that he or she is well cared for.
At Atlas Senior Living, we know how challenging a diagnosis of dementia can be.
If you need help navigating your memory care options, we are here to offer a helping hand. Our compassionate associates can help answer your questions.
Please reach out to us today.