Woodstock and Lithia Springs sit outside of Atlanta and close to Marrieta. Home to three Atlas Senior Living Communities, their innovative approach to personal care, assisted living, and memory care means preparing for the incoming silver tsunami of the baby boomer generation.
Senior living needs to change to keep up with this connected, independent, and quality valuing generation. Legacy Ridge at Woodstock, Legacy Ridge at Neese Road, and Legacy Ridge at Sweetwater Creek are doing just that.
Welcome to Woodstock, GA
As a town initially known for manufacturing rope, it's come a long way in revitalizing the community into a cultural hub for the arts and keeping a connection to nature in the heart of the city.
Legacy Ridge at Woodstock
Legacy Ridge at Woodstock shines as a modern community for seniors and is located just over a mile from downtown Woodstock. Specializing in assisted living, memory care, and respite care when you need it, our community strives to create bonds within the area to keep residents connected to the city we call home.
Friends of Legacy Ridge at Woodstock
Legacy Ridge at Neese Road
Just like New York, so nice they named it twice, Atlas Senior Living set-up shop again in Woodstock a couple of miles to the east at Legacy Ridge at Neese Road. Their personal care and memory care services provide the comforting assistance you seek.
Personal care is a cost-effective option for assisted living in Georgia. While providing many of the same assisted living services, it offers seniors the opportunity to receive assistance with activities of daily living while also enjoying educational and social programs.
Places we love to explore nearby:
What's going on in Lithia Springs, GA?
Northeastern Douglas County was blessed with healing waters that people traveled from miles away to drink and soak up back in the 1800s. Folks around Lithia Springs can now receive their therapeutic treatments at Legacy Ridge at Sweetwater Creek.
These days, you can find fun around Lithia Springs at:
This upscale senior community provides an active lifestyle with the benefit of personal care and memory care. Joining this community is like gaining a new family. There's always something to do and people to meet when your days are filled with happy hours, crafting, and noodling around.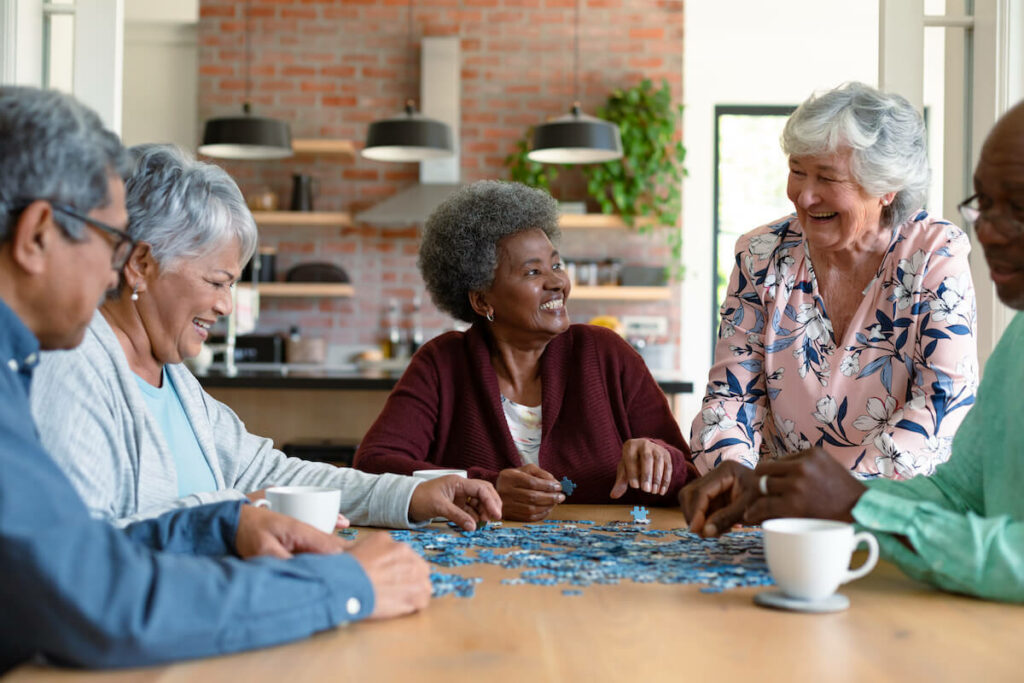 Premier Senior Living in Georgia
Atlas Senior Living understands today's generation of seniors values relationships, healthy choices, and services tailored to their lifestyle. When you join one of our communities, you're entering a world where your needs come first. We offer these signature programs to advance your lifestyle:
SPIRIT Memory Care
For Georgia seniors living with Alzheimer's and other types of dementia, our Spirit memory care residents and their families benefit from thoughtful activities, heaps of socialization, and individualized care.
Strength-focused
Purpose-driven every day
Identity is celebrated
Rediscovering the joy of the small successes
Invigorating each resident every day
Tailoring programming for each resident
Freedom Dining
There's no need to schedule your day around ours—quite the opposite. With freedom dining, you're free to eat chef-prepared meals made with healthy seasonal ingredients whenever you'd like.
The Academy
Learning is for life. Part of our activities schedule includes discussions with educators, artists, chefs, and more. The rest of our calendar encompasses:
Scenic drives and community outings
Trivia, word games, and puzzles
Clubs and social events
Sip and paint
Pet therapy
And much more
Upscale and Modern Senior Living in Georgia
Atlas Senior Living designs our communities to be picturesque environments. We never stop improving and have recently finished upgrading our buildings to include:
Renovations in assisted living at Legacy Ridge at Neese Road
Renovations and new furniture in the memory care neighborhood at Legacy Ridge at Woodstock
In Macon, GA, the memory care community Madison Heights at The Prado looks forward to finishing its community-wide renovations in November 2021.
In addition to looking good, we want our community to feel good. Get rid of the hassles in your life and receive the care you need. Our communities provide the following care and amenities*:
Licensed nurses
Round the clock associates
Regular health and wellness assessments
Assistance with daily living activities
Medication management
Emergency response system
Weekly housekeeping
Transportation service to appointments, shopping, and fun
Three chef-prepared meals per day with flexible options
*Features vary by location
Experience Exquisite Senior Living
Use the contact button on any of our communities' websites to arrange a tour. We're happy to answer questions and discuss senior living pricing in the Atlanta area with you. If you're looking for a sense of certainty, purpose, and community, experience what you want at Atlas Senior Living.
Atlas Senior Living operates communities all across the southeast region of the United States. Find a location near you.