In Georgia, the need for memory care due to dementia in adults over the age of 65 will rise 26.7 percent by 2025. A 2016 study found that the southeast region of our state, which includes Evans, has one of the highest percentages of dementia diagnosis. However, 80 percent of people who perceived they might have symptoms of dementia have never discussed it with their doctor.
Understanding the warning signs of dementia and its various stages can be crucial to your loved one living a comfortable and fulfilling life.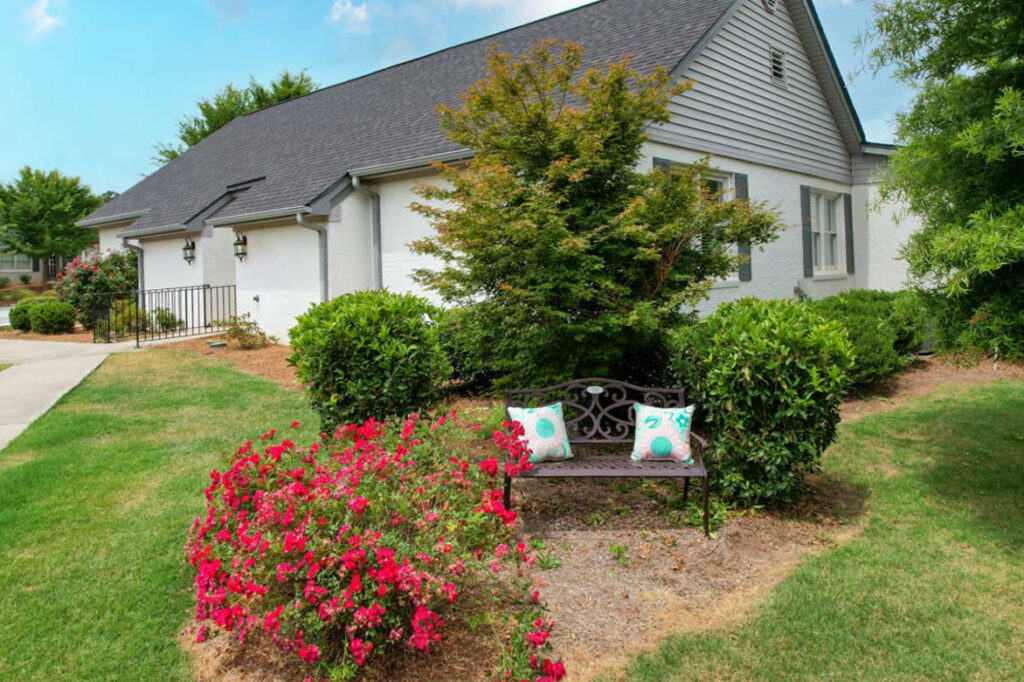 What is dementia?
Dementia is a generic term to describe memory loss and declining critical thinking and motor skills that prevent someone from living an independent lifestyle.
* This guide is for general information and should not replace personalized medical advice. If you or someone you know is experiencing cognitive impairment, please consult your doctor.
What are the types of dementia?
| | |
| --- | --- |
| Alzheimer's | The most prominent form of dementia that affects 60-80 percent of cognitive impairment patients |
| Lewy-Body Dementia | Lewy bodies are a form of protein that disrupts nerve cells in the brain, causing hallucinations, declining alertness, and loss of fine motor skills |
| Vascular Dementia | A condition following a stroke or complications due to high blood pressure and diabetes that creates a buildup of plaque, reducing blood flow and nutrients needed for brain function |
| Frontotemporal Dementia | More uncommon and affecting people as young as 45, portions of the brain begin to shrink, leading to behavior, speech, and mobility changes |
| Parkinson's | Known mainly for causing tremors, the decreasing dopamine levels in the brain lead to memory loss and mood changes |
| Mixed Dementia | Mainly seen in people over the age of 80, a person diagnosed with Alzheimer's can later contract Lewy-Body or vascular dementia |
What are the signs and stages of dementia?
Generally speaking, there are seven stages of dementia. The first three are very mild and may not show changes. They might go unnoticed, but towards the end of stage three, subtle effects to short-term memory may occur, i.e., forgetting names or a story you just read.
Stage four and five are when serious problems become noticeable to friends and family and when the clinical diagnosis is common:
Avoiding social situations or losing interest in hobbies
Forgetting simple math or confusing dates
Forgetting their phone number or address
Losing the ability to bathe or dress themselves
Stage six is when friends and family become unrecognizable to the person living with dementia. Confusion and anxiety are commonplace, and using the bathroom alone becomes burdensome.
In stage seven, the ability to eat or drink and travel in the home independently is nearly impossible. The ability to communicate is arduous, and the person will require 24/7 care services.
Is there a cure for dementia?
While there is currently no cure or way of reversing the diagnosis, medical research advancements are finding ways to slow down symptom progression and make life comfortable for those living with dementia. Eating right and continued activity can provide relief.
Our memory care community, Madison Heights Evans, provides compassionate care for seniors in the Augusta area in a way that honors each of their lifestyles. With 24-hour care available, we offer activities promoting healthy brain function and a menu of brain-healthy ingredients.
How can memory care at Madison Heights Evans help someone with dementia?
Our community provides a small home-like environment designed to reduce stress and anxiety. With a higher caretaker to resident ratio, individual care plans are developed between nurses and residents' families to ensure the best possible care. We provide relief from dementia by focusing on each person, not his or her diagnosis.
Care services

Management team made up of RN's and LPN's
24-hour associates
Regular health and wellness assessments
Trained memory care associates
Medication management
Daily living assistance

SPIRIT Memory Care

Strength focuses
Purpose-driven
Identity is celebrated
Rediscover the joy of small victories
Invigorates each resident every day
Tailors programming for each resident

The Academy

Chair Zumba, chair yoga, and walking club
Food tastings, happy hours, and cooking demonstrations
Trivia and brain games
Live entertainment with local artists
Arts and crafts
Outings to local restaurants and entertainment

Community Features

24/7 security in our houses and courtyards
Private and semi-private apartments
Beautifully landscaped courtyards
Seasonal, fresh ingredients for healthy, delicious, and fulfilling meals
Madison Heights Evans is happy to offer tours of our community. Contact us with any questions you may have about how our services can honor the life of your loved one with dementia. Follow us on Facebook to see how seniors in southeast Georgia are living their best lives.