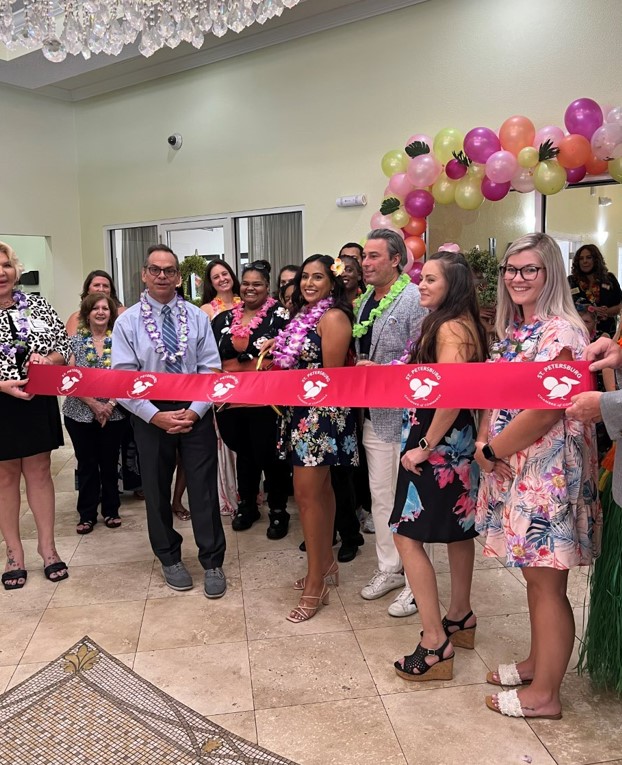 On July 27, 2022, The Goldton at St. Petersburg Assisted Living & Memory Care community hosted their Grand Re-Opening Luau event. This event highlighted the first anniversary of Atlas Senior Living's ownership of The Goldton at St. Petersburg's community. This allowed Atlas Senior Living employees, outside supports, families, and residents to see just how unique the community truly is and the 360° evolution it has achieved through its rapid growth.
The celebration was attended by the CEO and Co-President of Atlas Senior Living, Scott Goldberg, who cut the opening ribbon with the St. Petersburg Area Chamber of Commerce.
"You're doing a great job, and you have a great team!"

–         Scott Goldberg
During the celebration, attendees enjoyed the Tiki Bar, Luau-themed Photobooth by VPN Studios, a steal drummer (Jack McGivern), Luau dance entertainer (Julie Marie), food, drinks, music, and prizes. The sponsors that made this event possible were Mederi Home Health, Keystone Home Health, and Mortellaro Law.
"Thank you, ladies, for inviting me to share my ALOHA with all of you yesterday! It was such a great event! I hope to see you all again sometime. Many thanks."

–         Julie Marie
The Goldton at St. Petersburg is in the Tampa Bay area and has the Premier Assisted living service, ideal for living each day without worrying about managing your health or keeping up with a house. In addition to assisting you in your care, they can also ensure your room is clean, your meals are served to you, and your laundry is done.
They also have comprehensive memory care services that guarantee relief and comfort to family members and their loved ones battling dementia. Their specialized associates in dementia and Alzheimer's care are available 24/7 to supervise and engage while encouraging residents to live life to the fullest with companionship and fulfilling activities.
 It is a 91-bed community – 69 Assisted Living & 22 Memory Care, conveniently located near shopping malls, doctor's offices, grocery stores, and postal offices. It offers a variety of amenities, dining options, floor plans, and scheduled transportation services.