This summer the celebrations have not stopped in Legacy Ridge at Trussville, in June we celebrated Ms. Edgar's birthday, and this August, Ms. Keeton's birthday, the most beautiful thing is that they reached 104 years old this year! A source of great pride and happiness for the entire community, where residents and staff wholeheartedly wish to celebrate many more happy birthdays by their side.
Meet Mildred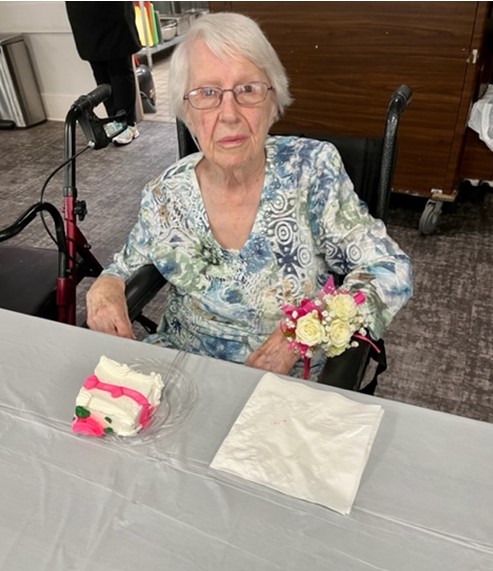 Mildred Keeton was born in Mobile, AL, on August 14, 1918. Her parents were Guy and Jettie Nabors. After Mrs. Keeton was born, they moved to Amory, MS. Mrs. Keeton grew up there. After high school, Mrs. Keeton attended beauty school. She moved to Red Bay, AL, to further her beauty career and met her husband, Mr. Herby Keeton. They married on December 24, 1937, in Tupelo, MS, and they were married over 57 years. Mr. Keeton worked for the railroad, and they moved around a lot. Mrs. Keeton had four children, Guy, Eddie, Kay, and Brenda.
Mr. Keeton got stationed with the railroad in Birmingham, AL, in the 1940s. In the 1960s, Mrs. Keeton began sewing for the public and was known as a master seamstress. She began working for the Montclair Baptist Nursing Dorm when she retired from sewing. She was a housemother. Mrs. Keeton attended Ruhamah Baptist Church in East Lake for 50 years. She taught 4th grade Sunday School and was involved in the Women's Ministry Union. When Mr. Keeton passed, Mrs. Keeton moved to Atlanta, GA, when she was 80 years old to live with her son Guy. When Guy retired, they moved to Trussville, AL, in 2005. Mrs. Keeton is a fantastic lady. We were excited to celebrate her special day. 
Party On!
Mildred enjoyed the presence of her relatives during the celebration, as well as her second family, made up of the residents and staff of Legacy Ridge at Trussville, who filled the place with enthusiasm, affection and joy, enjoying with the birthday girl the different activities that so much Mildred's daughters and the community staff coordinated perfectly to make everything a complete success,  and boy did they succeed! Also, the cake was delicious. We all loved it!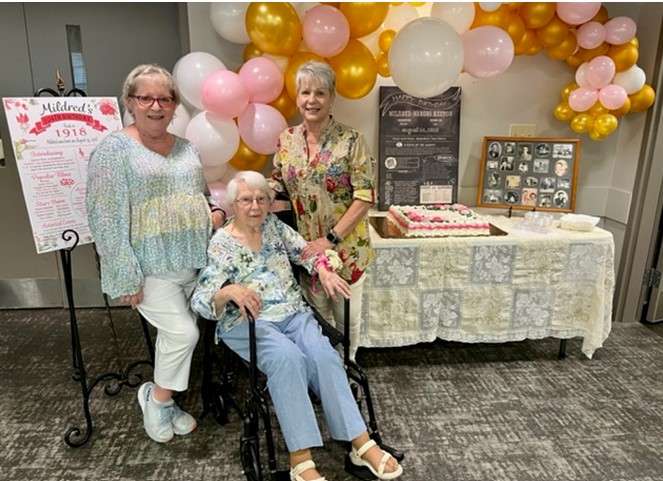 Thank you, Mildred for letting us be part of your life. We are proud to be part of your family; the community highly appreciates you. Your charming character and personality always brighten the day for each of us.
Join us in congratulating Mildred and meet all the lovely people who make up Legacy Ridge at Trussville.