As Thanksgiving approaches, I realize there is so much to be thankful for this year, and the gratitude starts right in our Atlas Senior Living communities. Let me tell you why.
I had a career in my early 20's where I quickly understood that it wasn't going to provide me with a sense of appreciation and fulfillment. Why? I knew that I couldn't help others on a daily basis, and my job satisfaction was very low.
But now, it is an entirely different case.
Seeking Fulfillment Through Helping Others in the Senior Living Industry
Science proves that humans are innately born with a continual desire of seeking fulfillment through helping others. Eleven years into senior living, which include independent living, assisted living and memory care services, and I feel fortunate enough to have the ability to help our residents live more enriched lives in our communities.
In addition, as I travel to other Atlas Senior Living communities, I have the pleasure of speaking with many of our associates and hearing the joy they have in doing what they enjoy. They say 'home is where the heart is', and for us in senior living, this saying provides even more verification that our working conditions are some of the best because of the ability to work in the homes of our "customers," or as we like to say, our residents.
Volunteering in Senior Living Communities
Those that choose to volunteer have many options to choose from, and Atlas is very thankful that we have such caring and dedicated individuals who choose to spend their time with our residents. Behind every successful and lively life enrichment program is a valuable pool of volunteers willing and able to commit to our mission in providing an environment tailored to the needs of our residents.
From the events in the community to the outings taken in our community buses, our communities could not be as vibrant as they are without the help of our volunteers.  Debbie Smith, Atlas Senior Living's very first volunteer, said, "I look forward to being with the residents as we are like family now. I enjoy giving back to others who have given so much of themselves. It makes me happy to see their smiles each week as they do activities. Madison Heights does a great job with enriching the residents' lives and I love being a part of it."
"Thanksgiving is one of my favorite days of the year because it reminds us to give thanks and to count our blessings. Suddenly, so many things become so little when we realize how blessed and lucky we are."
– Joyce Giraud
As we enter the season of Thanksgiving, it's important to slow down and reflect on the hard work, fantastic dedication and great effort our associates put in every day, even when so much is demanded of them. I am thankful they chose Atlas Senior Living and we hope our relationship with them continues to grow and get stronger each year.
Happy Thanksgiving to you and yours, from Atlas Senior Living.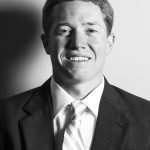 Marcus Covar, VP of Operations, Atlas Senior Living
Would you like more information about Atlas? Schedule a tour or speak with an Atlas associate today.