If you're a senior in the Atlanta metro area, you may be looking into options for senior care or consulting senior centers in Georgia for resources. It's smart to do your research and think about what's most important in terms of lifestyle, amenities, care options, and location.
We all need more assistance as we age and finding care that's appropriate for your or your loved one's specific needs is an important part of the equation. A more independent lifestyle may make sense now, but planning ahead for the future means finding your next home where you can age in place.
The good news is that there are excellent choices that offer upscale senior care. Atlanta and the surrounding metro area are home to Legacy Ridge communities. It's upscale senior living with the care services you or a loved one can benefit from now or in the future.
Our programs offer more
Legacy Ridge communities offer nutritious and delicious dining options with flexible menu choices that cater to your preferences. Seniors also benefit from an active, fun, and engaging lifestyle with our activities program, The Academy. Imagine choosing from countless ways to keep your mind and body active, all without having to leave home. Of course, we also enjoy plenty of planned outings and day trips when you do want to venture out.
Seniors can expect comfortable, inviting apartments in a community full of amenities like:
Restaurant-style dining
Spacious living and multi-purpose rooms
Fitness and wellness center for exercise classes
Professionally landscaped and manicured grounds
Gardening areas, relaxing porches, and paved walking paths
Beauty/barbershop, library, theater, and worship services
Legacy Ridge at Brookstone
Seniors and their families in the Kennesaw area can find expert assisted living and memory care services at Legacy Ridge at Brookstone. Not all senior communities offer both assisted living and specialized care for seniors living with Alzheimer's or dementia. At Legacy Ridge, our specialized SPIRIT program offers enhanced care that's specifically designed to help those navigating memory loss live well.
Assisted living provides that extra level of support one needs to remain as independent as possible. Help with daily activities means more time to explore the area. We're close to enjoyable things to do like visiting the West Cobb Regional Library or going for a walk or a swim at the Brookstone Neighborhood Center.
Dining out at local restaurants or running errands is easy with grocery stores, shopping, and banks nearby.
Legacy Ridge at Sandy Plains
If you're in the Marietta area, Legacy Ridge at Sandy Plains offers Southern hospitality along with assisted living and memory care services. Cobb County offers the perfect backdrop for active senior living. With so many options of things for seniors to do, from daily exercise to outings and restaurants, it's easy to see why seniors love the area.
Locals and visitors alike enjoy time exploring Marietta Square. Here, you can plan a picnic, attend a concert or shop and dine at the many local businesses.
You'll find a variety of unique shops from boutiques to antiques. Foodies also love the variety of flavors to savor from traditional American to BBQ, Australian, Thai, Vietnamese, Colombian, Greek, French, Italian, and Mediterranean. It's also a historic spot full of Civil War history.
Seniors at Legacy Ridge at Sandy Plains also benefit from Publix, Target, and Walgreens just short trips away. Whether you're shopping for essentials or entertainment scheduled transportation is here to complete your errands.
Legacy Ridge at Peachtree
Seniors in Peachtree City can live in comfort and style at Legacy Ridge at Peachtree. Also serving seniors in Fayetteville, Senoia, Tyrone, and Sharpsburg, it's a community that offers leisurely amenities, fulfilling dining options, assisted living apartments, and comforting care services.
If golf-cart traffic sounds more appealing than Atlanta traffic jams, then Peachtree City is perfect for you! Our active assisted living community is conveniently located off of Highway 54 and close to shopping, entertainment, and dining venues.
You can easily meet friends for dinner at places like The Italian Oven or Peachtree City Yacht Club. Nature and gold lovers alike also have plenty of options for outdoor fun in the area.
With housekeeping, attentive care from associates who are on-site 24/7, dining, and activities, seniors benefit from an effortless lifestyle, new friends, and fun.
Legacy Ridge communities offer excellent senior care
Atlanta, Marietta, Kennesaw, and Peachtree city seniors and their families now have a better choice for senior living. If you've been searching for an option that allows you or a loved one to remain independent, get the caring assistance they deserve, and have plenty of ways to stay social, consider a Legacy Ridge community.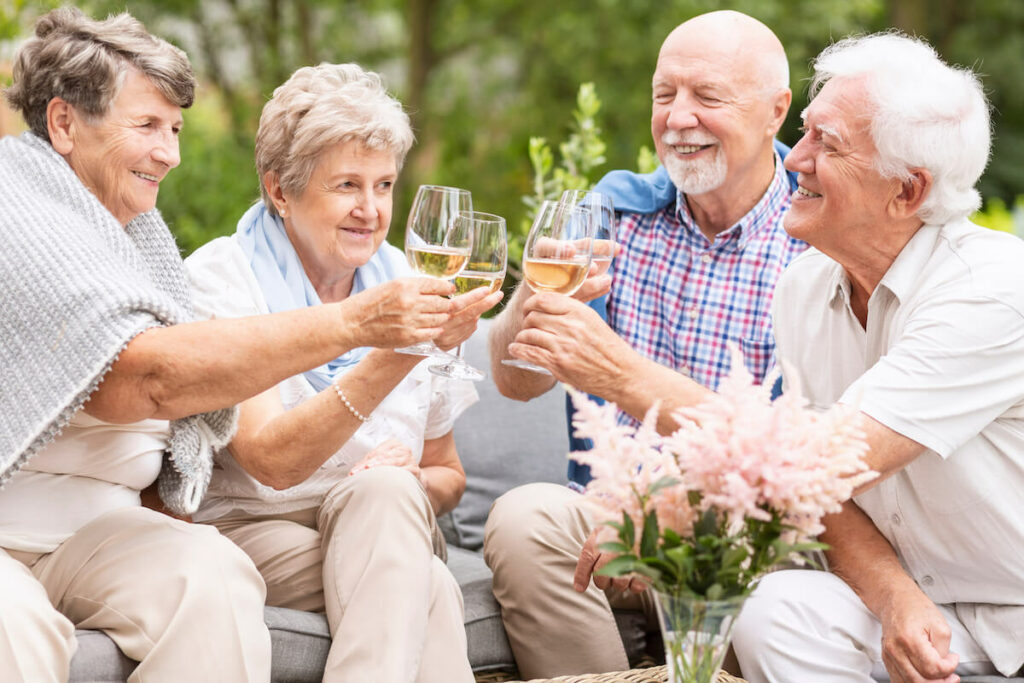 With locations that are conveniently located close to dining, shopping, doctors' offices, parks, and entertainment, Legacy Ridge has it all. They say in real estate that location is the one thing you can't change. So, make sure your new home is in an area you really enjoy. Luckily, you can't go wrong with any Legacy Ridge community.
Find comfort, care, friends, and fun.
Are you ready to finally find that senior care? Atlanta area residents have great options at Legacy Ridge communities. Contact an Atlas Senior Living community in your area today and we'll help answer any questions you may have about care and services.