Atlas' Madison Heights Evans memory care community partners with a local community for fun events and community support.
Madison Heights Evans is a memory care community in Evans, GA and is also part of the Atlas Senior Living family. We like to 'kid' around and give back in our neighborhood, including bottle-feeding baby goats and giving back to the local Alzheimer's Association!
How does Madison Heights Evans partner with the local community to support memory care residents?
Kelly Adriano is the Senior Lifestyles Director at Madison Heights Evans memory care community. She has a knack for bridging the gap between the memory care community and the local community in Evans.
When Mandi, a caregiver for the community, mentioned she knew someone who owned baby goats on their farm nearby, Kelly knew that it would be a great experience for the residents.
After some coordination between Madison Heights Evans and the farm, the idea came to fruition. On Thursday, March 25, 2021, Mandi brought two adorable, floppy-eared baby goats to the community.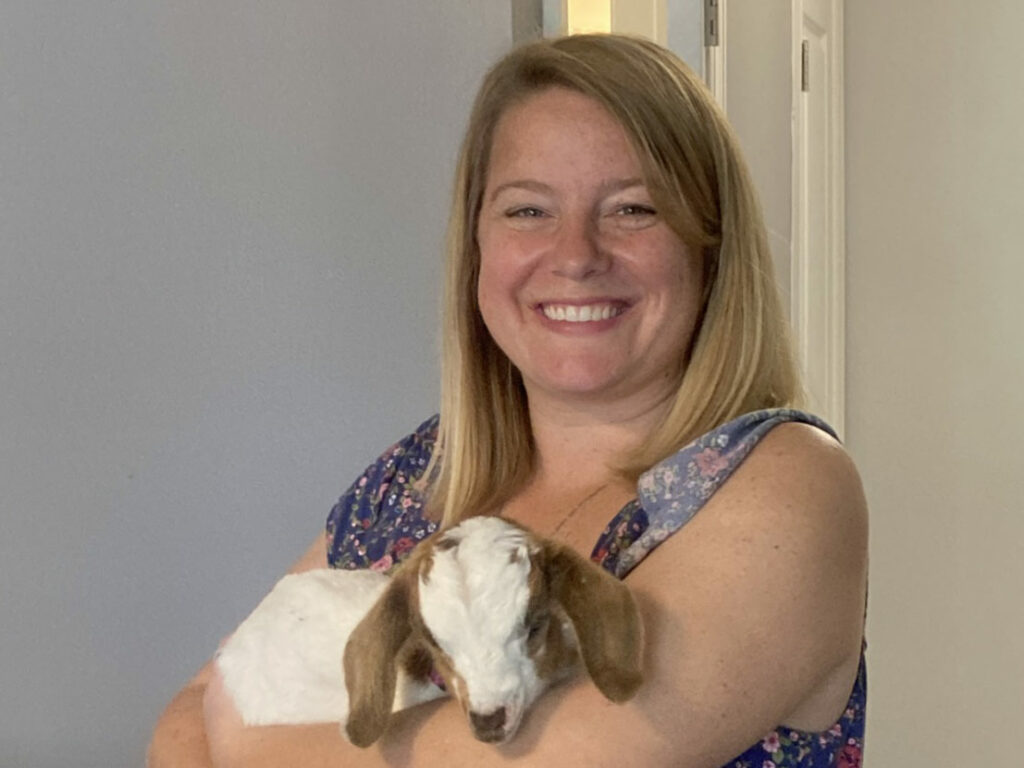 Residents were given the opportunity to pet them and hold them. They even got to bottle-feed them.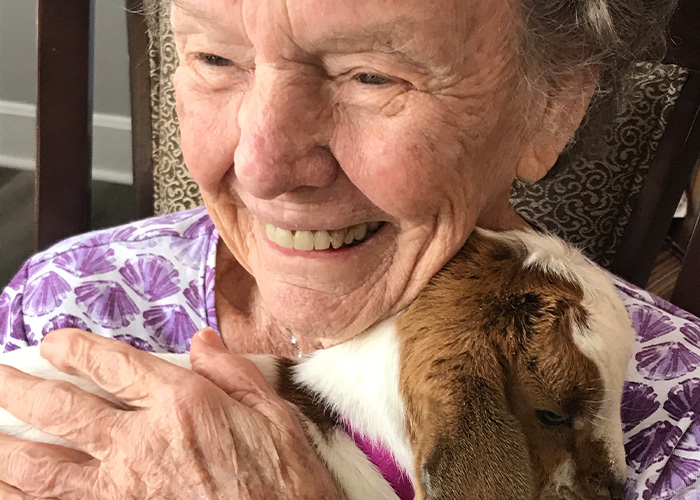 We also like to give back to benefit our area, our families, and our residents.
How do we work with local businesses?
Laura Brown is the Sales and Marketing Director for Madison Heights Evans. She orchestrated a partnership with Nothing Bundt Cakes to raise money for the Madison Heights Evans' Walk to End Alzheimer's team. The local cake shop designated a day where they donated 20% of the day's revenue to the team.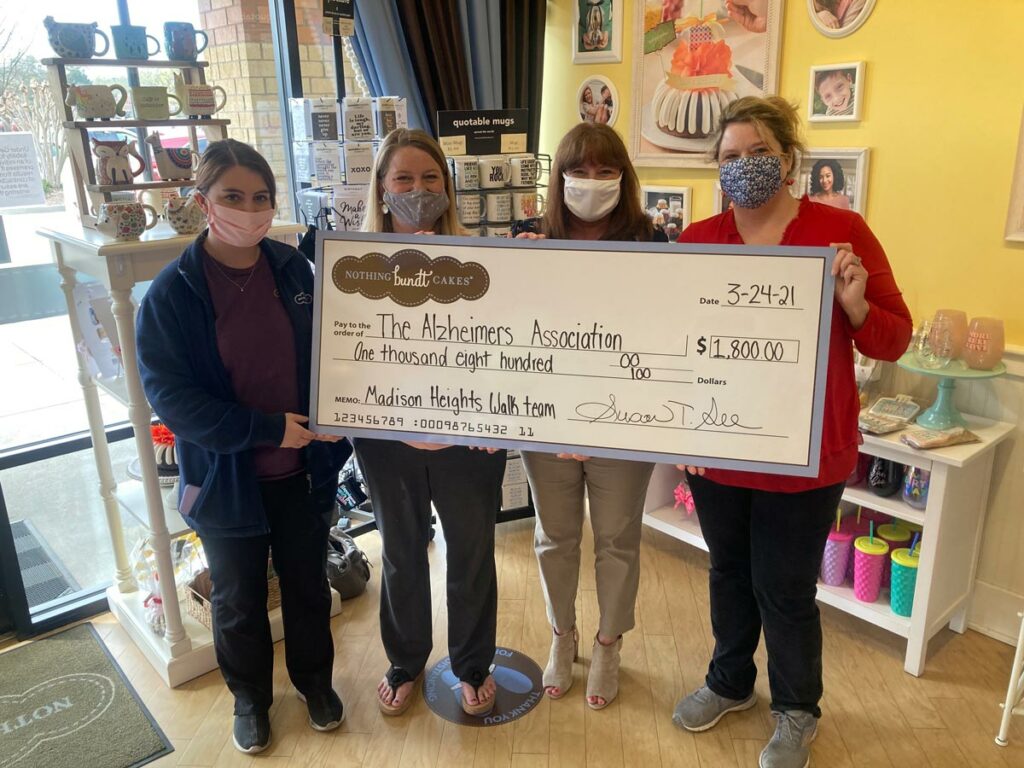 How does Madison Heights Evans provide Alzheimer's support for their town?
Madison Heights Evans also works in tandem with the Alzheimer's Association to provide the local community with monthly support groups for those coping with a loved one's diagnosis.
Why does connecting with the community benefit seniors with Alzheimer's and dementia?
At Atlas, we work diligently to make sure that our memory care communities aren't isolated from the larger local community. It benefits our residents as well as the community.
To engage our residents, we pull from the local community to provide stimulating experiences for our residents. When seniors remain engaged, they are being mentally stimulated which helps slow the effects of Alzheimer's and dementia.
To benefit the community, we foster a positive working relationship with area businesses and organizations.It gives us a chance to raise awareness for Alzheimer's and dementia and help raise funds for the organizations that fund research and provide resources to our residents and their families.
Finally, it provides a chance for us to give back to the communities that support us.
Memory care community Madison Heights Evans understands the value of being a part of the local neighborhood and being connected to Evans, GA.
What is Alzheimer's?
According to the Alzheimer's Association, Alzheimer's is a type of dementia that affects memory, thinking, and behavior. It accounts for 60% – 80% of all dementia cases.
Alzheimer's typically affects the part of the brain that controls learning, and it is initially recognizable by the inability to recall newly learned information. As it progresses, patients become increasingly confused and disoriented and eventually unable to converse or respond to their environment. Friends and family may notice changes in behavior and mood that the patient is unaware of.
Although there is no cure for Alzheimer's, with early intervention, symptoms can be treated and progression delayed.
What is Memory Care?
Eventually, a caregiver may no longer be able to physically or emotionally provide adequate care for their loved one with Alzheimer's. At that point, alternate arrangements may be necessary.
Memory care means senior living communities that are designed for the needs of residents battling Alzheimer's or dementia. They are secure communities with 24 hour supervision, among other features.
Specialized team led by on-site medical professionals
Three meals plus snacks every day
Personal care plans with medication management
Organized physical and wellness activities
Organized brain fitness and memory enhancement programming
What is Respite Care?
Caring for a loved one who has been diagnosed with Alzheimer's can be physically and emotionally draining. Many times, the caregiver's needs are being sacrificed for the 24-hour care necessary for their loved one.
In such cases, respite care is a blessing. Respite is designed for short term care to allow for caregivers to tend to their own needs or other responsibilities while their loved one remains fully supervised and cared for. Residents can relax and spend time with other seniors while continuing to receive assistance and services from a trained team.
Thank you from all of us at Atlas!
Having a relationship with the local community is very important to all of us at Atlas Senior Living. Keeping memory care residents active and involved is necessary to their longevity.
Additionally, it allows us to create awareness and to educate the public about Alzheimer's and dementia. We can also provide support for those who are affected by them.
Finally, being involved in the community allows us to support the community that supports us, and for that we are grateful.
Does your loved one have Alzheimer's or dementia? Come tour our memory care community to see how we can support you and your loved one and read our recent news story to learn more about one of our many special events.