Legacy Ridge at Alpharetta celebrates the 102nd birthday of its oldest resident.
Legacy Ridge at Alpharetta is a senior living community located just north of Atlanta, in Alpharetta, GA. It is an assisted living and memory care community.
Who is Clara Dudas?
The lovely Clara Dudas is originally from Illinois. She is the mother of one daughter, Linda. Clara is the oldest resident of Legacy Ridge at Alpharetta. She turned 102 years young on March 26th, 2021.
Life of the party!
Ms. Clara is quite the social butterfly of Legacy Ridge. You can usually find her having coffee in the dining room or engaging in a fun activity with her fellow residents.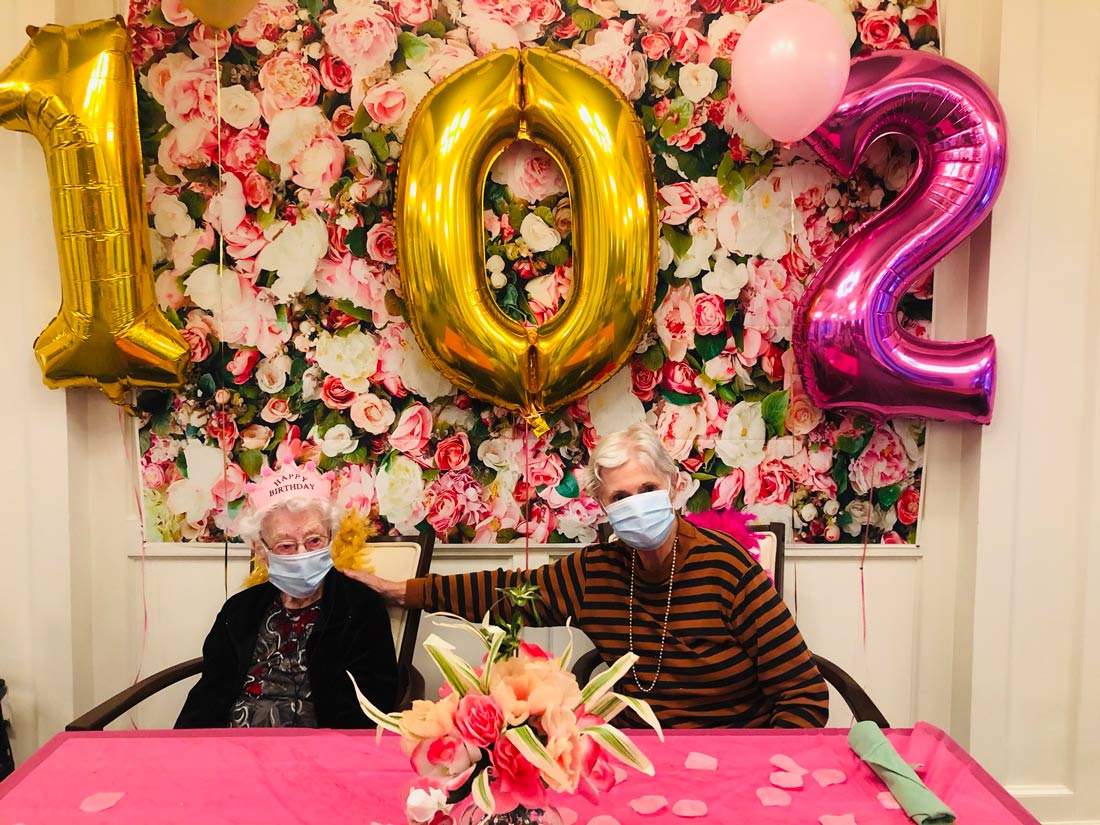 However, Clara values her quiet time as well. That is when you can find her in her room listening to music.
Anyone who has spent time with Clara knows that she is full of spunk and has no problem voicing her opinion. When asked her thoughts on the COVID-19 virus, she replied, "I don't give a damn. I can't change it so there's nothing for me to think about it." She said she is happy that she lived through it, but she survives every day, so it's normal.
Party On!
Legacy Ridge at Alpharetta marked the joyous occasion with a well-deserved party to celebrate her young age! The whole community was in attendance!
I don't know about young age, but woo hoo!

— Clara
When asked if she was excited about turning 102, in true Clara style, she smiled and answered sarcastically, "Oh, yeah."
Love for Clara
Clara is well-loved and well-respected by everyone at Legacy Ridge; we are honored to call her our friend. We couldn't let this momentous occasion pass without demonstrating our love and appreciation for this sweet lady.
We love you, Clara!  Life is so much sweeter with you in it! Happy Birthday from all of us at Legacy Ridge at Alpharetta. Cheers to Clara!
Swing by Legacy Ridge at Alpharetta for a tour today! You just might meet Clara and make some new friends!