A Place for Mom is one of the most well-known resources for finding the highest-rated senior living communities. Every year, the website compiles hundreds of thousands of reviews to determine which communities are worthy of claiming the title of "Best of Senior Living."
Seniors in Woodstock, Georgia know they're in good hands when they call Legacy Ridge at Woodstock and Legacy Ridge at Neese Road home. It's also an incredible feeling to know that family and community members feel the same way.
A Place for Mom reviews nearly 60,000 assisted living facilities in North America. The "Best of Senior Living" award is only bestowed to 750 communities.
"This exclusive designation honors only the top two to three percent of senior care providers across the United States and Canada," says Amy Cole, Regional Sales and Marketing Director for Atlas Senior Living. "We are thrilled to be on this list."
To be considered for the 2022 "Best of Senior Living" award, communities needed to maintain a 4.5-star rating based on at least ten reviews from residents and family members. Past winning criteria were not as strict. The award showcases the outstanding senior care provided by the staff to keep residents healthy and happy.
The personal connections that Atlas Senior Living caregivers and team members provide make seniors and their families love where they live. We can't thank them enough for their dedication to our residents and philosophy of care.
What are people saying about Legacy Ridge at Woodstock and Legacy Ridge at Neese Road?
Atlas Senior Living communities construct and renovate independent living, personal care, assisted living, and memory care communities that make a difference in residents' lives. Throughout the South, our senior care homes offer opportunities for older adults to live their best lives.
Here's what people are saying:
"I live here, and it's beautiful. The food is great! The staff is so nice. We have loads of activities." – Legacy Ridge at Neese Road Resident
"My mother lives at this facility. She is very happy there. The staff is great and take good care of her. They have a wonderful staff. It is always clean the food is great. I recommend this place." – Legacy Ridge at Woodstock Family Member
"I moved my husband into the memory care unit a few months ago. He has been so happy with the stimulation with the activities they do. I should have moved him sooner. I have been able to take care of myself since I know he is well cared for." – Legacy Ridge at Neese Road Family Member
"This is a wonderful place to live. The staff is most helpful and really nice. I would recommend this place to anyone who needs help and is a senior." – Legacy Ridge at Woodstock Resident
About Legacy Ridge at Woodstock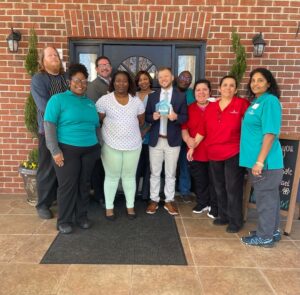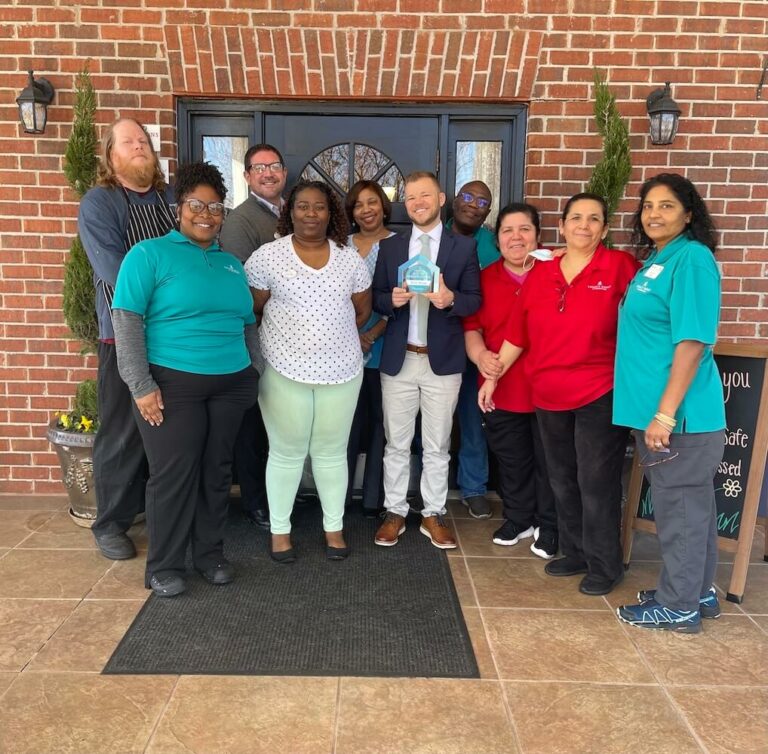 Legacy Ridge at Woodstock offers personal care and memory care to seniors and their families between I-575 and Main Street, just off Alabama Road.
This community is far from a nursing home. Our residents remain active and enjoy activities like pet therapy visits, holiday parties, and counting their steps every day. Our outstanding team members who make everything possible enjoy having fun by providing comforting care to every senior in our building.
"I am proud of our staff for the superior care they provide our residents and the attention they give to families," says Aaron Broyles, Executive Director of Legacy Ridge at Woodstock.
About Legacy Ridge at Neese Road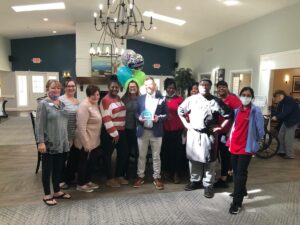 A few miles east of our sister community, Legacy Ridge at Neese Road provides senior care to residents of assisted living and memory care.
Our group loves to dress up for special occasions, shuffle about, and admire classic beauty. Activities do not just provide fun. The activities and events in our community improve the lives of seniors. We integrate socialization, physical activity, and personalized care to make seniors feel their best.
Thank You Woodstock Atlas Team!
As one of the fastest-growing senior living companies in the country, we are so proud to see team members embodying the spirit of our organization. It's an honor to give seniors a community where they can continue to grow and enjoy their golden years.
None of this would be possible without people who share our vision. Thank you to all the team members at Legacy Ridge at Woodstock and Legacy Ridge at Neese Road who go above and beyond for all of our residents. We can't wait to introduce this service to more seniors across the United States. You are an inspiration!
See One of the Countries Highest Rated Senior Living Communities in Person
If you or a loved one can benefit from one of the services at our Woodstock area communities, arrange a tour. Use the contact link on either Legacy Ridge at Neese Road or Legacy Ridge at Woodstock to ask questions about the level of care you need. We're also happy to set up a personalized visit.