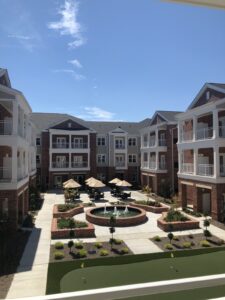 COLUMBUS (September 15, 2020) — Legacy Reserve at Old Town is officially opening its doors today for seniors to enjoy a vibrant, rich, and active lifestyle in a luxurious environment.
Legacy Reserve's benefits will include recreational programming, picturesque walking trails, fun get-togethers under COVID-19 precautions, unique amenities, and more with a range of floor plan options including studio, one-bedroom, and two-bedroom options. Move-in coordination services will be offered for new residents. Legacy Reserve will be providing seniors an enriching lifestyle through their signature programs Freedom Dining and The Academy.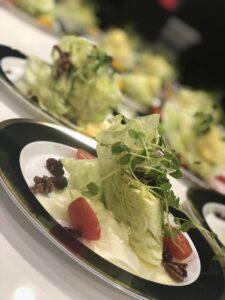 Freedom Dining
Residents are offered dining options that include the Whitewater Bistro for a more casual fare, McCuller's Restaurant for fine dining, or a burger and a beer at Bernard's Sports Bar.
The Academy and Lifestyles Program
Residents can sit back and relax as they are provided the entertainment they want while supporting local artists in the Columbus area. Whether it's educators, musicians, artists, or representatives from local museums, fun, education, and wellness are always happening at Legacy Reserve.
"We are thrilled to bring the Legacy Reserve lifestyle to the Columbus area," said Laura Blakeman, Executive Director. Laura oversees the day-to-day operations and overall management of the community. "Our residents are going to be able to build new friendships, enjoy exquisite cuisine, explore new passions, and live life to the fullest."
Legacy Reserve's amenities will include:
Grand day spa (hair, pedicure, and manicure services)
Sports bar
Putting Green
Outdoor terrace entertainment area with patio seating
Spacious common areas
Library with computers and complimentary WiFi
Fitness and wellness center
Dog park
Indoor saltwater pool
"I absolutely love it," said Margaret Hawkins, a current resident. "I can't wait to meet my new neighbors and all of the wonderful staff at my beautiful new home."
Legacy Reserve at Old Town is following all COVID-19 restrictions such as wearing masks, wearing PPE, social distancing, and continuous sanitation and cleaning services. Virtual tours are available as well.
Legacy Reserve at Old Town's address is: 8601 Queen Bee Drive, Columbus, GA 31909.
Directions: located in the Old Town area, visitors can enter Old Town at Veteran's Parkway and Williams Road. The community is located at the end of Frank Houser Blvd., nestled on the hilltop of Queen Bee Drive.