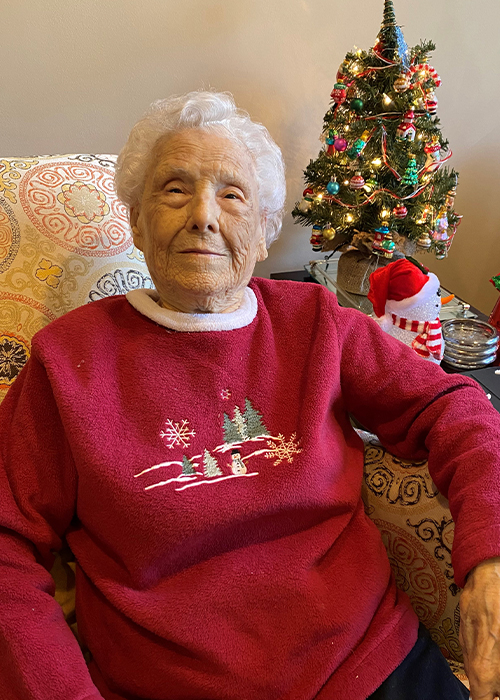 Pauline is our special lady this month! She was born in 1918 in Coffee County, AL and was the oldest of eight. Her father was a farmer, and later owned a country grocery store and became a preacher. Pauline got married at 16 years old to her husband, Edwin, who she met through church. Together they had two sons, Jimmy and Johnny. Jimmy has passed away, but her son Johnny lives in Dahlonega, GA.
Pauline lived most of her life in Coffee County. She briefly lived in South Carolina, Gulf Port, MS, and spent 28 years living in Dothan, AL. Her husband was a crane operator for road construction.
She has a wonderful family. She has her son, Johnny, four grandchildren, two step-grandchildren, and six great grandchildren. Her family lives in Alabama, Georgia, Florida, and Texas. She moved to Trussville to be near her granddaughter, Paula.
Pauline said she did not travel much but she has gone to San Francisco, San Antonio, and Austin. She said her favorite time of her life was her 28 years she spent in Dothan. She worked part time in a beauty shop and said it was an exciting time of her life.
We are so happy to have celebrated Pauline's 102nd birthday this year with her and are so happy she lives at Legacy Ridge.