Legacy Ridge Trussville celebrated the 104th birthday of Ms. Pauline Edgar, who has been in the community for the past five years.
Who is Ms. Pauline Edgar?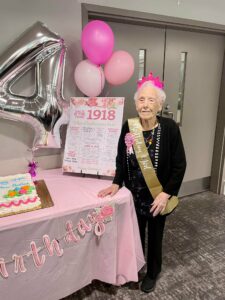 Ms. Pauline Edgar is originally from Coffee County close to Enterprise Alabama. She has also lived in Dothan, New Brockton, South Carolina, Mississippi. She is the oldest of eight. Being the oldest, she helped raise her brothers and sisters and for her family has always been a priority.
Ms. Edgar got married at 16 years old. She married Edwin Edgar, he was a road construction crane operator, and they had two sons, Jimmy & Johnny. Jimmy has passed away, but her son Johnny lives in Dahlonega, GA.
"I met Edwin in church while growing up."

Ms. Edgar
Ms. Edgar has a wonderful family. She has her son, Johnny, 4 grandchildren, 2 Step-grandchildren, and 6 great grandchildren. Her family lives in Alabama, Georgia, Florida, and Texas.
She worked part-time in a beauty shop and said it was an exciting time of her life.
"My favorite time of life was the 28 years in Dothan, but I love to live in Trussville too because I'm near my beloved granddaughter, Paula, and I'm so happy in my community."

Ms. Edgar
Party On!
With great enthusiasm, on June 20, 2022, Ms. Edgar celebrated her birthday in the company of her beloved family members. Of course, the residents and staff who are also now part of her family enjoyed this beautiful moment with her, and the celebration could not be left out the presence of a star like Elvis to have an unforgettable party.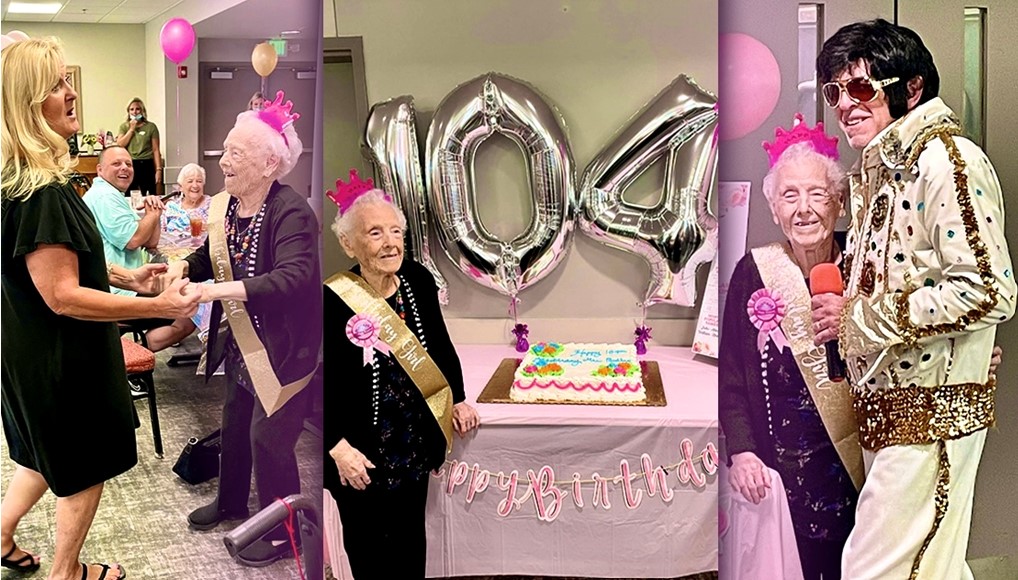 Ms. Edgar could be seen cutting a rug with her granddaughter, Paula to Hound Dog, and then slow dancing with her grandson, Scotty to Can't Help Falling in Love, both sung by an Elvis impersonator.
"I'm thankful God let me live to be 104"

Ms. Edgar
Her favorite thing about being 104 is seeing her kids grow up, watching them get married, buying their first home, having kids, and then their kids having their own kids.
Cheers to Pauline!
At Legacy Ridge at Trussville, we are so happy to have celebrated Ms. Edgar's 104th birthday this year with her and are so delighted she lives at Legacy Ridge Assisted Living. We couldn't let this momentous occasion pass without demonstrating our love and appreciation for this sweet lady.
We love you, Pauline! Life is so much sweeter with you in it!
Swing by Legacy Ridge Trussville for a tour today! You might meet Pauline and make some new friends!
.