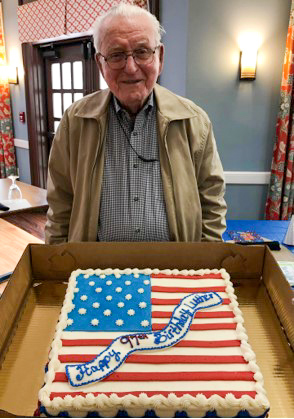 In Memory of Luther Cranford
Luther was born in Eatonton Georgia, in 1925 and passed away May 23rd, 2022 at the age of 97. He has 4 children, 3 daughters, and 1 son. He has 8 grands and 14 great grandchildren. He met the love of his life, Eleanor, after the war, while working at JP Stevens carpet mill. They were married for 58 years. Luther says he is one of the luckiest men you will have ever met. Partly because of the blessed life he has had, and partly because of his experiences in World War II.
Luther was a proud Navy WWII veteran and spent 3 1/2 years on aircraft carriers and destroyers in the South Pacific. He traveled in and around all the islands, including Guam, Guadalcanal, stops in Australia, and to the battles at Iwo Jima. Luther was just offshore as they took the iconic picture of the brave Marines raising the flag at Mount Suribachi, Iwo Jima, on February 23, 1945. He watched and counted 400 B-24 bombers hitting the island during that famous battle. The U.S. lost 700 men there.
Luther says one of the most exciting things he did was to be helmsman, and steering the ship, the USS Williamston DD244, a destroyer. He said it was also very exciting when they would drop depth charges on the enemy submarines. Luther said one important life lesson he learned was to always follow orders. He learned that in the military, and always went by that rule. He said one thing he would never forget was when he was sworn into the Navy, because he wanted to go so bad. "I would do it again if I had to."
Luther loved baseball and golf. While working for JP Stevens, Luther got a patent for his design for a Silver Control Drafting Cradle, for use in the spinning of carpet yarn in the carpet mills. During covid when we asked him what message he wanted to send to his family he replied, "Tell Susan I'm not shaving until this things over!"
We will miss Mr. Cranford's sweet smile and love of storytelling.