Celeste's Puerto Rican Macaroni & Pork Casserole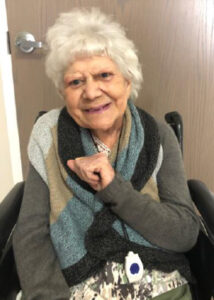 Recipe
pasta

pork meat marbled with fat
Goya Puerto Rican Dry Adobo or Goya Mojo Marinade
onions
red and green peppers
tomato sauce
Romano cheese
Cook a pasta type per box instructions (Macaroni as seashells is best)
Cook pork meat marbled with fat. This could be pork chops, boneless tenderloin, or roast. Seasoned well with Goya Puerto Rican Dry Adobo or Goya Mojo Marinade.
Cut cooked pork into bite size chunks and place into Goya (Spanish Olive Oil) and lightly sauté with chopped onion and red or green peppers.
Add a favorite, very light tomato sauce, such as spaghetti sauce, to your taste.  Do not saturate. Just enough to flavor, moisten and color.
Mix pork mixture with sauce, then add the cooked pasta. Make sure the pasta is al dente. Stir everything together.
Spray olive oil into 9"x 13" pan and add the macaroni and pork mixture.
Bake in 350 degree oven for 30-45 minutes or until top starts to golden and bubble.
Sprinkle grated Romano cheese on top.
Tip: Serve with a side of peasant bread! Dip bread in a mixture of olive or Avocado oil and Chimichurri green sauce. If Chimichurri sauce can not be found, create your own with basil, garlic paste and lemon pepper.
Ann's Old-Fashioned Banana Pudding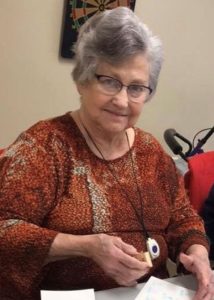 Recipe
2 cups sugar, divided

½ cup all-purpose flour

Dash of salt

4 Large Eggs, Separated

3 Cups Milk

½ stick Butter

2 teaspoons vanilla extract

1 Box Vanilla Wafers (11 ounce)

4 Bananas
In a Medium saucepan on medium to low heat, combine 1 ½ coups sugar, flour, salt, egg yolks, and milk. Cook custard, stirring constantly to keep from scorching, 15 – 20 minutes or until thickened. Remove the pan from the heat and add butter and vanilla. Stir until the butter has melted. Allow custard to cool.
Preheat oven to 325 degrees. Lightly spray a 2 ½ quart baking dish with nonstick cooking spray. Line the bottom and sides of the dish with vanilla wafers. Slice 2 bananas on top of the cookies. Then add another layer of cookies, and two more bananas. Pour custard over the bananas and cookies.
Whip the egg whites with a hand mixer until they are frothy. Add the remaining ½ cup of sugar to the whites. Continue beating until the whites form stiff peaks. Spread evenly over the banana pudding. Bake 12 to 15 minutes or until the tops of the meringue are toasted.
Since Bill and his wife Terry were both born and raised in Louisiana, one of the family favorite recipes has always been shrimp gumbo. The following recipe is out of a traditional Louisiana cookbook, River Road Recipes. Bill and Terry enjoyed making it together and adding their special touches to it.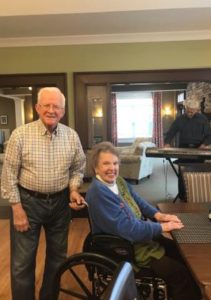 Recipe
2 lbs shrimp
2 Tbsps oil
2 Tbsps flour
3 C. okra, chopped
2 onions, chopped
2 Tbsps oil
1 large can diced tomatoes
2 quarts water
1 bay leaf
1 tsp salt
3 pods garlic
Chopped Red pepper (optional)
Peel and devein uncooked shrimp.
Make roux (dark) of flour and oil.
Add shrimp to this for a few minutes, stirring constantly. Set aside.
Smother okra and onions in oil. Add tomatoes when okra is nearly cooked.
Then add water, bay leaf garlic, salt and pepper. (Tony Chachere's creole seasoning may be used to taste instead of the salt and red pepper.)
Add shrimp and roux to this. Cover and cook slowly for 30 minutes. (Gumbo file' may be added after turning off heat. It adds a rich color and creole flavor.) 
Serve over rice with a crusty loaf of French bread!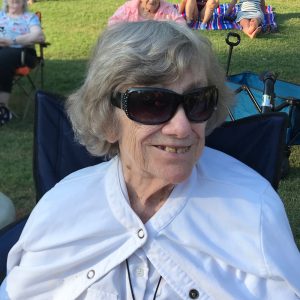 Recipe
Prep Time: 30 minutes
Cook Time: 1 hour and 30 minutes
Servings: 8
Pie Crust
2 1/2 cups all-purpose flour
1 tsp salt
1 1/2 tsp sugar
1/2 cup butter chilled
1/2 cup lard chilled
5-7 tbsp ice cold water
Pie Filling
8-10 apples peeled and sliced
1/2 cup brown sugar
1/2 cup white sugar
1 1/2 tsp cinnamon
2 tbsp Minute tapioca
Mix together flour, sugar and salt.
Using pastry blender, blend together chilled butter, lard and flour until crumbly (pea size chunks).
Start by blending 4 tablespoons of ice-cold water into the flour/butter/lard mixture. Add more water a tablespoon at a time until mixed and dough sticks together when pressed. Don't make too wet, just enough water to have dough come together. Do not overmix or your pie crust will be tough.
Divide in half, cover with plastic wrap and chill for 30 minutes.
While dough is chilling, in large bowl toss together apple slices, white and brown sugar, tapioca and cinnamon.
Roll out pie dough to make two crusts that cover pie plate with about an inch excess. Place one in bottom of pie plate.
Pile high with apple mix, cover with other pie crust, seal edges, cut slits for venting. Sprinkle top with white sugar and cinnamon.
Bake at 350 for about 1 – 1 1/2 hours until top is golden brown. Cover edge with a pie shield or foil if edge starts to brown too much while baking.
Notes: Make sure your butter, lard and water are well chilled before starting! Use more or less sugar depending on how tart your apples are. Put foil on bottom of oven in case pie leaks, change out tin foil if needed
Southern Steak and Milk Gravy
Wilma was born in Laurel, Mississippi, and was married to Karl, who served for a short period in the Navy. Wilma spent much of her life as a bank receptionist and grew up attending Central Baptist church. She also sports some musical talents – she plays piano and sings, and her favorite type of music is classical. Wilma spends her free time watching TV, reading, and doing arts and crafts. Here at Spring Park, she especially enjoys joy rides, bingo, special events, and our field trips to Furman's "Music by the Lake." Wilma joined us on September 1, 2017, and we have loved having her as a resident!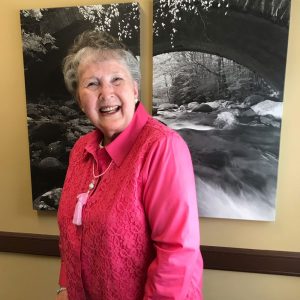 Recipe
4 Pieces Cubed Steak
1 1/4 cup All Purpose Flour
1 1/2 cups Milk approximately
Salt to taste
Pepper to taste
Place enough oil in a pan to coat the bottom, put that over medium heat while you prepare your steak.
In a bowl, place 1 cup flour, add 1/4 teaspoon salt and 1/ 4 teaspoon pepper and stir. Dip each piece of steak into flour on both sides to coat it well.
Place each piece of steak in heated pan and cook until browned on both sides. Remove steak to a plate while you make your gravy.
Place about 1/4 cup flour into skillet with meat drippings. Add a little more salt and pepper, then stir over medium heat until the flour is slightly browned. Slowly pour in 1 1/2 cups of milk, stirring constantly. Continue stirring, with a wire whisk to help avoid lumps, over the lowest heat setting until thickened. Add a little more milk if you prefer thinner gravy. Return steak to the pan and turn to coat with gravy on both sides.
Serve steak and gravy together in a bowl or serve gravy on the side to go with Mashed potatoes or rice. Add soft asparagus and enjoy.
This recipe comes from Oscar, who has been at Spring Park since October 2017. He was married for 69 years to his wife Ruby. They had three children, six grandchildren and 15 great grandchildren. Oscar was in the US Army for three years and is a World War II veteran. One of his most exciting memories is coming home from World War II.
Oscar's favorite kind of music is piano, country, and gospel. He's a member of Berea First Baptist Church where he gets to sing his favorite song, How Great Thou Art. He enjoys golfing and reading about history and sports. Some of his best memories are of meeting actress Mae West and receiving a letter from professional golfer, Arnold Palmer. When asked what life advice he would like to impart, Oscar said to "treat everyone equally." Thank you for this special recipe, Oscar!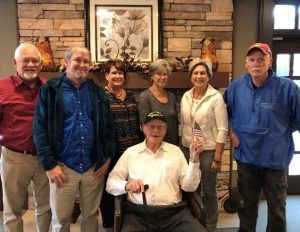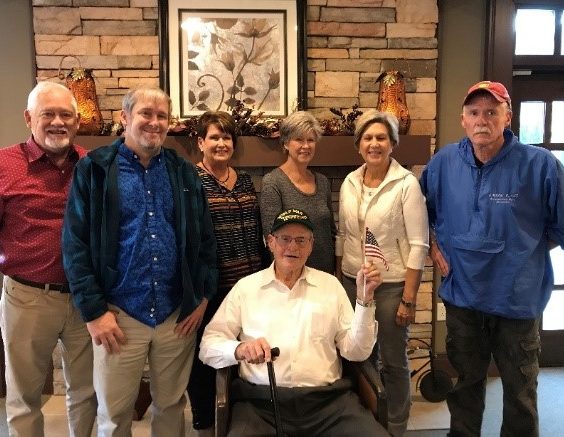 Recipe
4 large eggs
3/4 cup sugar
3 tablespoons all-purpose flour
1/2 teaspoon plus a pinch of salt
2 cups of whole milk
1/2 teaspoon vanilla extract
30 to 40 vanilla wafers
3 to 4 medium ripe bananas
Separate the yolks from the whites of the three eggs set aside the white add the remaining whole egg to the yolks.
In a saucepan wisk together 1/2 a cup of sugar, the flour and 1/2 a teaspoon of salt. Stir in the whole egg and 3 yolks, and then stir in the milk. Cook uncovered, stirring often, until the mixture thickens, about 10 minutes. Remove from heat and stir in the vanilla.
Preheat oven to 425°F
Spread a thin layer of banana putting in a 1 ½ quart casserole dish. Arrange a layer of vanilla wafers on top of the pudding. Thinly slice bananas crosswise, about 1/8 of an inch thick, and arrange a layer of banana slices over the wafers. Spread 1/3 of the remaining pudding over the bananas and continue layering wafers, bananas and pudding, ending with pudding.
To make the margarine, beat the reserved egg whites with a pinch of salt until they are stiff. Gradually beat in the remaining 1/4 cup sugar and continue beating until the whites will not slide out of the mixing bowl with it is tilted.
Spread them around over the pudding with spatula, making a few decorative peaks on the top, and bake until the margarine is lightly browned, 5 minutes.