Robert has been the Executive Director of Legacy at Savannah Quarters since it opened in 2018. He is a licensed Assisted Living Administrator and Certified Dementia Care Practitioner. He was introduced to senior care when his father-in-law reached the point where he could no longer care for himself. It was this personal brush of "old school" assisted living that convinced Robert there had to be a better way. After 29 years of working in newspaper operations, he made a career change. He balances his operational experience with a desire to make a positive impact on those around him. He developed our community's guiding principles of improving the quality of life for all our residents, ensuring our residents know they are loved and reinforcing their value as members of the Legacy family and the community in general every day. The results are tangible. In its short time since opening, Legacy has earned a reputation in the area as one of the premier senior care communities.
Robert serves on the Board of Directors of the Pooler Chamber of Commerce and attends Community Bible Church in Savannah. He graduated from the University of Georgia after serving in the Marine Corps right out of high school. When he isn't at Legacy, he and his wife, Holly, enjoy boating and watching old movies.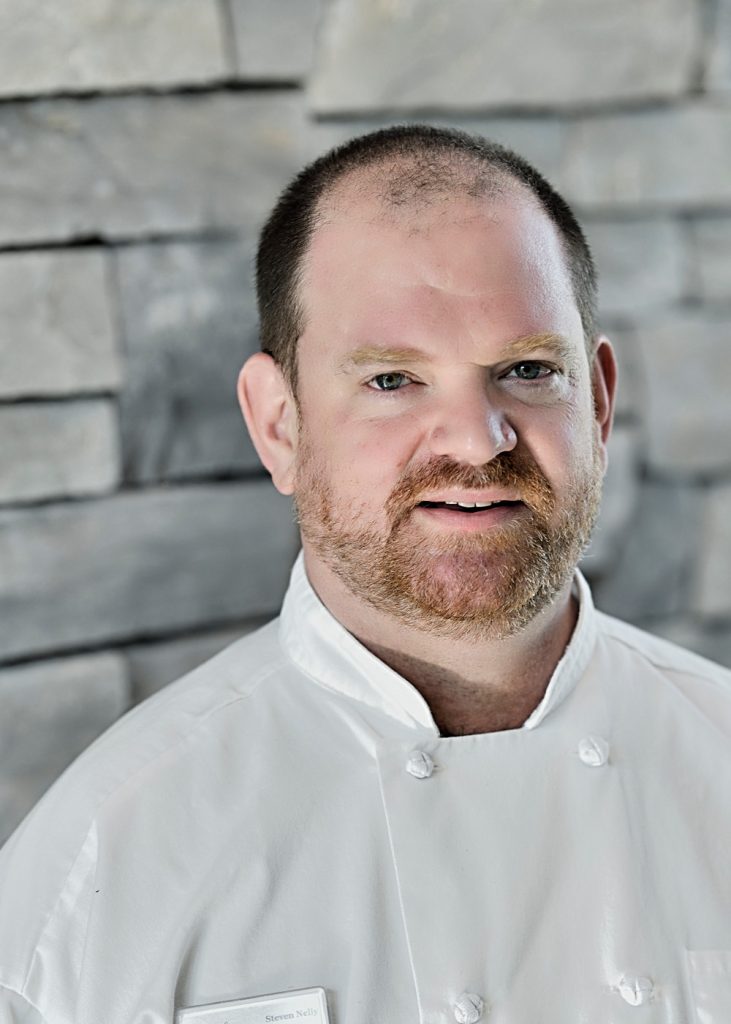 Steve joined the Legacy team as Executive Chef in May 2019 after working at Senior Citizens, Inc. in Savannah. Five years prior to that, he was the Food Services Program Coordinator for Gwinnett County Senior Services running the Meals on Wheels and Congregate Dining programs for the county. It was during that time when he realized that the needs of seniors everywhere were not being met and decided to change his career path to one of helping seniors.
He is a graduate of the New England Culinary Institute in Montpelier, VT. He also holds a master's degree in food technology from the University of Georgia in Athens and a master's certificate in gerontology from the University of North Georgia in Dahlonega.
While born in NY, he grew up in FL and spent many years in Saudi Arabia where his father worked as a welder. He considers Gainesville, FL his hometown, and where his parents currently reside. He lives in Richmond Hill, GA with his wife, two dogs and two cats. He enjoys traveling and watching college football (Go Gators!).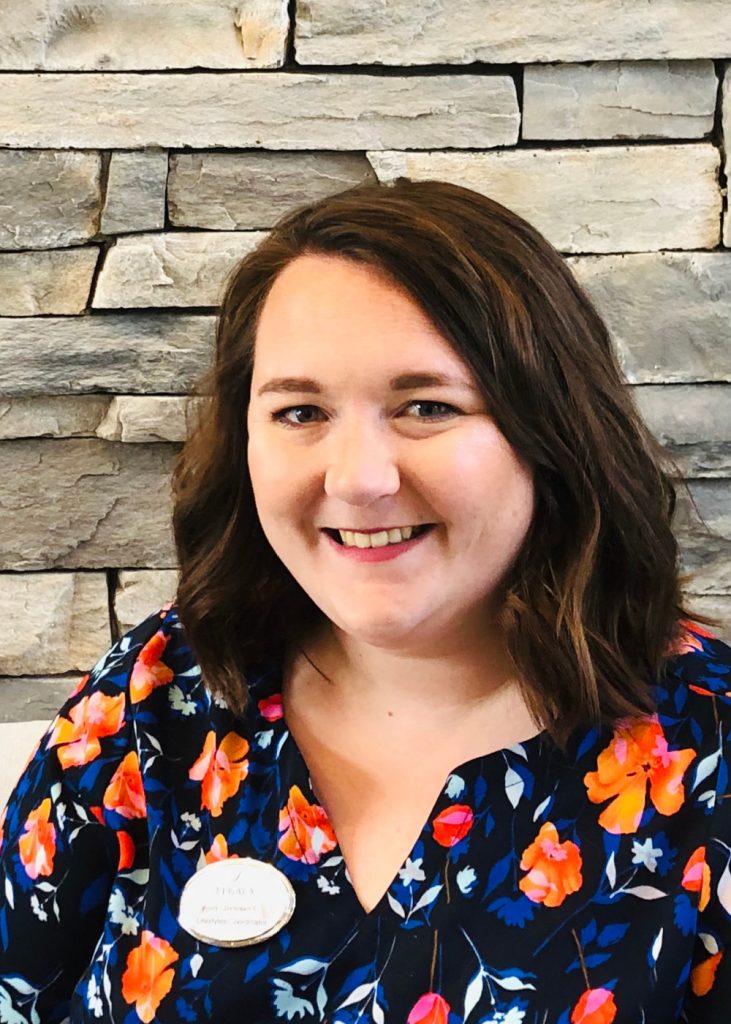 Penny Jernigan became a part of the team as a MedTech in June 2018. She has grown within the company and has had many roles, such as assisting both the Director of Health and Wellness and our Business Office Manager/Concierge. In October 2019, Penny transitioned into her current role as Lifestyles Coordinator in our assisted living building. She moved to Savannah from Metter GA in 2013. Penny knew she was meant to help people in some way. She started working in assisted living eight years ago in the Chatham County area and hasn't looked back. Now she is attending Georgia Southern University and working towards her bachelor's in health service administration. Penny chose the senior living industry because she fell in love with the purpose of what it was all about: still letting everyone that comes through Legacy's doors have their independence. 
Penny likes to spend time with her two puppers, Beau and Biscuit. She also in a past life liked to line dance … past life because with school, she hasn't had time to dust off the cowgirl boots and hit the dance floor. She also likes to paint.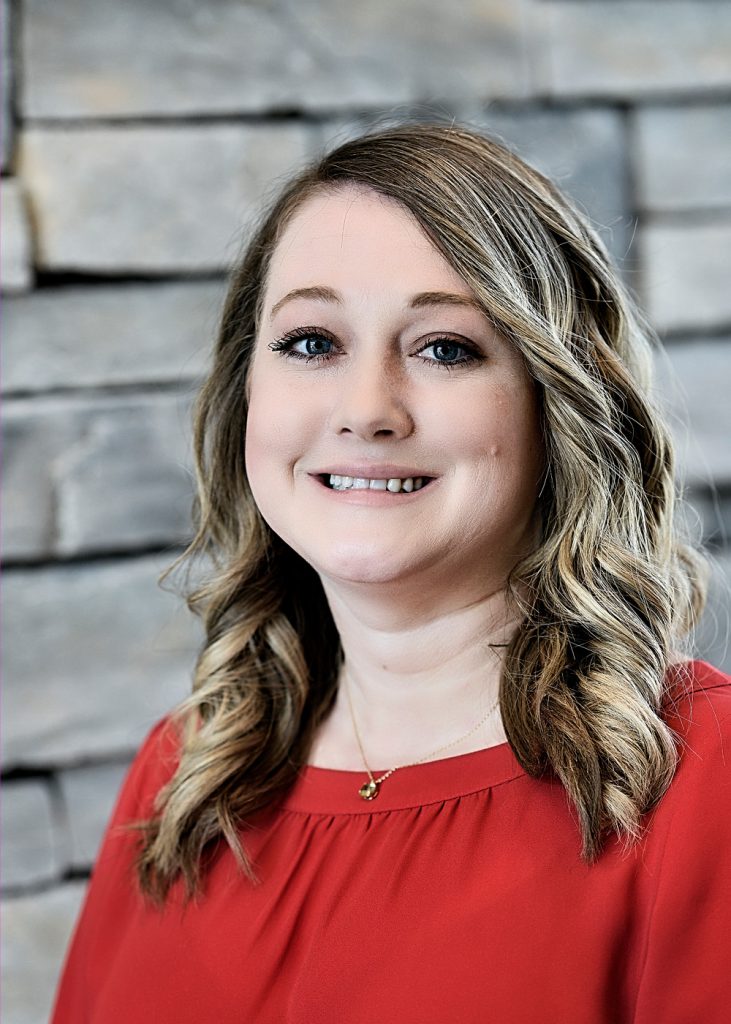 Mary Dampier joined Legacy at Savannah Quarters as the Business Office Manager before it opened two years ago. Born and raised in Savannah, Georgia, she is a graduate of Saint Vincent's Academy and Armstrong State University. Mary received her bachelor's degree in Economics in 2009. She was very close with her grandparents while growing up and watched them struggle with some of the aspects of aging, particularly when her Grandmother was diagnosed with Alzheimer's. After working in the medical field for a handful of years, she realized that working with seniors is her true passion. She worked for a senior community in Richmond Hill, Georgia for two years as the Business Office Manager before leaving to join the Legacy family. She enjoys helping residents and staff navigate life at Legacy and interacting with resident's families. Mary is working towards completing additional training this year so she can continue to learn how to best serve our residents. When not at work, she loves spending time with her two year old daughter, Lily. She also enjoys reading and running 5Ks in her free time.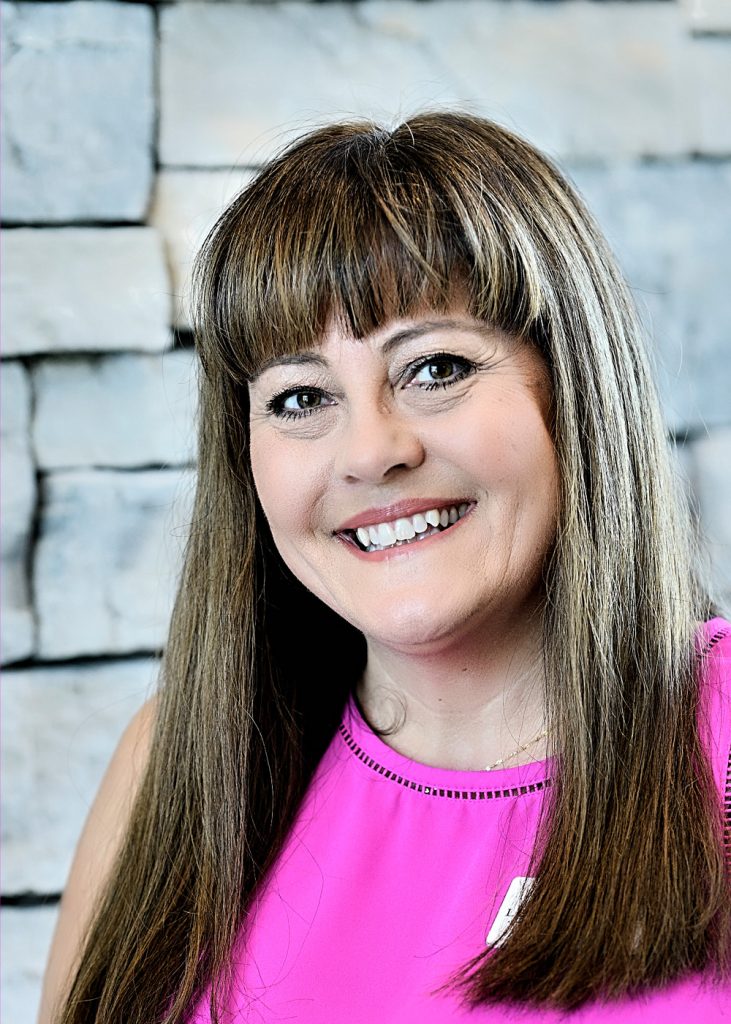 Director of Health and Wellness
Director of Health and Wellness for Legacy at Savannah Quarters in Pooler Georgia. Melissa has over 26 years of nursing experience with all of those years serving the aging population in one capacity or another. Melissa has worked in rehab, long term care, hospice, critical care, and most recently assisted living and memory care. Initially seeking a bachelor's in psychology from Kent State University, she then pursued nursing at Marymount School of Nursing. Melissa has worked for Legacy since the doors opened nearly 2 years ago. 
Melissa is a Certified Dementia Practitioner, Alzheimers Association community trainer and, RAC- Resident Assessment Coordinator with AANAC.  Working with elders has been a lifelong passion of hers. She finds it rewarding making a difference in the lives of those who have given so much.
Melissa felt drawn to Legacy because of the wellness resort style concept. "It's a much needed living option for the aging population that want to remain actively engaged. It's been so rewarding being a part of the integration of physical care, wellness, and nutrition and seeing the difference it makes in the betterment of the lives of our residents," Melissa says.
Melissa was raised in Ohio, but she has lived all over the United States due to her husband Scott's active duty military service. Melissa and Scott have been married 25 years and have two daughters. Her hobbies include college football, traveling, spending time with family and spoiling her French bulldog puppy. It is her goal and desire to make sure every life she touches knows they are important and valuable, and she wants to assist them in every way possible to live their best life.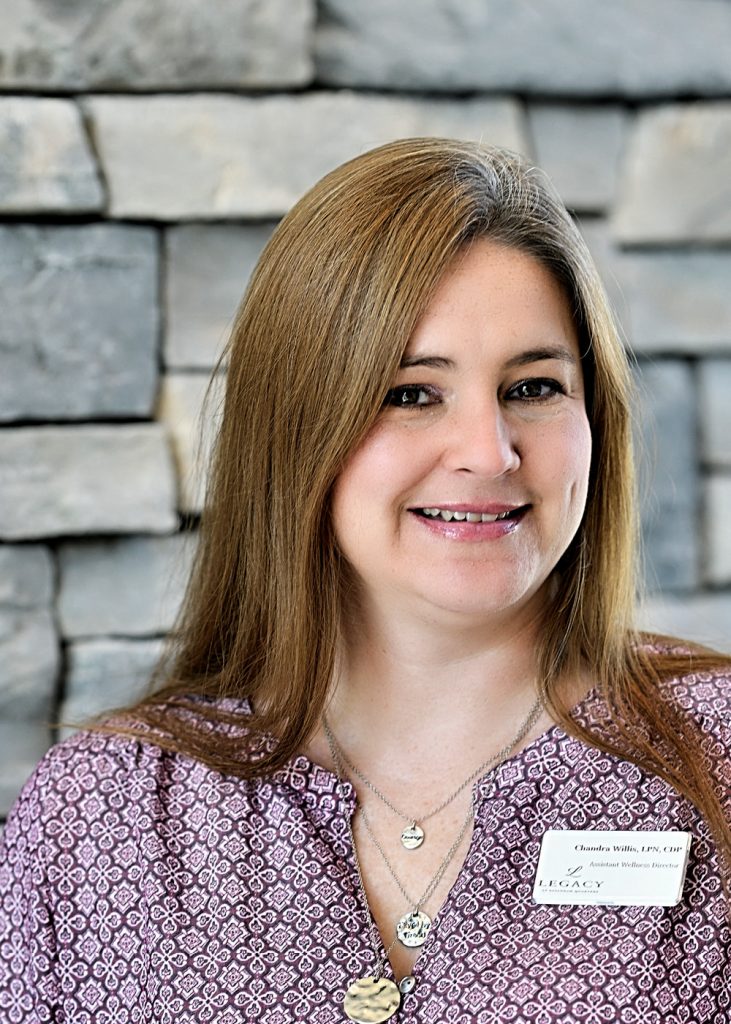 Assistant Wellness Director
Chandra Willis joined the team as an LPN in October 2018. In March 2019, Chandra transitioned into the Assistant Wellness Director position. Through the years, Chandra has gained extensive nursing experience in all life stages, from pediatrics to geriatrics, as well as long-term acute care. While working in a long-term acute care hospital, the importance of senior care and the enormous need for resources for the aging population became very apparent to her. She quickly discovered after joining the Legacy family that senior care is her niche. Chandra has expanded her training in dementia and Alzheimer's care, including obtaining her Certified Dementia Practitioner Certificate and Alzheimer's Community Educator Training. She is also a member on the board of advisories for a local nursing college.
Chandra grew up in northern Canada and moved to GA in 1992. She has always held a special place in her heart for her aging family members and feels privileged to have been her father in-law's in-home caregiver in the late stages of his life.
When Chandra is not at work, she enjoys spending time with her husband, children, and grandchildren. She also is very fond of her four goldendoodles, sewing, quilting, and crocheting.
Director of Sales and Marketing
When she came to the Legacy at Savannah Quarters community in Pooler, GA, Terrie Matthews packed three important things: a big smile, a lifelong love of helping people, and a healthy working knowledge of Led Zeppelin, The Supremes, and AC/DC.
Yes, she's a rocker. Well, more accurately, a singer. Originally from Nottinghamshire, England, which is famous for its proximity to Robin Hood's Sherwood Forest, Matthews has been an entertainer for as long as she can remember. She's also a lifelong doer – a passionately involved person who has been working with older adults since 2006. Today she serves as Director of Sales and Marketing at Legacy at Savannah Quarters, which serves the broader Savannah region.
She doesn't so much see what she's doing as a job. She sees it as an opportunity to take part in a revolution in senior living, focused on creating communities where people can live the way they want – savoring the easy, free life they've earned.
Having worked in non-profit for years, Matthews said she has too often seen situations where clients were clinging to homes they could no longer take care of – and in some cases, they couldn't take care of themselves. "This, on the other hand, is independence," she said. "It's recognizing what is going on and taking action. It's keeping control of your life. I really promote that. We want you to be independent. We're here to help you with the cleaning and doing the bed and laundry, so you can be free to pursue Life with a capital 'L.'"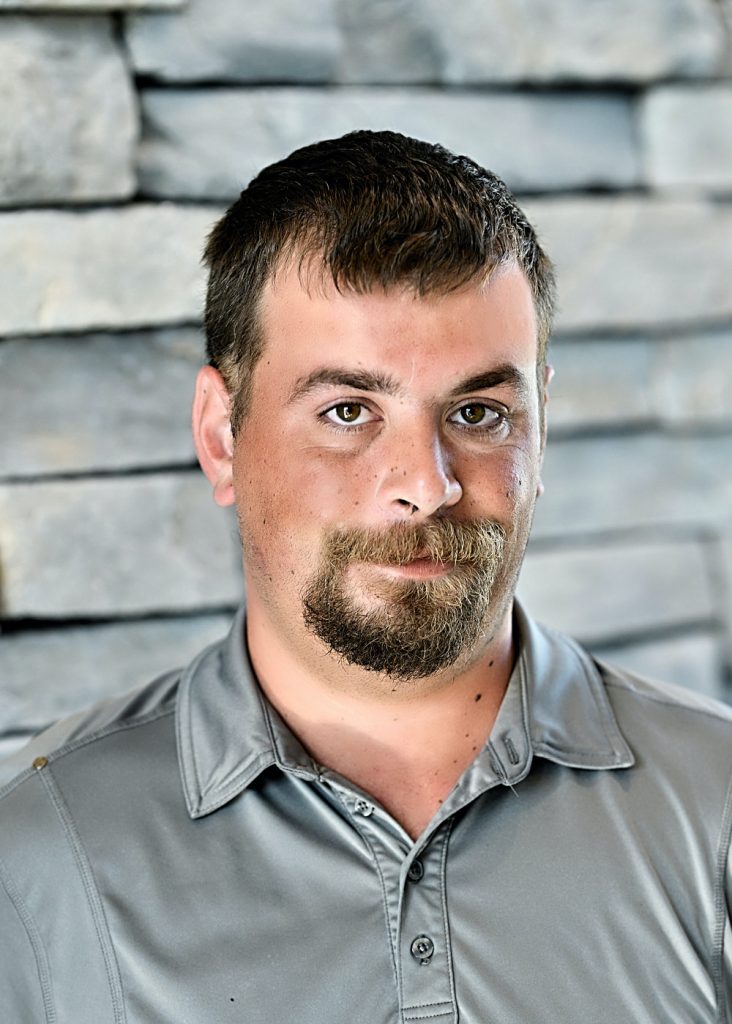 Mitch Spence has been the Maintenance Director since June 2018 and has worked in senior living communities for six years. He was born and raised in and around Savannah. He moved to Tallahassee, FL for a few years after high school where he started in his first assisted living facility. When he isn't working, he likes to spend time with his wife and children. He also likes to go hunting and fishing.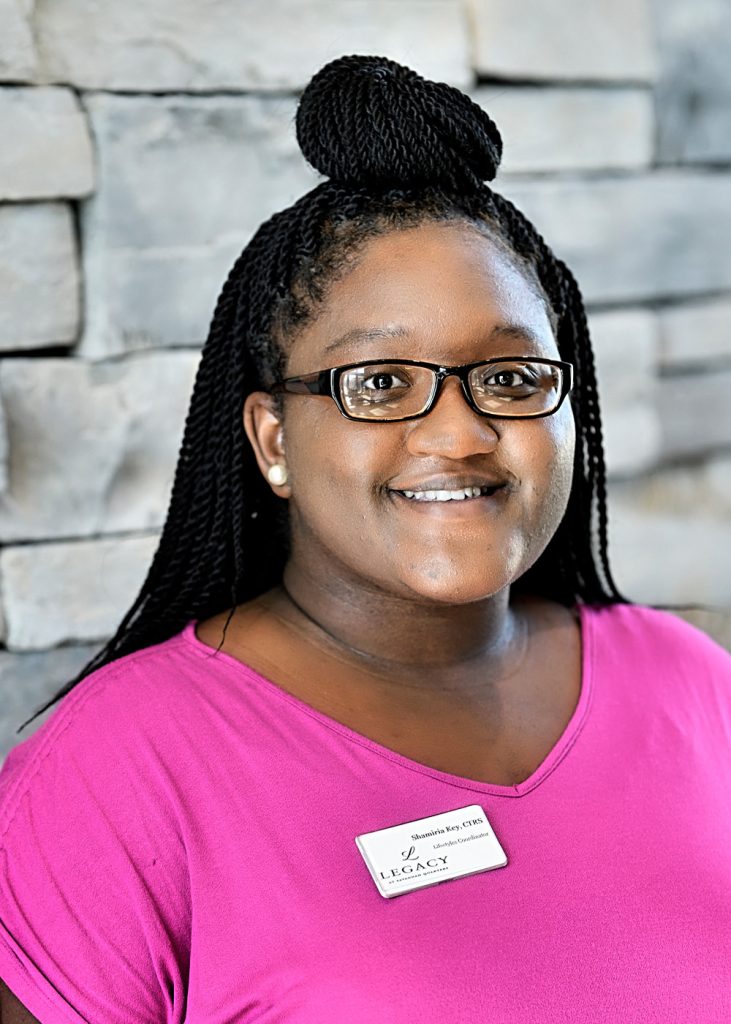 Memory Care Lifestyle Coordinator
Shamiria Key was born in Savannah, GA and raised in the small town of Pembroke, GA. She is the youngest of six siblings – three brothers and two sisters. Shamiria is a 2013 graduate of Bryan County High School. She received her associate of arts degree from East Georgia State College in December 2016. She received her Bachelor of Science in therapeutic recreation from Georgia Southern University in May 2018. And in June 2018, she became a Certified Therapeutic Recreation Specialist through the NCTRS.
Growing up, Shamiria lived and helped care for her maternal grandparents who had various health issues. At the age of seven, she learned how to give them their medication and check their vital signs and blood sugar levels. Helping those who can't help themselves has always been something that has been a passion of her's. Being able to work with the residents here at Legacy brings back memories of her grandparents and why working with this population is so rewarding.
Shamiria has been working with the Alzheimer's population for two years and absolutely adores her residents and keeping them engaged in activities. This past year, she has expanded her training and has obtained her Alzheimer's Community Educator Training Certificate with the Alzheimer's Association. She is also currently in the process of obtaining her Master of Business Administration in healthcare management at Saint Leo University.
When Shamiria is not at work, she enjoys spending time with family, baking, and working at the Bryan County Recreation Department with the youth. She also loves to sing and is the youth choir director at her church.