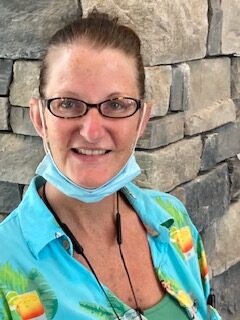 Legacy Savannah Quarters is proud to announce our Associate of the month.
April Hardy  has been in the senior care field officially for a year now. However she spent the previous 3 years taking care of family members in similar situations.
"I was the only one my Nanny would let help her. She didn't understand why she needed help even though she did and was very embarrassed.  She trusted me and I learned a lot about how to get her to let me help her."
The same thing happened when her father-in-law at the time had a stroke.
"I cared for him around the clock pretty much.' 
Coming to Legacy provided her the opportunity to make a living doing something she had a natural talent for and enjoyed.
April has been nominated a few times by the residents since arriving at Legacy and broke through this month.
"The building has a different energy when April in on the floor," wrote one resident about April. While several families in the Memory Care building mention her specifically in comments about visits.
In her spare time April enjoys being a mom to 7 year-old Jalynn, her pride and joy.  She also recently completed her CNA certification in March of this year. In the midst of that she has gone back to school for her degree in Health Information Management Technology.
Asked what motivates her everyday April replied, "Do what you love and love what you do. Its easy."