Meet our Weekend Activities/Concierge/Weekday Server!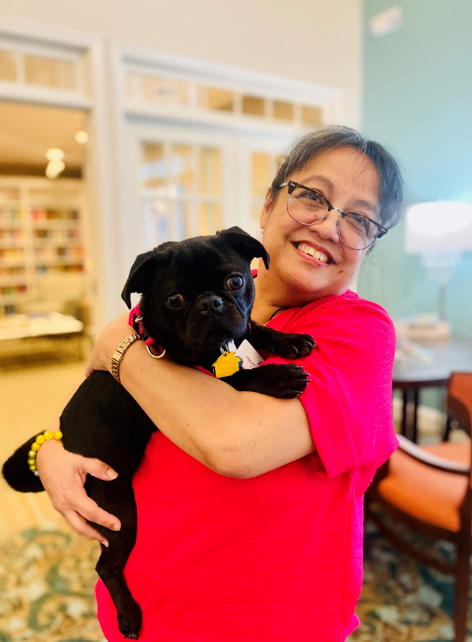 Lee is one of Legacy Ridge's newest team members, originally from Honduras, but has lived in New York for several years before moving to Georgia with her family 12 years ago. She is happily married and has three children, two daughters named Maya and Angelica, and a son named John. Lee has a soft spot for animals (as you can see, she is already best friends with Lilo) and is a proud owner of a beautiful Maine Coon cat named Mischa, whom she loves to spoil. When Lee is not at work, she enjoys cooking, reading, and cruising around in her golf cart to go shopping. She also loves to sing and dance, although she humbly claims not to be an expert at either. Additionally, she enjoys listening to bible studies to grow her understanding and personal growth. Lee lives each day with gratitude, thanking God for the gift of life and the opportunity to start anew every day. Stop by soon to say hello and give her a big Welcome to the Family!
Meet Lilo, our resident pug puppy!
Meet Lilo, our resident pug puppy! Back in November when we gained our new Lifestyle Director, Kelsey Cornell, she also brought along this little bundle of joy. Lilo sure does brighten our spirits here. It is amazing to watch her ability to turn a frown upside down in a matter of minutes. Lilo often visits with residents during our ice cream social. She loves to show off all the new tricks she's learning and display her intelligence while searching for treats in puppy puzzles. She enjoys getting lots of pets and TLC as we walk the halls and visit with residents. We are elated to have Lilo as a part of our family here at Legacy Ridge Peachtree.