December Resident of the Month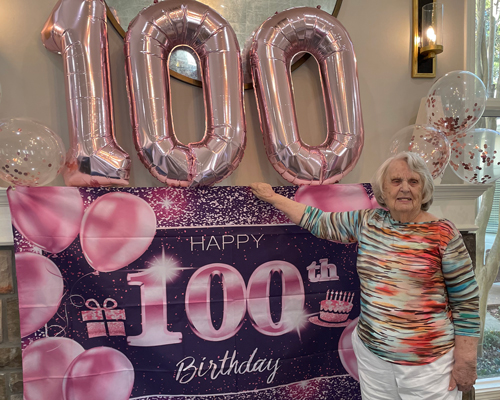 Elaine was born in Montevideo, Minnesota on November 17, 1920. She is the oldest of five children, three brothers and one sister. Her parents were born here in the United States but her grandparents on both sides are of Swedish descent. She met her husband of 57 years at a church Halloween party around the age of 16. After school she moved away to California, but as fate would have it, they met again and married on January 20, 1944 on the Treasure Island Navy Base in California. She remembers hearing lots of horns and whistles from the naval base on that day and she still speaks of her blue wedding dress. Elaine and her husband have two sons together, Rick and Chris.
After Elaine's husband finished college they moved around for a bit but ended up in Atlanta, GA. During this time Elaine worked as a secretary and receptionist for an attorney and the IRS before she retired.
When asked how it feels to be 100, Elaine's response was that "It feels like any other day, but now I feel old!"