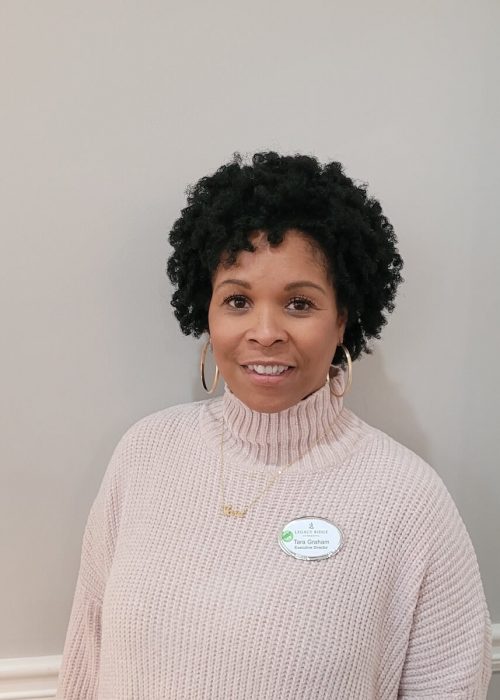 Tara has worked in the senior healthcare industry for more than 25 years, beginning her career in the early 1990's as a Home Health Aide. Since that time Tara's desire and dedication to care for others has allowed her to serve in many roles including Certified Nursing Assistant, Medication Technician, Business Office Coordinator, Sales & Marketing Director and in her current role as Executive Director.
Tara is happily married and shares with her husband a blend of six adult children who have gifted their family with four adorable grandchildren, of whom she is affectionately known as "Gi Gi."
Recently becoming empty nesters, Tara has developed a fondness for travel, especially to adventurous and unseen before destinations. When not at work or out exploring the goodness of God's green earth, she enjoys nothing greater than spending time with family and cooking newly discovered vegan dishes.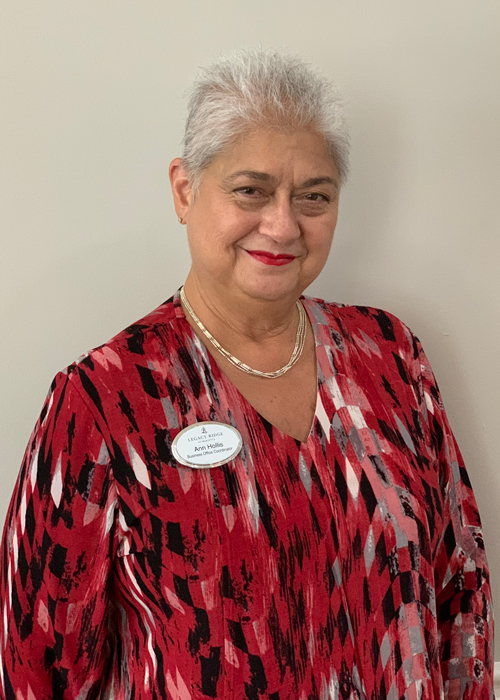 Business Office Coordinator
Ann entered the senior living industry as a Business Office Manager in 2012 after relocating from West Palm Beach, FL. She enjoys interacting with the residents and their families in our community. Outside of being at the community, Ann loves spending time with Oz, a senior fur baby and Bailey, a younger fur baby, she rescued three years ago. Ann also enjoys traveling with her family to the Orlando area and the ocean at Cocoa Beach.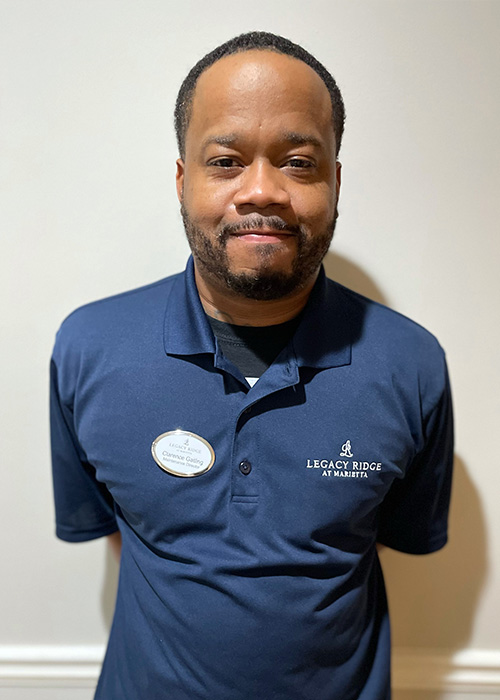 Clarence Gatling was born in Queens, NY and has lived in New York most of his life. He is oldest of eight children. He moved to Marietta, GA in 2010 and has been working in assisted living and senior living since 2014. Clarence enjoys nice cars, dirt bikes and bowling in his spare time. He enjoys cooking, and since the pandemic, cooking has become one of his favorite hobbies. He also loves to travel, and one of his favorite places is San Juan, PR.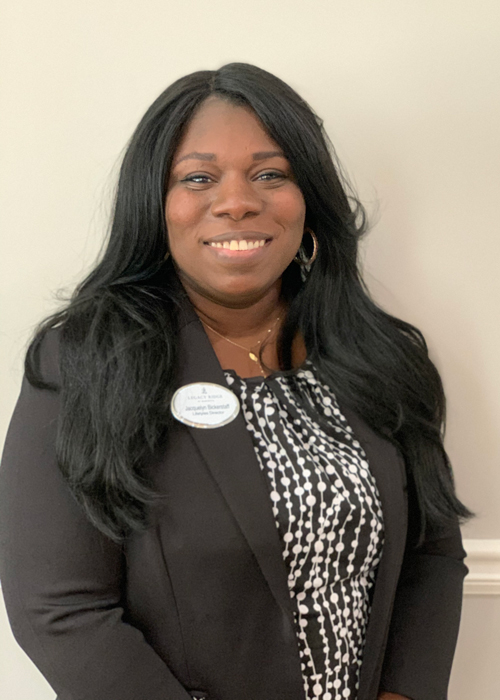 JacqueLyn was born in Birmingham, AL but spent most of her younger years living in Smyrna, GA. She comes from a big family and is the middle child of five, so she is used to being around different personalities. She is a kind-hearted, fun-loving, people person who enjoys the sound of laughter. Prior to working in assisted living, she worked in the education field for 10 years before becoming a nanny. Once that job ended, JacqueLyn searched for a work environment where she could continue to spread smiles and use her knack for arts and crafts. She landed an amazing job as a receptionist and soon moved into a new role as Lifestyle Director.
She is a firm believer in Christ and loves spreading joy wherever she goes. When she is not working, she is spending quality time with her son, Cameron, and their new fur baby, Laiyah.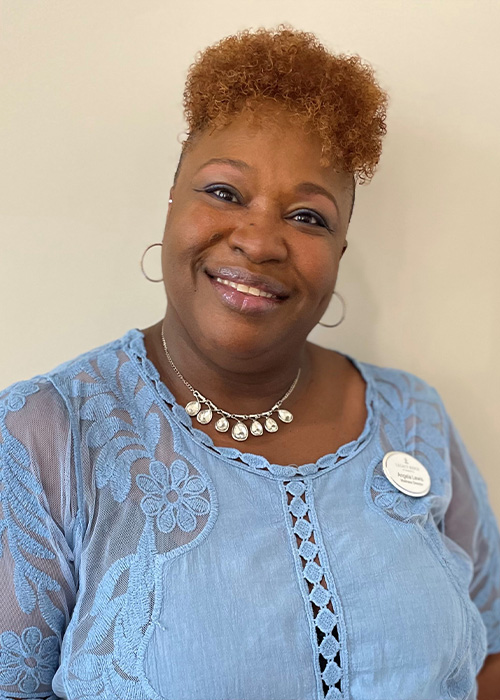 Angela has been a licensed practical nurse (LPN) for more than 25 years. Her focus is ensuring high standards of culturally competent, individualized, and compassionate care for the elderly. Some of her extensive experience includes treating Parkinson's disease, dementia, diabetes, cancer, Alzheimer's disease, and various wounds. She is deeply committed to serving the elderly by ensuring their safety and well-being.
After graduating from nursing school in New Jersey, Angela started working in nursing homes/rehab and eventually ventured on to assisted living, hospice care, private duty (in-home and nursing facilities), and travel nursing (at least seven states).
Angela was born and raised in Jamaica, and then moved to the U.S. in her teens. Outside of work, she enjoys spending time with her family, catching up and vacationing with close friends, and⁠—most importantly⁠—relaxing in solitude.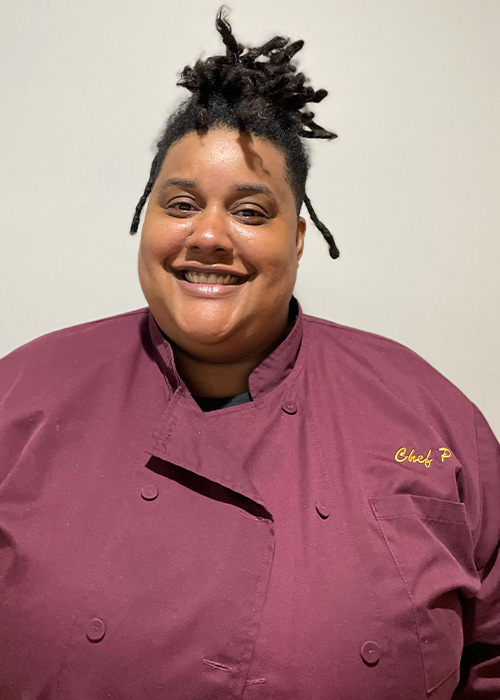 Chauntelle Patterson-High, aka "Chef P."
Chauntelle "Chef P." has traveled across most of the U.S. since she is from a military family. She is the oldest of three girls. In 2013, she decided to follow her passion and attend Le Cordon Bleu, where she graduated with honors. Her experience in the professional culinary world is vast despite being only eight years. She has worked with some of New York City's and Atlanta's celebrity chefs, assisting them with opening new restaurants and executing pop-up events. She was also the Culinary Director for one of the largest Montessori schools in Atlanta for three years before becoming the Executive Chef at her first assisted living community. She also runs a small catering business on the side and loves to read and watch documentaries.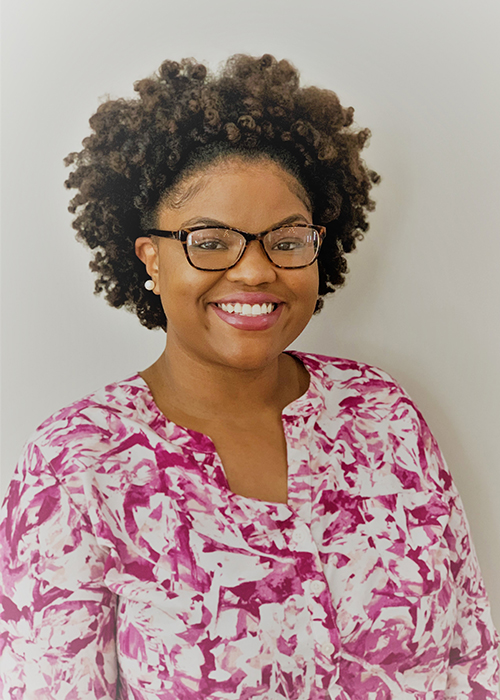 Sales and Marketing Director
Bre'Ana is from Pensacola, FL. She graduated with her Bachelor of Science in Healthcare Administration from Columbia Southern University. Bre'Ana developed a passion for the healthcare industry in her early years. She has nine years of diverse experience, while the last two years have been in the senior living industry. She has a passion for connecting with seniors and their families who are seeking senior living options. In her free time, Bre'Ana likes to read, workout, and practice personal development.
Favorite Quote: "Don't judge each day by the harvest you reap but by the seeds that you plant." – Robert Louis Stevenson.
Just recently relocated to Atlanta, but originally I am from Florida, born and raised. I ended up moving to Augusta, GA about 9 years ago, and was a CNA for 5 years. I then worked as a Med Tech for 4 years before eventually  deciding to become an Activity Director in 2019. I have been an Activity Director for the last  2 years now.
I am a pescatarian and love seafood, especially sushi. I love to go to outings with friends. I enjoy the outdoors, and playing basketball and tennis as I used to be an athlete. I love to travel and spend time with my family in Florida.
I also love being an activity director, because I get to be around such wonderful people everyday. I enjoy seeing smiles on their faces when they're having fun. I do not have any kids yet, but I have a lot of nieces and nephews that I love dearly.