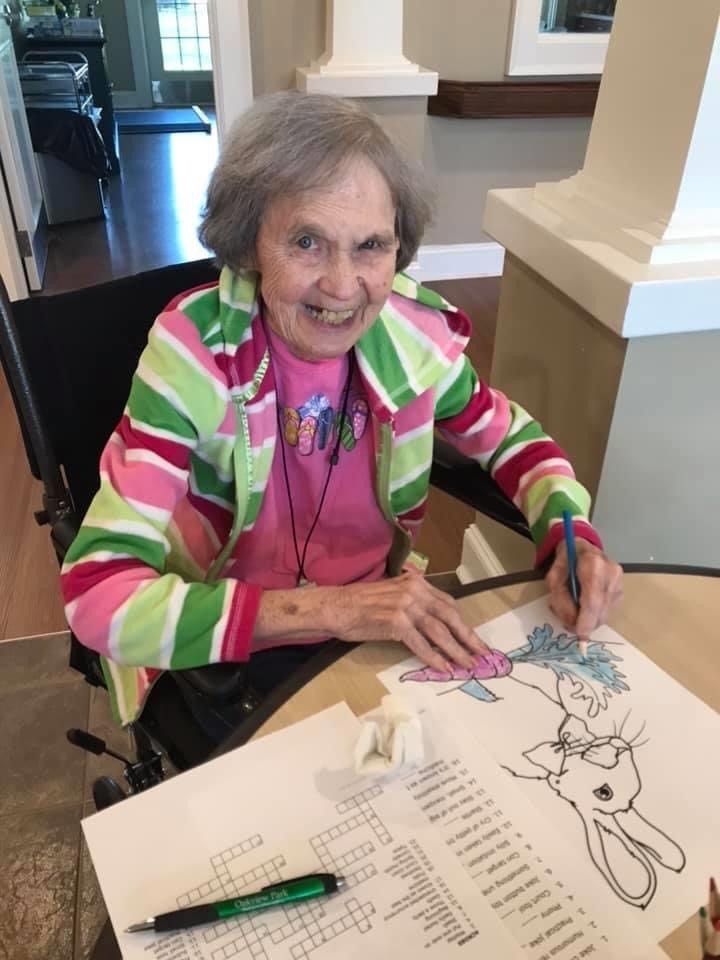 Marion is our May Resident of the Month!
Marion is from the Washington D.C. area and grew up just across the Potomac River in Seabrook, Maryland. She is the second born of eight children. Her dad worked on the railroad, while her mom stayed home with the children. It was a time when you had to put water in the washing machine and there were no dishwashers. However, it was also a time when the kids went outside to play in the neighborhood, and there were lots of kids in Marion's neighborhood! They loved to play Kick the Can and Monopoly and just sit around and talk. They walked to their nearby elementary school and wore union suits when it was cold outside.
As an adult, Marion worked as a bookkeeper at the Shorn Hotel in Washington D.C. One day she was invited to a "Boy Meet Girl Dance". There she met a boy named Hank who said he couldn't dance but really could. He also said he wouldn't get married but he did. After the dance, he found Marion's phone number in the phonebook. Their first date was going to the movies. They dated for about a year and then a month before Christmas Hank gave Marion a beautifully wrapped box. Marion politely  said she would put it under the tree for Christmas but Hank insisted she open it. Inside was a ring and a note that said "Will you marry me?". Marion said yes. Hank let his family know the good news when he went home to Kentucky two weeks later.
On February 22, 1963 they were married. They began their family in Maryland, Katherine Jean  was born in 1963, Hank Jr in 1964, and later Pam Susan was born in 1970. Marion stayed home with the children while Hank worked. Their vacation time was spent in Myrtle Beach, SC, Ocean City, or visiting the grandparents in Kentucky.  After about 20 years in Maryland, the Pritchett's moved to Sumter, SC where they later retired. Recently, Marion moved to the Greenville area to be near her daughter Kathy. Marion has five grandchildren.
We love having Marion as a resident of Oakview Park. She has a quiet gentle spirit and is quite good at trivia games.  Congratulations Marion on being our Oakview Park Resident of the Month, we love you!
Mr. Gilbert is our Veteran of the Month.
Gilbert went straight into the Army after High School. He wanted to avoid being drafted and sent to Vietnam. After he joined, he was sent to Germany and served in supplies for three years.
Gilbert feels like he grew up in the military and learned how to be his own person. Being in the Army taught him how to work with and interact with people who are different. He learned German and got to know the people. He also fell in love with the food and culture. He especially loved that the German's were so precise and detailed. One of Gilbert's favorite memories while being stationed in Germany was going on a European tour with a buddy of his. His friend had a Volkswagen and they went all over Europe with it. They got to see a lot of Germany and Italy.
Being in Germany prepared Gilbert for his career. He used his knowledge of European culture to get a sales job with a textile machine manufacturer. Gilbert was their European sales contact. He especially loved working with the Germans. He recalls how the German engineers would know all the books and regulations for a machine. They would know which book to get and which page the information they needed was on. He was very impressed.
When Gilbert returned to Europe two years after he left, he was struck by how much things had changed. Gilbert had been instructed never to go near or over the border of Czechoslovakia because they would shoot him on sight. When he returned, he was able to easily cross the border and after getting to know the people, he realized that they were just like everybody else and not as bad as they were made out to be.
Gilbert's advice to the next generation of soldiers is, "Get a technical degree before going into the military because everything is so high tech now. I'm sure that they will train you but getting a degree will give you a leg up."