Senior communities are not just places to live; they are places to flourish.
Retaining one's independence is the best gift we can give ourselves. As we get older, things we take for granted start to become a hassle in everyday life. Senior living is one way to keep living life on your terms and free yourself from all of life's little nuisances.
At Atlas Senior Living, we orchestrate our communities to be accessible for all stages of older adults' lives.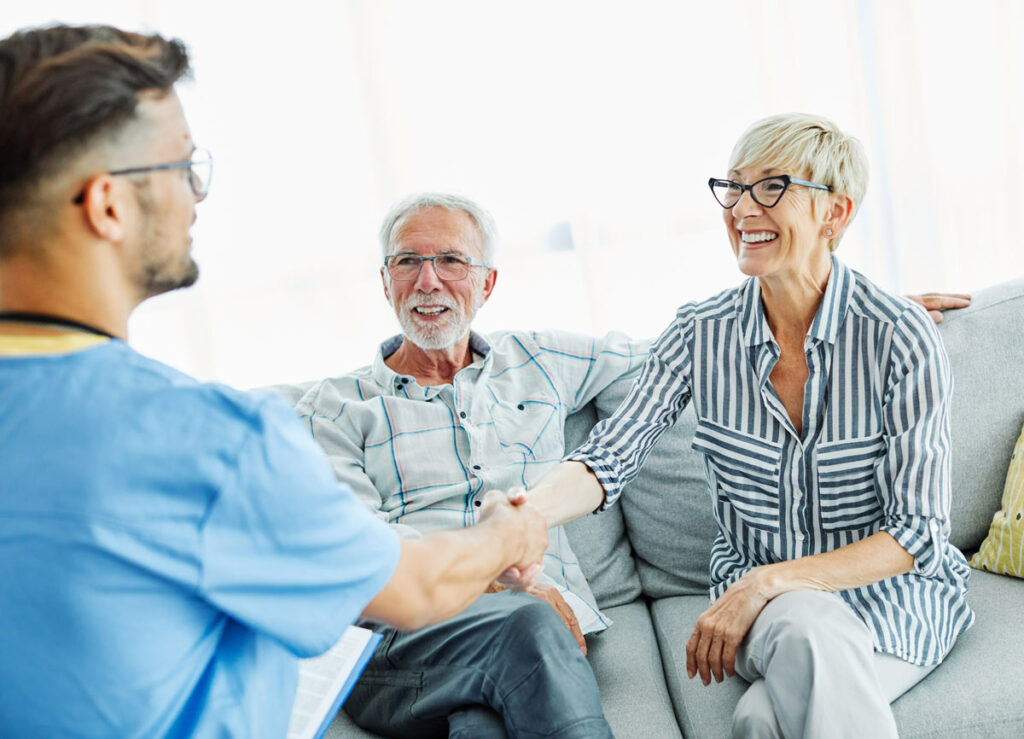 When should I look into senior living?
No matter the stage in your life, senior living has a long list of advantages. Financial security, remaining active, enjoying independence and requiring assistance are just some. If any of the following statements resonate with you, a transition to senior living may be right for you:
I'm very independent, but I am getting tired of all my household chores.
It would be nice to socialize more.
I would like to be more active and maintain my strength.
I find it difficult to remember all of my medications.
My mobility makes some things difficult.
My memory is not what it used to be.
What are the types of senior living communities?
| | | |
| --- | --- | --- |
| Types | Benefits | Available at Atlas Communities?  |
| Independent Living | For active people looking to stay busy and social. Enjoy activities, clubs and outings as you please. | ✓ |
| Assisted Living and Personal Care Homes | For people who need help with daily living tasks like bathing, dressing and medication management. | ✓ |
| Memory Care | People experiencing Alzheimer's and/or other forms of dementia can enjoy a reduced stress environment and benefit from brain healthy activities and menu options. | ✓ |
| Respite Care | After an operation or release from rehabilitation, people not quite ready to live on their own can enjoy the supportive environment of senior living. Short-term leasing available. | ✓ |
Independent Living
If you're an active person and wish to retain that activity level, independent living is a perfect way to experience senior living. As we offer many health and wellness classes as well as social functions and interest clubs, your activity calendar will be as full as you want it to be. With things like meals and house cleaning included, you have the freedom to live your best life.
Assisted Living and Personal Care Homes
Assisted living and personal care includes the same amenities, but offers a helping hand with managing medications and daily living activities like bathing and dressing if needed. We take care of the heavy lifting so you can still enjoy and contribute to our community.
Memory Care
The need for memory care communities has grown by 55% in the last ten years, according to research by AARP. With this, the advancements in the care for people experiencing Alzheimers and dementia is dynamic and our specialized memory care teams utilize the latest research to provide residents with a life of peace and dignity. These communities are specially designed to alleviate stress and reinforce positivity. Activities are created to strengthen and retain cognitive behavior and meals are prepared with brain healthy ingredients.
Respite Care
We offer short-term stays for people who may have just had a procedure done or are looking to get back on their feet following rehabilitation. Respite care is also a great introduction to senior living. With short-term leasing options available and all of the amenities available, we offer a supportive environment while you regain your independence.
What are the advantages of living in an Atlas community?
We are here to take care of life's small tasks that tend to hold older adults back. In addition to three chef-inspired meals, housekeeping services and daily living assistance, Atlas communities guarantee:
Security – Our modern communities are created in an accessible environment for all of life's stages. Our team of licenced nurses and specialists are always on hand to aid in any emergencies that may arise.
Socialization – An important part of life is experiencing joy with others. At Atlas senior living communities, we build friendships around our ever changing activity calendar, various clubs and by giving back to the surrounding area.
Person-Centered Care – We understand all residents are different and offer the specific service that person needs. From building strength to assisting getting dressed for the day, we tailor care to every individual.
Engaging – We offer activities that keep the mind, body and spirit sharp. Whether it's an exercise class to keep you physically fit or a brain game to stimulate the imagination, our communities will keep you motivated for more.
Problems
Senior Living Solutions
Example Atlas Community
Lack of socialization

Clubs
Arts and crafts activities
Happy hours

Oakview Park
Mobility issues

Wellness and strength classes
Accessible apartments
Daily living assistance

Legacy Ridge at Fritz Farm
Memory loss

Specialized programs
Stress-free layouts
Brain healthy menu options

The Goldton at Southaven
Am I too late to senior living?
There are times when it seems like some older adults may need a more intensive type of care, but Atlas communities offer services in assisted living, personal care homes, respite care and memory care. We are here for those suffering memory loss, mobility issues and experiencing problems managing medication. We're licenced and prepared for people needing assistance with tasks of daily living such as bathing, dressing and grooming.
How much will senior living cost?
When considering the cost of senior living, it's important to weigh it against things like the high cost of staying in your own home. Hiring a personal caretaker, maintaining upkeep and remodels for accessibility could become endless numbers. At Atlas communities, your meals, activities, cleaning, maintenance, transportation, care and more are all taken care of and included in your rent.
How do I find out more?
To request more information or to schedule an in-person or virtual tour please visit us online, look up your nearest Atlas community, or call (205) 506-0745. We can't wait to meet you.