Meet Our Exceptional Leadership Team: Guiding Senior Living Excellence in Summerville, SC
My name is John B. Cornwell, and I am the Executive Director here at Wildcat Senior Living. Working with seniors has always been my passion. I began my journey as a Certified Nursing Assistant as a teenager while I was in nursing school. I graduated from nursing school in 2000 and began working with seniors immediately. I knew then that this was going to be my specialty.
In 2018, I continued my education and obtained my Long-Term Care Administrator License so I could grow professionally. In my spare time, you can find me reading a book or listening to podcasts. I enjoy working at Wildcat Senior Living because I can make a difference in people's lives. Nothing makes me happier than to put a smile on someone's face.
Hello my name is Lisa Mikkelsen I am the Wellness Director at Wildcat Senior Living. I am a South Carolina native and enjoy serving and giving back to others in need. I receive my degree in Health Science and Nursing in 1990. I have worked in the healthcare industry for more than 35 years and worked at mutiple levels of healthcare facilities.
The past 15 years I have dedicated my time and focus on serving the senior population which I absolutely love. I love nature, wildlife, hiking, photography and travel. My favorite quote is from Mother Teresa:  "Not all of us can do great things. But we can do small things with great love "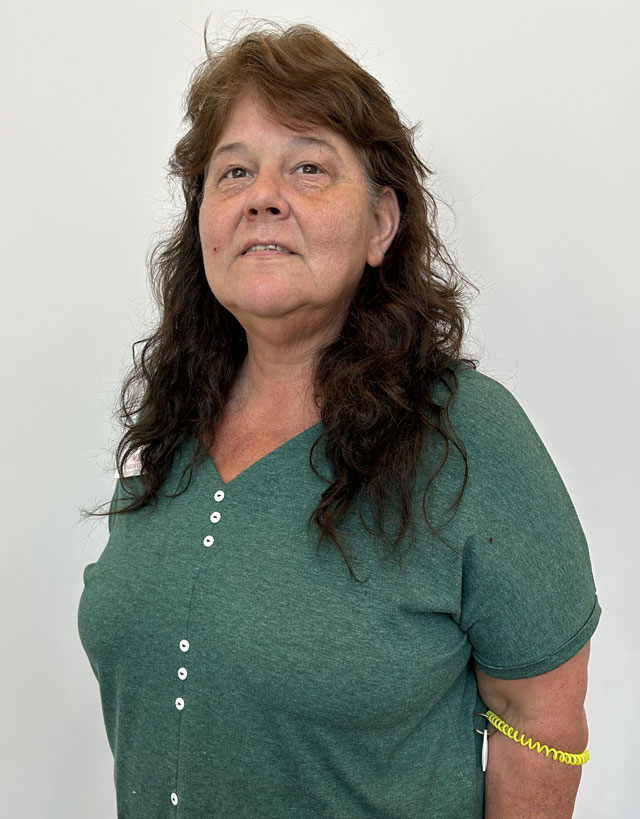 Hello, my name is Eileen Goos, and I am the Culinary Director at Wildcat Senior Living. I have over 35 years' experience in the food industry and senior dining. Over the years I have worked every position in kitchen from dishwasher, waitstaff to baker and chef.
I owned my own Italian Pizza Restaurant, worked as a Corporate Culinary instructor, appeared live on local TV news cooking segments, worked as a Senior Dining Consultant and have been featured in industry magazines more than a dozen times.
I have three children (with my first husband Tom, deceased) two grandchildren, third on the way and a stepdaughter. I am currently married to Mark Mengel, we will be celebrating our 5 th wedding anniversary this July.
Community Outreach Director
I'm Wendy Murphy, the Community Outreach Director at Wildcat. I moved into this new role after a 25-year career as a United Methodist minister, leading local churches and serving as a hospice chaplain. My spouse, Brian, and I have five children, all teens and young adults.
I love spending time with them, trying new dessert recipes, and training for a triathlon. I've spent the past two decades with seniors, and I love their wisdom, their joy and their stories. I smile every day when I see our residents thriving and I love welcoming residents to their new home.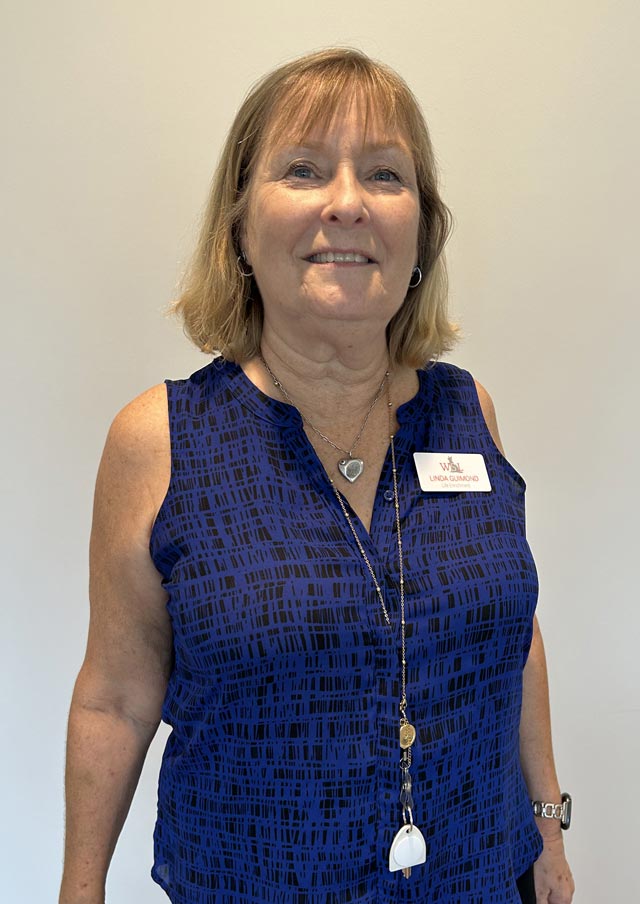 Life Enrichment for Memory Care
I'm Linda Guimond, the Life Enrichment Coordinator here at Wildcat. I had more than 30 years of customer service experience during my career, including several positions in banking. I worked with my father for three years before he passed. Interacting with therapists I realized that I wanted to pursue the chance to work with other seniors. Outside of work I devote my time on the worship leadership team with my church, coordinating various activities.I have been married to my husband Mike for 40 years. We have 2 children and 1 grandchild. I enjoy spending time together with my family bike riding, traveling and playing games.
I feel blessed to have the opportunity to interact with our residents through games, crafts and acting silly. The smiles and laughter that I encounter every day are priceless. The residents have so much love and care for each other that it makes each day more special than the day before.
Community Relations Director
My name is Angel Cox, and I'm the Customer Relations Director here at Wildcat. lI began my journey in senior living by volunteering in communities with my father as a young child. That background led me to become a CNA at the age of 16. I have 24 years of experience, crossing the lanes between home healthcare, medical centers, hospitals, and skilled nursing centers. ;I'm currently pursuing further education in Business Management so I can become an advocate for caregivers, CNAs and senior communities. I have a passion for developing others colleagues' professional skills and knowledge of senior living.
I truly love helping others and being supportive through transitional chapters in their lives. I value being a support system for families by serving as their trusted, reputable resource. In my free time I enjoy being a sports mom, going to the beach, taking trips to the mountains and being outside as much as I can.