Nestled amidst the picturesque charm of Summerville, a town known for its Southern hospitality and historic allure, lies Summerville's premier retirement haven: Wildcat Senior Living. This thriving community stands as a beacon of comfort, companionship, and contentment for those seeking the golden years of their dreams.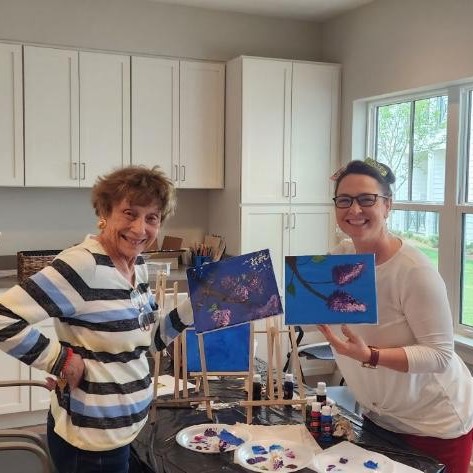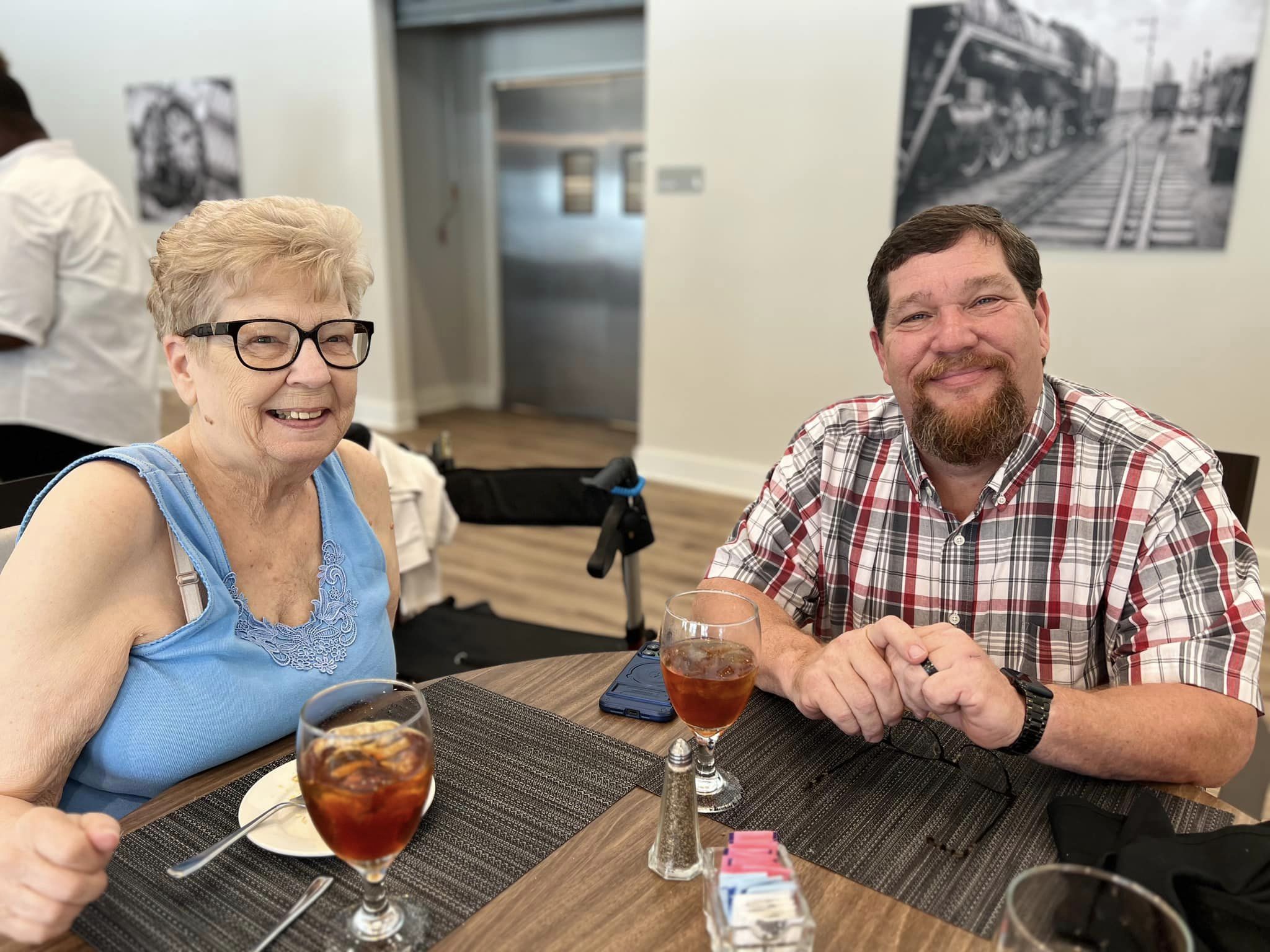 As we navigate the maze of life, the notion of retirement often beckons us with promises of tranquility and fulfillment. Wildcat Senior Living embraces this chapter of life with open arms, offering not just a place to reside, but a vibrant canvas upon which to paint your retirement masterpiece. This is more than just a place to live; it's a place to truly thrive.
In this article, we embark on a journey through the heart of Wildcat Senior Living, exploring the myriad reasons why it stands as the premier choice for retirement in Summerville. From the thoughtfully designed living spaces to the delectable culinary experiences, the engaging activities to the unwavering commitment to health and wellness, Wildcat Senior Living sets the standard for retirement living in the region.
Add a header to begin generating the table of contents
Unlocking the Extraordinary: Elevate Your Retirement Experience Beyond Expectations
Are you ready to embark on a retirement journey that transcends the ordinary? Discover the key elements that can make your retirement experience truly exceptional. Here are some surprising facts and insightful tips to help you create a retirement lifestyle that exceeds your expectations:
Stay Physically Active for Cognitive Vitality:
Did you know? Engaging in regular physical activity not only enhances your physical health but also supports cognitive function. Stay mentally sharp by incorporating exercise into your daily routine.
Go beyond: Join group fitness classes or take up activities like yoga, swimming, or dancing to boost your cognitive vitality and overall well-being.
Lifelong Learning: Cultivating Your Mind in Retirement:
Continual Growth: Learning new things can keep your mind sharp and enrich your retirement years.
Inquisitive Inquiries: "Where can I find opportunities for learning in my senior years?"
Actionable Advice:Explore local classes, workshops, or online courses that cater to senior interests and schedules.
Foster Meaningful Social Connections:
Did you know? Maintaining a robust social life is linked to better mental and emotional health. Cultivate relationships, both old and new, to enrich your retirement experience.
The Power of Connection: Maintaining an active social life offers numerous benefits for emotional and mental well-being.
Common Concern: "How can I build and sustain friendships and connections during retirement?"
Constructive Tips: Join local clubs, groups, or engage in volunteer work aligned with your interests to cultivate deeper connections.
Travel and Explore:
Did you know? Retirement is the perfect time to satisfy your wanderlust. Traveling can broaden your horizons, expose you to new cultures, and create lasting memories.
Go beyond: Plan a series of trips, both near and far, to discover new destinations and revisit cherished ones. Consider group travel options that cater to seniors for added convenience and camaraderie.
Plan for Your Financial Security:
Financial Peace of Mind: Careful financial planning is essential for a secure retirement.
Common Question: "What are some essential financial strategies for retirees?"
Expert Insights: Consult a financial advisor specializing in retirement planning for asset optimization and lasting financial security.
Choose the Right Retirement Community:
Did you know? Selecting the perfect retirement community can significantly impact your quality of life during retirement. Look for communities that offer a wide range of amenities, healthcare services, and social activities.
Go beyond: Visit prospective communities, talk to current residents and ask about their experiences. Pay attention to the level of care and the sense of community when making your decision.
By focusing on these key elements and going beyond the expected, you can craft a retirement experience that's not just special but extraordinary. Embrace the opportunities, stay curious, and create a retirement that surpasses your wildest expectations.
The Ideal Retirement Lifestyle
Are you ready to live the retirement you've always dreamed of? At Wildcat Senior Living in Summerville, SC, we offer Independent Living that goes beyond just a place to reside. It's a lifestyle designed to help you embrace every moment to the fullest.
A Life of Leisure and Convenience
Imagine a life where you no longer worry about the hassles of home maintenance. Our Independent Living options provide a range of apartment styles to suit your preferences. We take care of yard work al so you can make the most of our onsite amenities and services. Relax in the peace and privacy of your own pet-friendly apartment, indulge in delicious gourmet dining, and discover endless opportunities for adventure.
But it doesn't stop there. At Wildcat Senior Living, we believe that retirement should be an enriching experience, and our community reflects that belief.
Health and Wellness: Nurturing Body and Soul
Our community is a hub of constant social interaction and family involvement. With a full activities program seven days a week, there's always something exciting happening. Engage in fitness and wellness activities or join one of our fitness options. Explore our onsite and nearby walking trails, or take advantage of our complete spectrum of care, including in-house assisted living and memory care services. Physical, occupational, and speech therapy are also available to help you maintain your best self.
Services Tailored to You
Our commitment to your well-being extends to additional services such as utilities included, and friendly associates who are dedicated to exceeding your needs daily. Enjoy the convenience of energy-efficient appliances, weekly housekeeping, and flat linen services. Each apartment includes a washer and dryer for your convenience.
Dining in Style: Culinary Delights with a Side of Connection
Dining isn't just about nourishment; it's an opportunity to forge connections and build a sense of community. Join us for delectable dining options in our restaurant-style dining room, where friends and family are always welcome. Private dining options and group reservations in our Private Dining Room are also available. Our resident chefs create fresh, handcrafted dishes that encourage meaningful connections and strengthen bonds.
Never Stop Learning: Embrace Every Moment
At Wildcat Senior Living, we understand that every individual has unique interests and preferences. That's why our daily activities are designed to engage a variety of needs, abilities, and personalities. Whether you're honing your short game on our putting green, relaxing by the resort-style pool, or embarking on offsite excursions, there's always something exciting to do.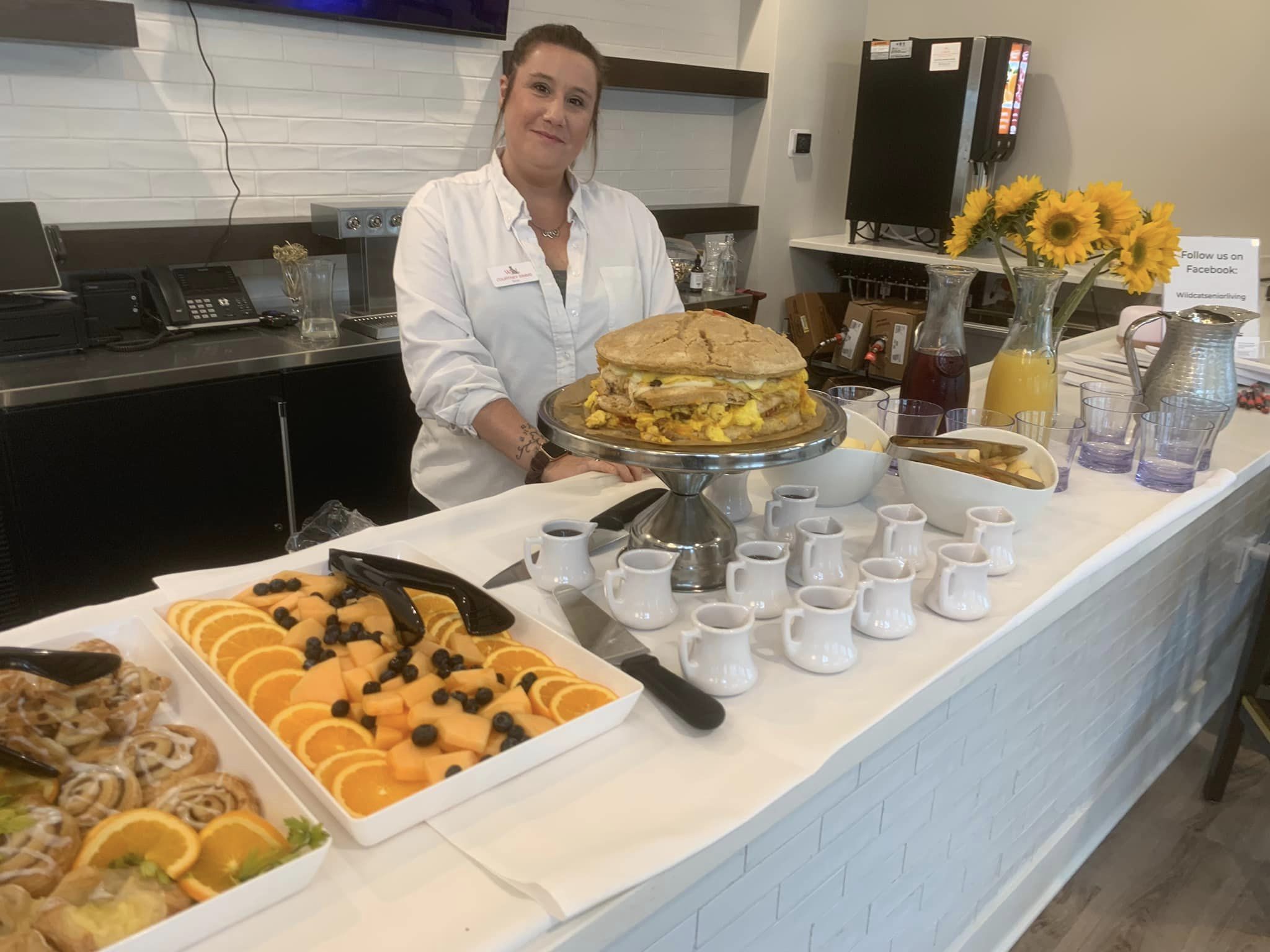 The Transformative Power of Living Spaces: Beyond the Ordinary
The significance of living spaces transcends mere physical locations; they are the canvas upon which our daily experiences are painted. In the tapestry of retirement, where each thread represents a moment cherished, the role of our living environment becomes increasingly pronounced. It ceases to be a mere shelter and transforms into a sanctuary that has the potential to elevate our quality of life, instill tranquility, and nurture the desire for a retirement filled with fulfillment.
The Art of Thoughtfully Designed Spaces
Imagine strolling through a meticulously crafted garden, where vibrant blossoms sway gently in the breeze, and the harmonious sounds of nature create a serene symphony. These curated spaces possess a remarkable power to shape your mental and emotional well-being. Research has revealed that immersion in natural settings, such as gardens, can reduce stress, elevate mood, and enrich overall well-being. It's a testament to the transformative influence of well-designed environments.
Yet, the significance of thoughtfully designed spaces extends beyond gardens. It encompasses every facet of our living surroundings. It encompasses the layout of intelligently designed floor plans that minimize effort and maximize convenience. It encompasses the welcoming embrace of communal areas that invite social interaction and forge connections. In these spaces, the ordinary becomes extraordinary, and each day becomes a canvas waiting to be painted with moments of joy and fulfillment.


The Symphony of Architectural Excellence in Senior Living
Architectural design is the conductor of the symphony that is senior living. Its role is to compose spaces that empower residents to move gracefully, engage in activities of their choosing, and savor a sense of independence. It harmonizes the physical environment with the desires and needs of those who call it home.
Picture living in a community where every space is a testament to purposeful design. Imagine hallways and doorways that gracefully accommodate mobility aids, kitchens meticulously equipped for ease of use, and common areas meticulously crafted to encourage vibrant social interactions. In this realm, architecture transcends aesthetics and evolves into a choreographer of functionality, where the choreography is performed effortlessly, leaving residents free to focus on the joys of life.
As George Bernard Shaw eloquently stated, "We don't stop playing because we grow old; we grow old because we stop playing." This ethos underscores the importance of well-designed living spaces in senior living. The fusion of aesthetics and functionality serves as an enabler, ensuring that every day in retirement is an invitation to play, to discover, and to cherish.


Your Oasis at Wildcat Senior Living
At Wildcat Senior Living, we understand the profound impact that living spaces can have on your retirement experience. Our senior apartments are meticulously crafted to provide comfort, convenience, and peace of mind.
Inside your pet-friendly senior apartment, you'll discover a range of features designed to elevate your daily life. Imagine cooking in a kitchen equipped with modern stainless appliances, surrounded by solid surface countertops and abundant natural light streaming through big windows. Your spacious, walk-in closets offer ample storage, and the high ceilings create an open, airy ambiance.
These thoughtfully designed living spaces are just a part of what makes Wildcat Senior Living the premier choice for retirement in Summerville. Our community embodies the ideals of comfort, independence, and a fulfilling retirement lifestyle.
When you choose Wildcat Senior Living, you're not just selecting a residence; you're embracing a transformative living environment that supports your desire for a vibrant retirement.
Community and Companionship: Enriching Your Retirement Journey
Retirement brings with it the opportunity to savor the companionship of close friends and the joys of being part of a close-knit community. The importance of companionship in the golden years cannot be overstated. Having friends nearby not only alleviates feelings of isolation but also enhances overall well-being. Here are some of the benefits of living within a community that fosters friendship and camaraderie:
Emotional Support: Close friendships provide a support system that can help you navigate the ups and downs of life. Sharing experiences and emotions with trusted companions can ease stress and boost mental health.
Increased Engagement: Friends often encourage each other to participate in activities, stay active, and embrace new adventures. A vibrant social life can lead to a more fulfilling retirement.
Enhanced Quality of Life: Studies have shown that seniors with strong social connections tend to have a higher quality of life, improved cognitive function, and even longer lifespans.


Creating Community at Wildcat Senior Living
At Wildcat Senior Living, we understand the vital role that companionship plays in your retirement journey. Our community is designed not only to provide comfortable living spaces but also to cultivate a sense of belonging and friendship.
From the architectural layout that encourages social interactions to the wide array of events and activities, we foster an environment where residents can connect and build lasting relationships. Whether it's a casual chat in our communal areas, a shared meal in our restaurant-style dining room, or participation in one of our engaging events, there are numerous opportunities to make new friends and create cherished memories.
Speaking of events, mark your calendars for September 19th, when we'll be hosting a ribbon-cutting ceremony. We cordially invite you to join us for this special occasion, which provides an ideal opportunity to meet our residents and staff, experience the warmth of our community, and begin your journey toward lasting friendships.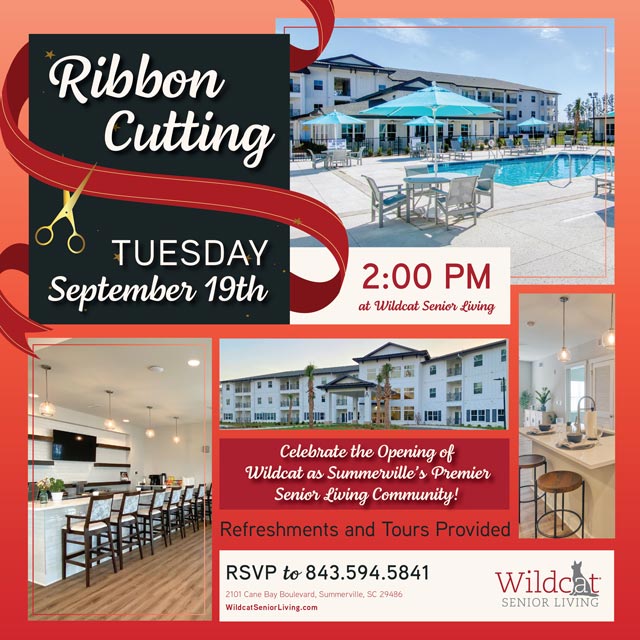 Discover Our Vibrant Community Life
Our community life is filled with a rich tapestry of events and activities designed to bring residents together. Whether it's fitness classes, lively games, or group outings to explore Summerville's vibrant culture, there's always something happening at Wildcat Senior Living. You can explore our offerings further by visiting this link.
Our commitment to fostering a strong sense of community is at the heart of Wildcat Senior Living. We believe that companionship and friendship are essential ingredients in the recipe for a fulfilling retirement. We look forward to welcoming you and helping you create meaningful connections within our community.
Why Summerville is the Perfect Retirement Destination: Embracing Life in the Lowcountry
Summerville, South Carolina, is the ideal retirement destination, offering a blend of Southern charm, cultural richness, and natural beauty. Here's why retiring in Summerville is a delightful choice:
Warm and Welcoming Community: Summerville is known for its friendly residents who readily embrace newcomers. It's a place where you'll feel like part of the community from day one.
Cultural Heritage: Summerville boasts a rich cultural heritage, with a thriving arts scene, local festivals, and a strong connection to artists like DuBose Heyward and his famous work "Porgy and Bess."
Natural Beauty: The Lowcountry region is renowned for its stunning landscapes, including lush gardens, serene waterways, and abundant parks. The Azalea Park and Sculpture Garden, with its vibrant blooms and art installations, is a local treasure.
Accessibility: Summerville offers easy access to shopping centers, healthcare facilities, and essential services, ensuring that your retirement is convenient and worry-free.
Historical Charm: The town's historic district is a picturesque setting with beautiful, centuries-old homes and a charming downtown area filled with quaint shops and dining establishments.
Community Spirit: Summerville hosts numerous community events, including the Flowertown Festival, one of the largest arts and crafts festivals in the Southeast. It's an excellent opportunity to connect with fellow residents.
Medical Facilities: The town is home to several medical centers and healthcare providers, ensuring that you have access to quality healthcare services.
Summerville truly embodies the essence of Southern hospitality and offers a wide range of cultural, natural, and recreational opportunities to enhance your retirement experience. It's a place where every day can be an adventure, and the community embraces the joys of life in the Lowcountry.



Independent Living FAQs
What is Independent Living, and how does it differ from other senior living options?
Answer: Independent Living is a senior living option that provides active, self-sufficient seniors with the freedom to enjoy their retirement while residing in a community designed for social engagement and convenience. Unlike other options, like Assisted Living, Independent Living residents typically do not require daily assistance with activities of daily living (ADLs).
What amenities can I expect in an Independent Living community like Wildcat Senior Living?
Answer: Independent Living communities like Wildcat Senior Living offer a range of amenities, including restaurant-style dining, fitness centers, social activities, housekeeping, transportation services, and beautifully designed living spaces.
Is Independent Living suitable for seniors who want to maintain their independence while enjoying a supportive community environment?
Answer: Yes, Independent Living is an excellent choice for active seniors who value their independence but also want to enjoy the convenience and social opportunities that a senior living community provides.
Are there opportunities for social interaction and activities in Independent Living communities?
Answer: Absolutely! Independent Living communities offer a variety of social activities and events to keep residents engaged and connected with others. This includes fitness classes, cultural outings, art workshops, and more.
What types of floor plans and living spaces are available in Independent Living at Wildcat Senior Living?
Answer: Wildcat Senior Living offers a range of floor plans for Independent Living, including different apartment styles and sizes to suit individual preferences. These apartments feature amenities like well-equipped kitchens, walk-in closets, and comfortable living areas.
Is transportation available for residents who may not drive?
Answer: Yes, Independent Living communities often provide transportation services for residents who may not drive. This ensures that residents can access essential services, medical appointments, and enjoy group outings.
Can I bring my pet to an Independent Living community like Wildcat Senior Living?
Answer: Many Independent Living communities, including Wildcat Senior Living, are pet-friendly and allow residents to bring their beloved pets, such as dogs or cats, to enhance their living experience.
What healthcare services are available in Independent Living communities, and how do they differ from other senior living options?
Answer: Independent Living communities primarily focus on promoting an active and social lifestyle. While they may offer wellness programs, healthcare services typically become more comprehensive in Assisted Living or Memory Care settings when residents require specific medical assistance.