Advice on Having the Senior Living Talk with Mom or Dad
It's time to think of a better solution for your parents by discussing a senior living community, but you don't know how to bring the topic up. Read below on how to approach this topic carefully with a loved one and questions that might arise after starting the conversation.
What if Mom or Dad Doesn't Want to Move to Senior Living?
Remember that this will be a big life change for them. Addressing their needs with empathy and compassion are key while initiating the topic about senior living with them. The care and social fulfillment they will receive at a senior living community is worth more to their quality of life than living at home alone. 
How Do I Tell Mom or Dad They Need Senior Living or Assisted Living?
As a senior living operator with tenured leaders in our communities, Atlas has spoken with many daughters and sons throughout the U.S. about the big senior living conversation.
First, there isn't a perfect set of rules to follow. Everyone handles this topic differently, but know that you are not alone. Although you may or may not be a caregiver,

there are millions of people in the U.S. taking care of someone 50-years-of-age or older

.

When starting this conversation with your parent, always think of this process as

collaborating

with them, not

controlling

them. No one likes to feel like they are being controlled and that their voice isn't being heard, especially when it comes to a major life decision involving them.

You know that senior living is the best option for mom or dad, but the fact remains that it still needs to be their decision. They should want to move because it is in their best interest. Present the topic in a way that includes their questions, concerns, and comments.
Need some help starting the conversation? Below is a list of common issues seniors face living alone, collaborative statements to encourage your parent to think about assisted living, and how Atlas alleviates these problems your senior may face right now at home.
| | | |
| --- | --- | --- |
| Issue | How to Address the Issue | How Atlas Helps |
| Trouble performing daily tasks (bathing, dressing, and/or grooming themselves) | With the way your routine has been going lately, do you think it is causing a decline in your health? | Our team of LPNs, RNs, and medical directors will have your parent's individualized care plan handy to provide personalized care daily. |
| Forgetting to take or pick up medications | Your medications are more of a hassle lately. What do you think about receiving extra help with your medications so you don't need to worry about forgetting them? | With 24/7 associates and a licensed nurse either on-site or on-call, Atlas supports residents with medication administration and management.  |
| Feeling lonely, depressed, and/or isolated | I can see that this routine is bothering you. Would you like to talk about alternative living options where there are other people around? | There are seniors living in communities with the same interests as your mom or dad, whether it's book clubs, gardening, or walking groups. |
These questions are more open-ended, empathetic, and collaborative, rather than we are doing it this way, or we are making this decision for you today. It's important to discuss the issue first, gather their thoughts and feelings on it with an open heart, and then present an ideal solution to that issue. 
Remember that your mom or dad raised you to be the person who you are today. Honor this, their role in your life, and approach them with respect and acknowledgement of their life's accomplishments while talking about senior living. Always include them and their input with any decision-making. 
Once you initiate the conversation, these questions might pop up as you research senior living options.
What is the Cost of Senior Living?
The cost of senior living varies due to what your parent's specific needs are. Communities like Atlas offer all-inclusive pricing with the rent payment such as meals, transportation, housekeeping/laundry services, maintenance, and more. Then, there is separate pricing for the specific care needs of your parent. 
The cost also varies by location because of the financial options available to seniors state-by-state. While there are national financial programs such as Veterans Aid and Attendance, there are also state-specific senior insurance benefit programs to look into and apply for. We suggest speaking with your financial advisor on all of the options available to you. You can also read up on the public benefits seniors can take advantage of on AARP's site.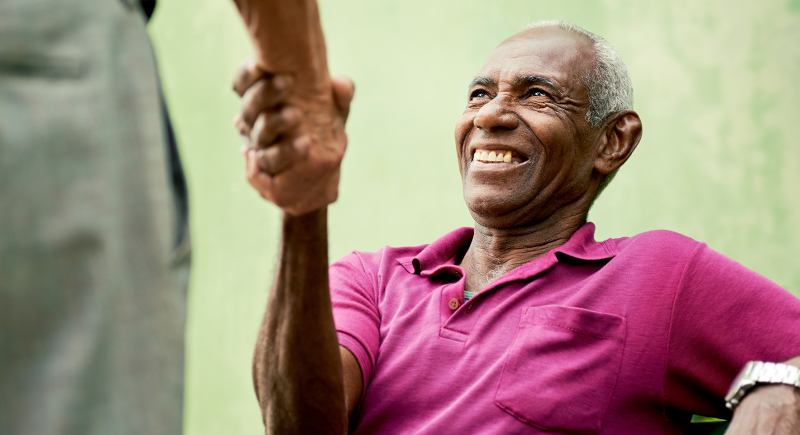 What Are the Benefits of a Senior Living Community?
There are many positive changes that will occur in your parent's life after moving into a senior living or assisted living community. It may be helpful to personalize your parent's experience to the senior living community you choose:
Mom, did you know that the community has monthly book clubs and poetry readings every Wednesday? 

I read on their site that they have raised beds out in their courtyard for everyone to grow plants or veggies.

Every morning and every evening, residents walk in groups around the community courtyard!
This May Be an Emotional Toll for Me. How Do I Work Through It?
It is not easy to sit and consider this change of lifestyle to your parent, let alone initiate the conversation. As you begin this process, keep in mind the following: 
Allow yourself to feel that inevitable discomfort of asking your mom or dad to change their lifestyle. It might be helpful to speak to a senior living professional or with a trusted friend/sibling.

Remember that, although this is a life-changing experience for yourself and your parent, it's one of

enriched value to everyone involved

. 

Continue remembering the benefits for both you and your parent, and that the conversation should be about collaboration, not control. 
Having the Senior Living Conversation Does Not Have to Be Daunting
The fact you are reading this blog now means you want a better lifestyle for your parent, and there is nothing more selfless than that! Keep this in mind as well as these key takeaways during this time:
Starting (and continuing) the conversation in an empathetic, compassionate way will do wonders while navigating this tough topic. 

It's about compassion, not control. Your parent should have as much part in the decision-making process as you.

Be kind to yourself (and to your siblings if involved) as you go through this process. Your parent isn't the only one who will be affected by this situation. 
We make it a living to be a resource for families wherever they are on their senior living journey. Please let us know how we can help and start a conversation.