Some Americans begin planning for retirement during their prime working years, and with good reason. Americans over the age of 55 today are typically healthier, more active and more involved with volunteer efforts and community affairs than previous generations, and most look forward to at least another two decades of active life. They may long for the more relaxed pace they believe retirement offers, but they are unwilling to relinquish personal freedom or independence. They simply view their older years as additional time to enjoy friends and family, pursue personal interests, and maintain the individual lifestyle that they choose. The key word is "choice."
The world is a new and interesting place for older Americans, and options are greater than ever before. Rather than opting to "age in place," which can be a viable alternative, some older Americans choose to make the move to a vibrant resort-style apartment community sooner rather than later. Such a community allows the freedom to make new friends and alliances, travel, socialize and pursue new interests in the company of others with the same mindset.
It's a lifestyle that has great appeal for a growing number of older adults. You don't have to wait until your health begins to decline to make such a move, and some older adults embrace the idea of moving to an inspired senior living community even before they're fully retired. It makes sense.
When Should You Make a Move to Senior Living?
There is no "right time" to make the transition to a senior living community. However, the single most often-expressed refrain is, "I wish we had made the decision to move here sooner." 
Some of the best reasons to consider making a move include:
Family and friends have already moved on: When kids and grandkids move away, and a once-cozy home seems large and empty, it's the right time to reconsider lifestyle options. When close friends also tout the benefits of relocating to resort-style retirement communities, why resist the impulse to consider a change for yourself? It can be a rewarding decision.
You're ready to give up home upkeep and yard work: There's no question that routine maintenance and repairs take time, effort and money. The decision to move into a resort-style senior living community frees you from those concerns. Trade the chores for more time to devote to things you love doing and take the time to exercise body and mind by discovering new interests.
You crave spontaneity and creativity in your life: Independent senior living means that you won't be governed by schedules and that there are always interesting things to do with new-found friends and neighbors. Participate in local cultural events, volunteer your time, take a cooking class, join a book club, explore new restaurants, galleries, museums and historical sites. Make time for yourself in all the ways that make you happy!
The housing market is strong: Home prices are up in most areas of the country and interest rates remain low. Now may be the best time to take advantage of a strong real estate market and put your equity to work in other ways as you plan for a healthy and comfortable retirement.
You are ready to be pampered! If, like most older adults, you have worked hard to achieve your goals in life, now may be the time to "play" a little. Consider that a community with a full-time concierge, a variety of lifestyle options, a beautiful site and a worry-free lifestyle can represent the "fruits of your labor." But be sure that the community you choose strikes the right balance between independence and desirable services. Resolve to enjoy it.
At an senior living community, home takes on new meaning. At its best, a senior community will offer floor plans that meet your high expectations of comfort, style and privacy, a vibrant social life, quality amenities that encourage health, fitness, exercise and well-being, the freedom to adjust your schedule to your personal needs and preferences, and a choice of dining options.
The perfect location would also have a unique "off-campus" appeal, including shopping, dining, access to the art and culture that you love, historical appeal and natural beauty. And, of course, you'll want reliable transportation options and top-quality health care.
Inspired Senior Living at Atrium at Boca Raton
Atrium at Boca Raton, located in Boca Raton, FL, has it all for retirees. An assisted living and memory care community in a distinctive location, it includes the kind of social and recreational opportunities that appeal to your multi-faceted interests.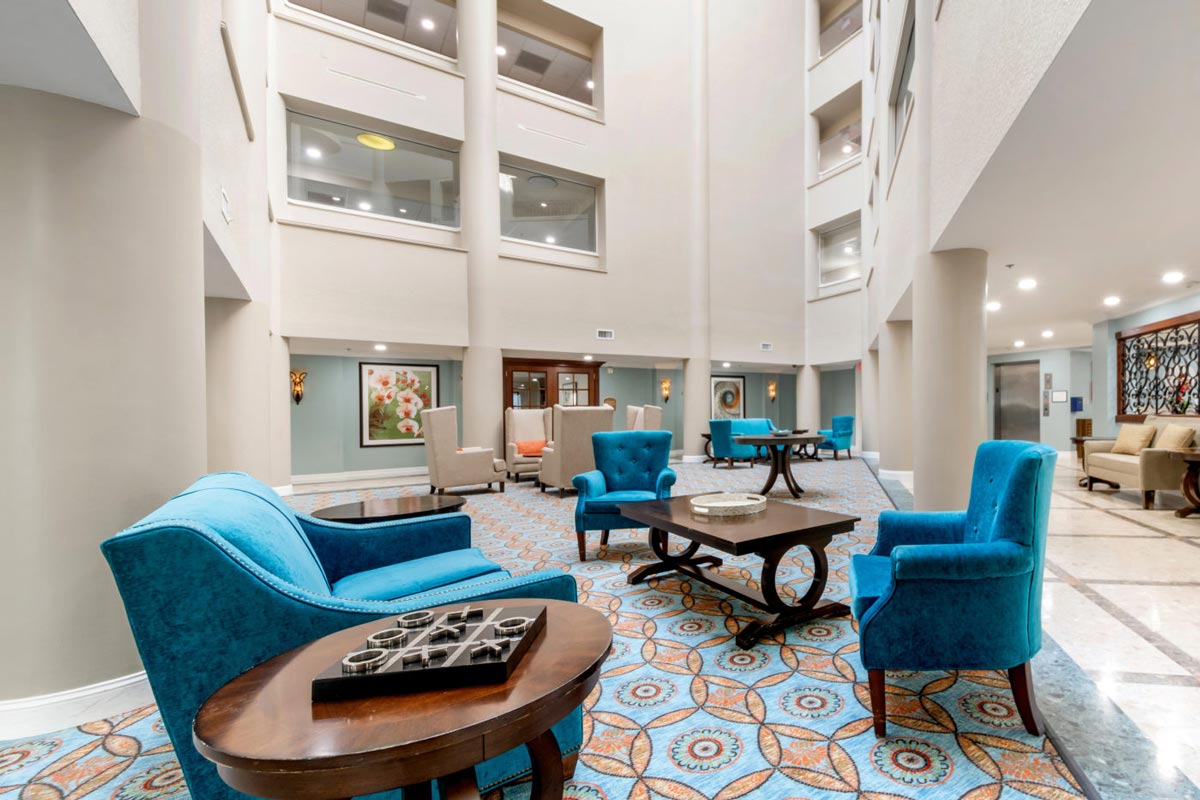 Feel at home in the company of adults with whom you can build trusted relationships, participate in enjoyable events, nurture your individuality and explore new ideas. Enjoy dining with new-found friends at our restaurants or invite others to your home to share a meal. Participate in planned excursions or head out on your own to become familiar with the Boca Raton area. Simply enjoy the natural surroundings and find things to occupy your time "at home" or turn the key in your lock and get away for a weekend with no worries about home upkeep or security.
At Atrium at Boca Raton, you'll become a valued and satisfied member of a community that helps you flourish in your retirement.  This is the kind of community where age is truly a state of mind, and life is what you make it!
If you're exploring options, Atrium at Boca Raton welcomes your inquiries. Ask about taking a virtual tour, or schedule a time to visit with a community representative via phone, FaceTime, Zoom or Skype. Contact us today to schedule your visit. We look forward to answering your questions about living your best life in a welcoming community that will fulfill your retirement aspirations and exceed your expectations.