Lori was born in New York and raised in northern New Jersey before relocating to south Florida in 2014.  Lori has 3 children and 2 grandchildren. For the past 13+ years, she has held a leadership role in the senior living industry.  She started her career as a registered nurse 20 + years ago, first in the hospital, then in home care, it was when Lori ventured into the administrative role that she found her true passion and home which also awarded her further opportunities in the industry.  "I love what I do and interacting with and having fun with the senior population is just the icing on the cake."  When Lori is not working you can find her spending time with family and friends, cooking up a storm, or doing anything that involves water.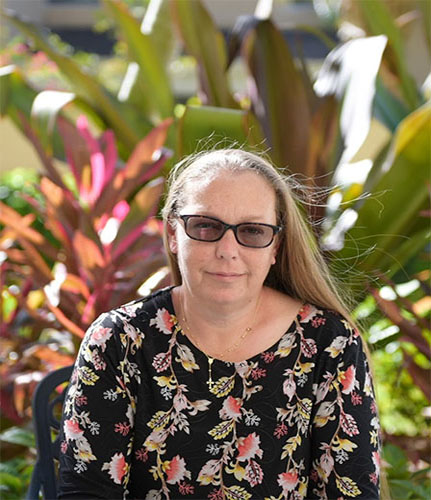 Heather Campagna was born in Germany but has lived most of her life in South Florida.
Heather started her career in senior living over 20 years ago as a licensed nurse and now serves as the Business Office Director of The Atrium at Boca Raton. Heather loves to interact and engage with the residents; whether that means dressing up in an inflatable turkey costume or just helping fill the bird feeders, she is willing to do whatever it takes to bring a little joy to their days. When Heather is not at work, you can typically find her bowling (she is ranked #3) or spending time with her husband and two daughters.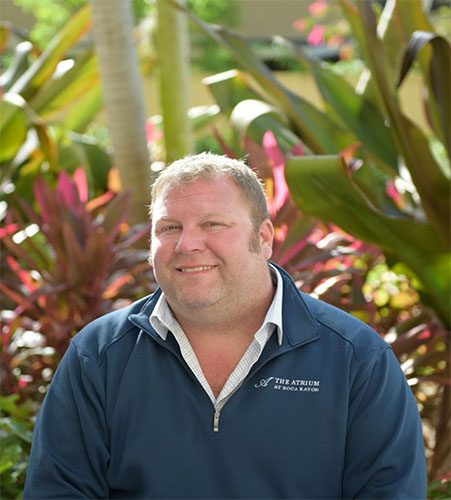 Sales & Marketing Director
John has been helping seniors and their families in senior living since 2011. He and his wife relocated to South Florida from Fenwick Island, DE.
John is proud to continue helping our seniors and their families make the right decisions so that each of them can have a great quality of life during retirement. He is always willing to take the extra time to figure out everyone's unique scenario and his or her family's overall goals. John can usually be found buzzing around the community with residents and families; he also meets with new families who are exploring their loved ones' placement options.
Outside of work, you can find John on a boat offshore fishing, beached up by a sandbar, or enjoying a round of golf with his friends. He also enjoys spending time exploring the intercoastal waterways of Florida and visiting the Keys.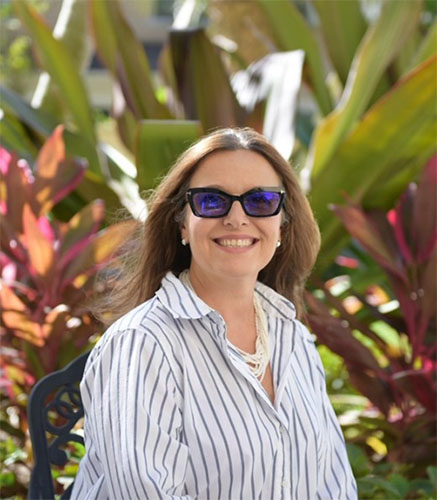 Lisa Rose, Lifestyle Director of the Atrium, is a resident of West Boca Raton and has lived here for over 19 years. Originally from Boston, MA, Lisa studied marketing and design at the New England School of Art & Design in Boston and has enjoyed using her talents to help support and grow many organizations throughout the years. Currently, Lisa is a member of the Junior League of Boca Raton and creates more programs to network the Kindness Matters organization with The Atrium's seniors. She believes that to have a purpose is to have a life. When Lisa is not working, she loves to spend time with her husband and two daughters.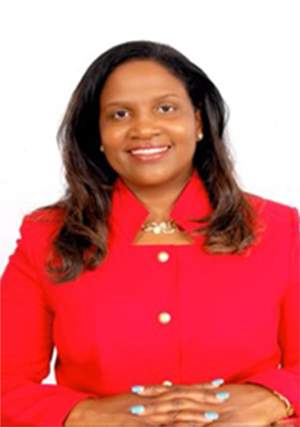 Marverlyn Souffrant is the Wellness Director at the Atrium Boca Raton, a native of Jamaica and migrated to the United States of America in January of 2000.
She attended Galilee University where she obtained a degree in Theology, Divinity, and Chaplaincy, and later received her Doctorate at HBI University.
Her compassionate heart and love for nursing drives her to pursue a degree in Nursing at Atlantic Technical College and has been serving as Director of Nursing in the Assisted living facility since 2015. She prides herself on helping residents find a healthy perception of themselves, to be healthy and whole.
Outside of work, Marverlyn enjoys traveling and spending time with her son and daughter.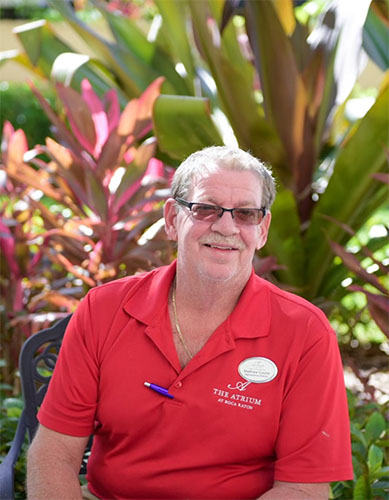 Environmental Service Director
Matthew Coutre, Environmental Service Director, was born in South Florida and enjoys everything it has to offer. His wife is also a native Floridian, and they have a 14-year-old child. In Matthew's free time, you would most likely find him golfing, fishing, or swimming. Matthew has been in maintenance and hospitality for over 25 years in various senior living communities, in addition to various residential companies and hotels. Each holds its own challenges; however, each has its own rewards. "It is a pleasure to be here and be of service," he says.
I was born in Queens, New York, but I grew up on Long Island.  Some of my fondest memories are selling ice-cream on one of my Dad's Freezer Fresh ice-cream trucks in the streets of Brooklyn at the age of 10. My culinary roots began with watching my grandfather serve Nathan's famous hot dogs in Coney Island, Brooklyn, NY.
I was the Chef/Owner of The Sherwood Diner in Lawrence, Long Island.  I am a graduate of the Culinary Institute of America, Hyde Park, New York. I am one of  Broward County's longest running celebrity Chefs for Navy Fleet Week. I appeared on Channel 7's Deco Drive demonstrating my gluten-free meals. I was Owner/Chef for Tommy's Italian restaurant in Davie, FL; I was 3 years Zagat-rated for outstanding food and service for Tommy's Italian restaurant in South Broward; I am the father of 3: one boy and two girls. I am blessed with three grandchildren, also two girls and one boy.
I have 40 plus years of Culinary experience in the hospitality field and senior living care.  My greatest joy in my professional life has been cooking nostalgic food and chatting with the residents. I have a strong love and devotion to my family, my partner Colleen, my friends, and the ocean.

Buon Appetito!
Chef Tommy