We love to see our residents and associates share their favorite recipes.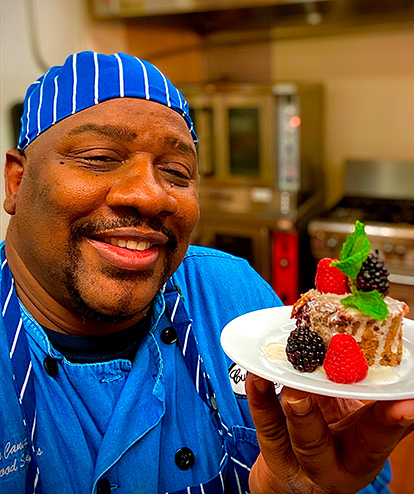 Wild Berry Bourbon Bread Pudding
Assorted berries(black, blue, rasp) Marashino Cherries 
Heavy cream 1 quart
Whole eggs 7
Brown sugar two cups
Granulated cane sugar 2/3 cups
Vanilla extract (Madagascar if possible) 2 table spoons
Nutmeg 2 tablespoons
Cinnamon 3 table spoons
Bourbon of choice  3 ounces 
Carefully mix all ingredients in large mixing bowl. It's best to kneed and mix with hands so that everything is evenly mixed. Be sure not to crush berries. 
Once thoroughly mixed, pour into an oiled pan. Two pan against table to purge air bubbles.  Place into an oven preheated to 350 degrees.
Allow to bake for 35 minutes.
Once baked and cooled, dress with vanilla cream anglaise: whole cream, tablespoon of room temperature butter, vanilla extract, table spoon bourbon, table spoon. Powdered sugar, 3 cups.
Whip until smooth. Pour over  bread pudding. Dress with berries and mint leaf.
Dolly's Sweet & Sour Meatballs
1 pound of ground beef
1 egg
¼ cup of dry breadcrumbs
1 onion diced
1 cup of brown sugar

 

3 tablespoons of all-purpose flour
1 ½ cup of water
¼ cup of distilled white vinegar

 

3 tablespoons of soy sauce
Combine beef, egg, breadcrumbs, and onion.

Mix thoroughly and shape into golf-ball sized balls

Brown meatballs and set aside.

Combine (in saucepan) brown sugar, flour, water, vinegar, and soy sauce. (Medium Heat)

Add Meatballs and bring to a boil.

Reduce heat and simmer, and stir often for 30 minutes.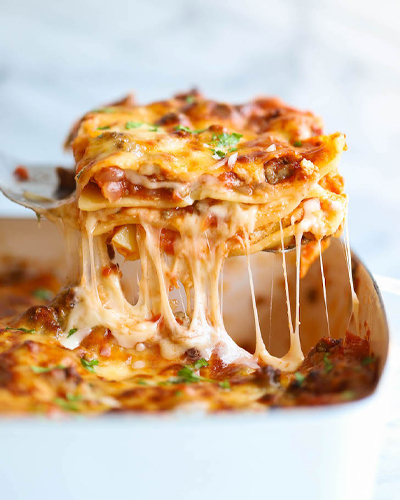 Start by Boiling a pot of water (Tall Pot) on high.

Get out a cutting board and cut up Onions (2).

In a saucepan add Ground Beef; at least a 1.5lbs.

Season the ground beef with Salt, Pepper, Cumin, and Oregano.

Add Onions also to saucepan. If you like, you can add cut up Tomatoes.

Let the beef cook down on Medium-High until it is cooked well-done (Be sure to drain off any excess grease)

When the water starts to boil in the tall pot, add one box Lasagna Noodles. (They can be bought from your local grocery store). 

Add Oil to the water, so the noodles will not stick. (Noodles should take no longer than 10 minutes to cook; bring down to Medium-High).

After your drain off your meat add (2) cans of Tomato Sauce (Bring down to Medium-Low).

Pre-Heat oven to 375 degrees.

Stir in your tomato sauce with the beef in the saucepan.

When Noodles and Beef are done get out a large pan.

You will need (2 medium) sized containers of Ricotta Cheese. 

In your Pan your will layer: noodles, ricotta cheese, beef, ricotta cheese and then noodles again until filled to top. When doing this, you should end with Noodles on top. 

On top of the noodles your will need Mozzarella Cheese (Found at your local grocery store). 

You will then put the Lasagna in the oven for 20 Minutes or until the top is golden brown.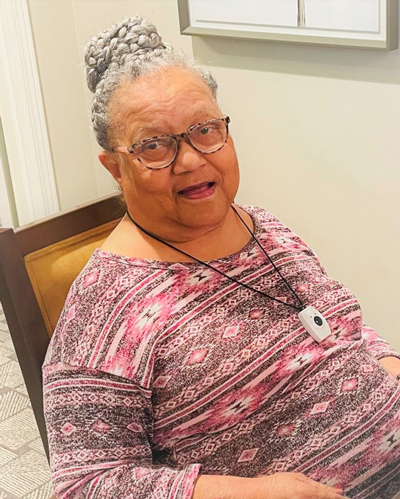 Sliced 4 to 5 bananas
1/3 cup of Flour (All Purpose)
1 box of Vanilla Wafers
2 cups of Sugar (Granulated)
2 cups of "half and half" (whole milk and can sweetened condensed milk)
6 large eggs ( separate the yolk from the egg white)
1 tablespoon of vanilla extract
1/2 tablespoon of lemon extract
1 teaspoon of salt
1 teaspoon of cream of tartar
Heat oven to 375 degrees.
Make the custard first by mixing flour, sugar and salt. Then separate your eggs, beat the egg yolks, and combine with the milk in a separate bowl. Mix the egg yolk and milk mixture into the flour, sugar and salt. Be sure to keep the egg whites for the meringue topping.
Place mixture in a saucepan over low to medium heat, stirring constantly until it thickens. This is where you stir in your vanilla and lemon extract.
Once the mixture has thickened to a custard texture, set aside to start your layering.
In a large glass pan or baking bowl, place a layer of wafers on the bottom, then a layer of bananas on top of the wafer, and  then pour a layer of custard (pudding) on top of the bananas. Repeat these steps making layers, until all ingredients are gone.
Meringue Topping: Beat your egg whites that are now at room temp with a mixer. Mixer needs to be on high in order for egg whites to start to foam, but do not over beat. Slowly add in your cream of tartar, 1/2 cup of sugar and a teaspoon of vanilla extract. Continue to beat to a smooth texture and peaks form.
Pour topping over banana pudding and place in the oven for 20 to 25 minutes.