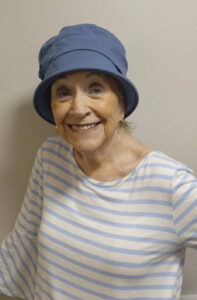 Joy Caruso was born in Pine Bluff, NC, but has spent her life in Winter Haven, Florida. She moved to Lake Howard Heights in March of this year. Joy loved being a housewife. She raised three daughters, and one son. Joy also has 13 grandchildren, and 7 great grandchildren. She attended Florida State University and Florida Southern studying business. Joy has always loved musicals.
She is the next to youngest of five girls. Back when going to the movies only cost 9 cents, Joy and her sisters would go see a musical, spend the day re-watching the movie, and learn all the song lyrics. Joy and her sisters would sing the songs they learned on their porch. She joined the school band in the 7th grade and plays the flute. She graduated from Winter Haven HS in 1951. She worked for Belk. I asked her if she had any advice for me and she said, "Be happy." She also stated that she raised all of her children to be happy. She enjoys playing solitaire, mysteries, comedies, and especially eating ice cream. More importantly, Joy loves to laugh, and loves people. "I love to talk to people. I've had a great life."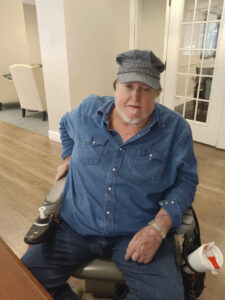 Leroy is a true Floridian, born in Panama City, raised at Bartow Air Base (where his father was stationed). He is next to last of five children. Leroy was married to Barbara his childhood sweetheart for 17 1/2 yrs. proud parents of 1 boy and 1 girl. Leroy proudly served his country in the US Army for 8 1/2 years.
He joined the service at 17 1/2y/o and was deployed to Vietnam at 18 y/o. He is most proud of being promoted to Staff Sargent in just 3 years (it usually takes longer before being promoted to this rank) he also was the youngest E6 at Fort Hood in Texas. Once Leroy was discharged he focused on what he loved the best…training horses and being a blacksmith.
On a 5 Ω acre ranch he certainly had the room for horse training and tinkering on cars. You probably have seen him in his 63' Ford Falcon Futuria. You can't miss it, it's the red convertible parked in the parking lot. Having been a resident for about 1 Ω year Leroy says that it's the residents and staff that he enjoys being around. Leroy we're glad you chose LHH for your home.