Longevity of Winter Haven Senior Living Community's Team Is Higher Than Average
Our team at Lake Howard Heights has many years of combined experience; each member tends to stay with us for a very long time.
Why does Lake Howard Heights retain such dedicated senior living experts?
In senior living, and just like many other industries, staying at a job for a long period of time for employees and management can be rare. At our Winter Haven independent and assisted living community, however, we maintain a calm, welcoming environment where leaders, associates, and residents can enjoy each others' company.
How many years does a typical team member spend at Lake Howard Heights?
Lake Howard Heights' on-site leadership team has a collective 74-and-a-half years' experience in senior living and an average of 42 years at Lake Howard Heights altogether.
Our associates' longevity is impressive and higher than average as well, with positions such as care staff, housekeeping, dining, and maintenance. 75% of the associates have worked over five years at the community with seven at the 15 – 20 year mark.
In the resident care department specifically, of the 47 line staff, four have been with Lake Howard Heights for 20+ years, three for 15 – 20 years, five for 10 – 15 years, and the rest 2 – 5 years.  
What does our Executive Director have to say about her teammates' passion for senior living?
"We just don't have turnover," said Glenda Hanley, Executive Director, who runs the day-to-day operations of the community. "With this many years invested, it is definitely more than just coming to work every day – the residents are a part of the lives of this team and are truly extended family."
"When you have put this much time in, you feel a true part of the entire operation and the successes or failures so it is a true combined and concentrated effort to make this community the best it can be – not just for being the best place to work but most importantly to make it the best community possible for the lives of our residents," she added.
The longevity of a team like Lake Howard Heights provides much-needed reassurance for those looking into senior housing in the Winter Haven area.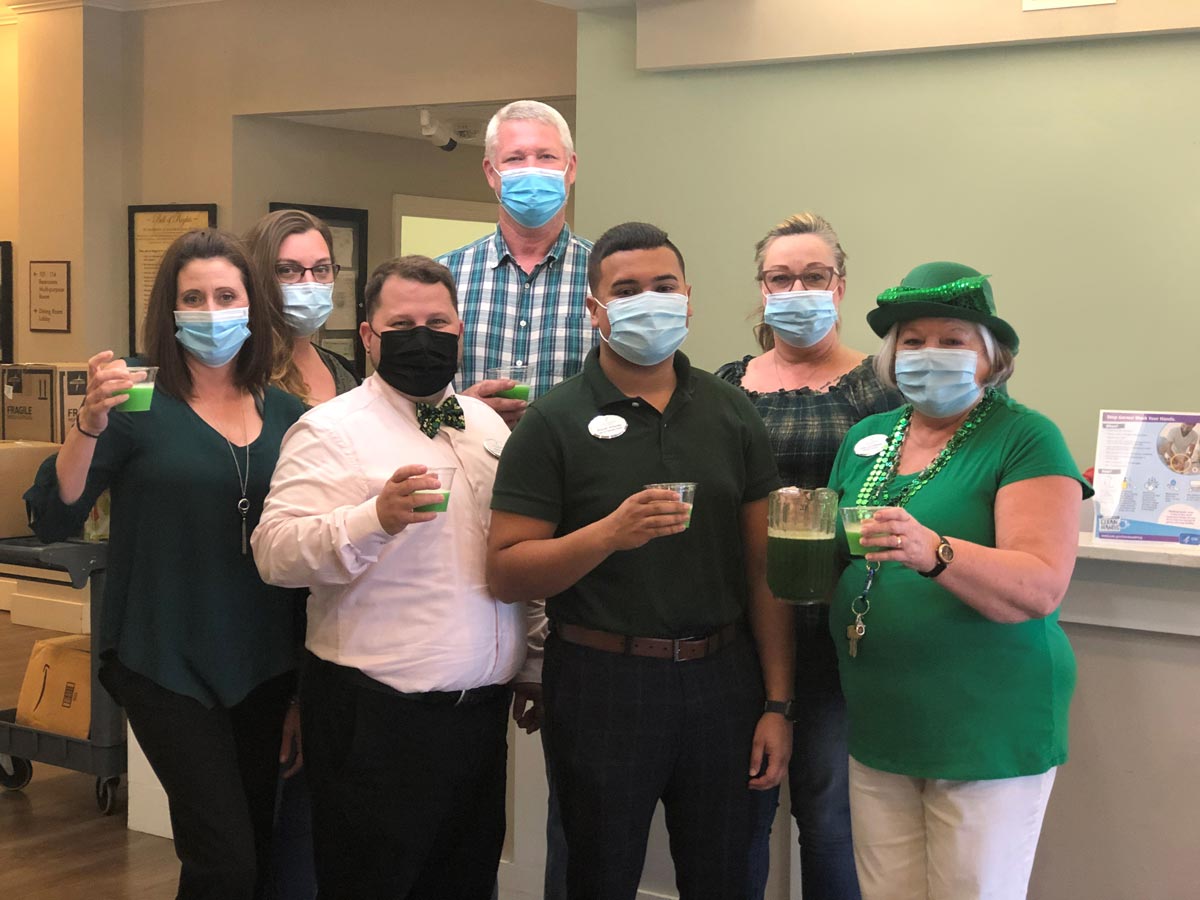 The following years they have spent at Lake Howard Heights and in senior living are calculated since April 2021:
Back row – left to right

Toni Wilson, Business Office Coordinator (seven years at LHH and nine years in senior housing)
Steve Sherman, Maintenance Director (one year at LHH)
Glenda Hanley, Executive Director (13 years at LHH and senior housing since 1986 (35 years))

Front row – left to right

Dena Lofton, Wellness Director (12 years at LHH and senior housing for 16 years (home health prior to LHH))
Ricky Kirk, Director of Dining Services (five months at LHH and senior housing for four years)
Brayan Antunez, Sales & Marketing Director (one month at LHH and senior housing for five years)
 Lou Mulliniks, Lifestyles Director (nine years at LHH – 13 years in senior housing)
Are you or a loved one ready to meet our experienced associates and receive the excellent care they provide every day? We invite you to speak with us today to learn more about our team as well as the
independent
and
assisted living
services they provide.