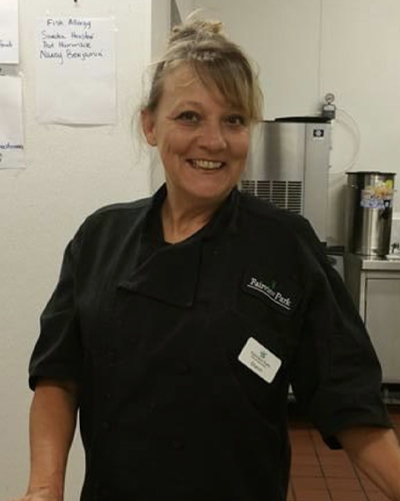 Sharon has a very important role here at Fairview Park. She works in the kitchen as one of our Sous Chefs! Sharon has been in healthcare for seven years. She is very experienced and works very efficiently every day!
Sharon is from Bainbridge, Georgia. She is the mother of two daughters and has three grandchildren. She absolutely loves being a grandma! On her days off, she might be taking her grandkids to the pool, going for walks, or any other activity! Family is very important to Sharon. She is very close to her girls, and they even make funny TikToks together! Sharon really loves to sing and dance too! If you ever enter the kitchen, you are very likely to see her dancing with a smile on her face!
She is such a great asset to our team. She shows up on time to work every day, will come in on her days off to help out, has an enthusiastic personality about her work, and will help in any way she can! We are all so thankful to work with Sharon.