Celebrating Remarkable Lives: Resident of the Month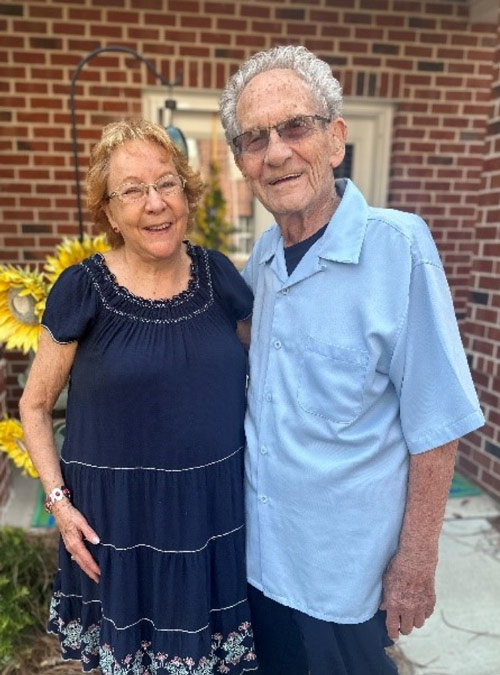 Merla and Tom have been residents at Legacy Reserve at Old Town for 3 years! You can almost guarantee to find them dancing whenever there is music at a party here in the community, especially if their special song, Elvis Pressly's "Can't Help Falling in Love," Is being played. Merla is a game instigator and has introduced Mahjongg to Legacy residents and taught many of them Phase 10 and Mexican Train dominoes. The beautiful couple shares their story with us!
"Tom lived in Indiana most of his early life except when he was stationed in Japan for his four Air Force years during the Korean War. He retired after 30 years of government civil service at Indianapolis Naval Avionics. He developed the passion for gambling at age 5 when his two older brothers let him join their penny Tonk card game, where he cried when he lost his whole bankroll of 5 cents. More experience turned his tears to success as he became a formidable opponent in any card game.
I, Merla, was born and raised in the Midwest. I decided at age 5, in a one-room schoolhouse first grade, to be a teacher, practicing for years on two younger sisters. I graduated from the University of Cincinnati and taught high school English for some 20+ years. I was always a fiercely competitive game player, from a preschooler playing Chutes and Ladders for blood to intense family Scrabble sessions. But when I later encountered games where money was involved, I realized the need to sharpen skills to be successful.
When Tom and I met at a card game at the Moose Lodge in 1983, it was no surprise that there was instant attraction, love at first deal! We joined forces and for the next 35 years used advanced gambling skills for financial success in blackjack and video poker in casinos in Vegas and all over the world. This led to scores of TV appearance covering our adventures, including on "48 Hours," where Dan Rather gave me the nickname "Queen of Comps." It was the casino freebies –world travel, cruises, luxurious suites, endless upscale restaurant choices, expensive gifts – that provided a fairytale lifestyle we could never have imagined.
Because of our success in casinos, I soon became passionate about helping other gamblers to play smarter. Once a teacher, always a teacher! Down through the years this motivated the writing, under the pen name of Jean Scott, hundreds of magazine articles, a weekly blog, plus 5 books in the "Frugal Gambler" series.
In 2000 the casino life had to be left behind when at age 88 Tom's gambling skill was being taken away by vascular dementia. We moved to Columbus to be near family and are grateful to be living at Legacy where I can get major help in the caretaking stage." – Merla and Tom
We absolutely love having these two as a part of our hive! A fun fact is they have a slot machine in their APARTMENT! Merla and Tom are a wonderful part of what makes Legacy Reserve Old Town so wonderful! #Lovewhereyoulive #AtlasSeniorLiving #AtlasStrong #ResidentsofthMonth# LROT #LegacyReserveOldTown #Columbus,GA