Moving is stressful at any point in life. Decluttering and downsizing for seniors can be an opportunity to hit the reset button and start living with less worry and stress. It's the ideal way to live.
Making the transition to independent living or assisted living takes a good amount of planning to get where seniors want. But like anything in life that requires hard work, the payoff is incredible.
The Goldton at Athens offers two types of senior living, and making the transition to either one comes with different requirements and needs.
What is Senior Living?
Athens, AL is home to the longest-running institute of higher learning, Athens State University. Older adults can relive their college days with senior living at The Goldton at Athens. It's a lot of fun like a dormitory, but with more upscale amenities, bigger living spaces, and healthier food options.
Our community offers independent and assisted living to make aging in place an easier process. A move to The Goldton at Athens may be the last move you ever need to make.
Independent Living
The first type of senior living is independent living. It's comparable to a retirement community or 55+ living, but it's a place for older adults to give up their household hassles and start living the good life.
Independent living is perfect for seniors who want to stay active socially. The Goldton at Athens provides a calendar full of activities, events, and outings to keep residents engaged and enjoying their retirement.
Independent living can benefit your life if:
You want to stay physically active
You want to be surrounded by friends or make new ones
You're ready to give up maintaining a home
You'd like to free yourself from financial burdens like home repairs and property taxes
Assisted Living
Many seniors make the transition from independent living to assisted living. A lot of people move from their homes into assisted living and say, "I wish I'd moved here sooner!"
Assisted living offers the same benefits as independent living but emphasizes care specific to seniors' needs. Licensed nurses and specialized team members provide these senior care services:
Round-the-clock oversight and emergency assistance
Medication management
Activities of daily living assistance (bathing, dressing, transferring, and more)
Personalized service plans
Residents who choose us for extra care in their daily lives enjoy:
Three nutritious meals and snacks every day
Fitness and wellness training
Senior-friendly activities
Scheduled transportation
Housekeeping and laundry services
How do I declutter and downsize for independent living and assisted living?
People looking for independent living are often coming from a larger home. They have the flexibility to plan for senior living and can take their time in the downsizing process.
Time is a massive advantage in downsizing. Devoting a weekend to each room and section of the home is ideal.
Independent living apartments are larger and include full kitchens, so you won't want to get rid of as much stuff. With one and two-bedroom options, your choices in downsizing are up to you.
No matter what level of care is best for you, you have the freedom to decorate your new senior living apartment however it makes you comfortable. Bring what's important to you and make your house feel like a home.
Assisted living apartments are accessible and accommodate people with less mobility. They eliminate the burden of cleaning a full kitchen and include kitchenettes for preparing favorite drinks and snacks.
These apartments are available in studio and one-bedroom floor plans. Less stuff equals less worry and less hassle.
When moving yourself or a loved one into assisted living, you'll find only the essentials are required:
A comfortable bed and two sets of bed sheets
A change of bath towels
Comfortable clothes and a hamper
A favorite place to sit
A table or desk
A bookshelf
Television
Personal hygiene items
To eliminate worry, valuable heirloom items and expensive jewelry may want to be given to family members during the downsizing process. When downsizing, make the experience a family affair:
Take lots of pictures to create a scrapbook or collage
Enlist younger family members to sell vintage items and clothes on social media
Have computer-savvy children digitize photos, music, and other entertainment
Combine garage sales with the family. Everyone can benefit from a bit of downsizing.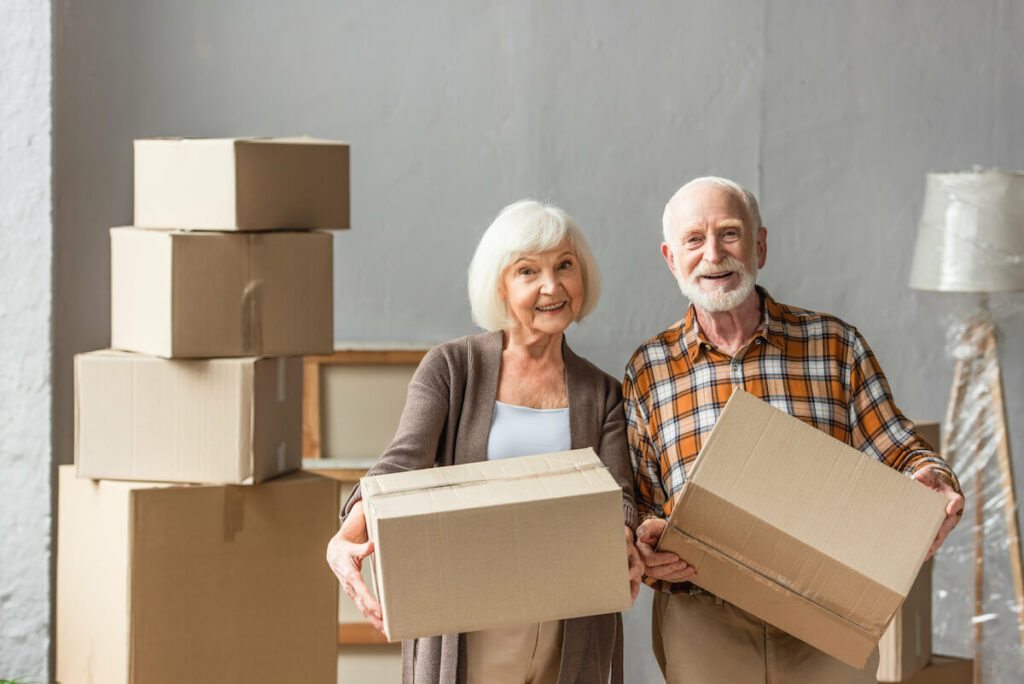 The Advantages of Independent and Assisted Living in Athens, AL
The Goldton at Athens provides an upscale senior living environment. You'll wonder how you lived without our amenities for so long.
Even without a lot of clutter, you'll never be bored. Check out what you'll be gaining:
Freedom dining to eat on your schedule
The Academy program, offering educational discussions and seminars with local experts
Daily crafts, hobbies, games, and exercise classes
Spacious common areas, patios, and garden
Game and activity room, chapel, salon, and theater
Community transportation to appointments, shopping, and group outings
Our senior living activity calendar keeps residents happy mentally and physically. You might find that chair yoga gives you the flexibility you never knew you had. The calendar gives seniors peace of mind knowing they have a movie night, ice cream social, or pet therapy visit to look forward to attending.
At The Goldton at Athens, you won't need a lot. We're here to provide for you.
Find Decluttering And Downsizing Resources for Senior Living in Athens, AL
Contact The Goldton at Athens for independent and assisted living tours if you're local to Northern Alabama, or find an Atlas Community near you. We're more than happy to recommend reputable downsizing services and tips to your family.