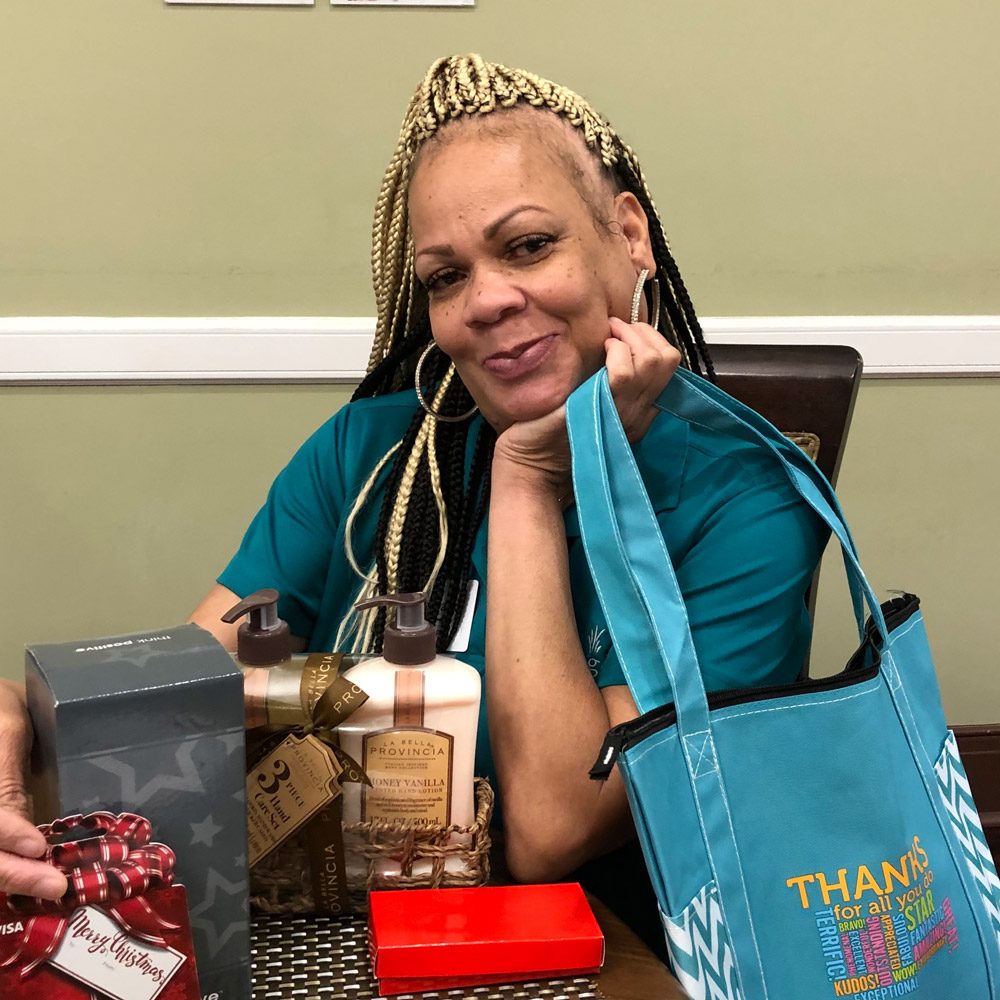 Barbara works in the Gardens here at Spring Park. She is a widow with three boys and they live in the Greer area. Barbara has worked in the healthcare field for nine years. She enjoys working with the elderly. It makes every day special. At home, Barbara enjoys reading all different kinds of books. She also loves to clean. Congratulations for winning our Serving Heart of the Month, Barbara!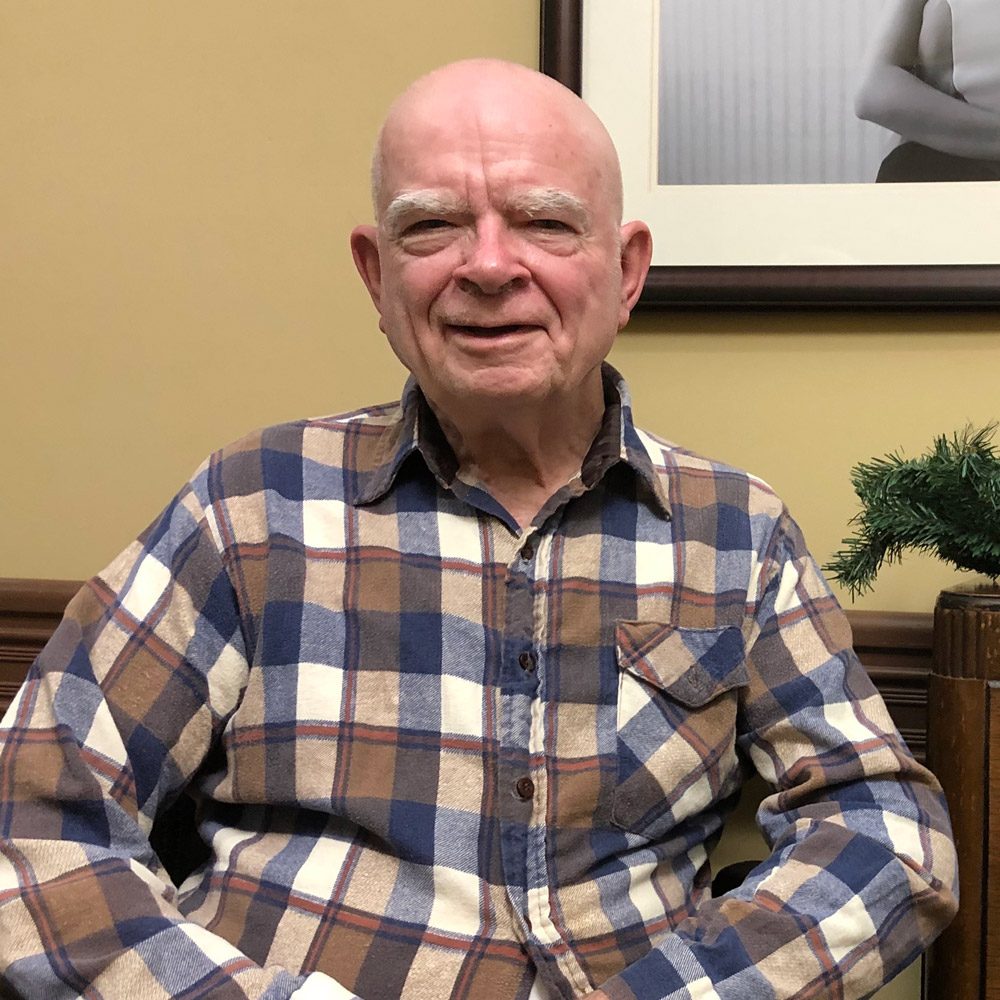 Dr. Roger was born in Galesburg, Illinois. After graduating with a PhD in organic chemistry, he became a chemist and technical director at BASF Chemical Cooperation. Roger and his late wife Judy have two sons, John and Edward.
When his sons were growing up, Roger and his family enjoyed going camping for six weeks at a time. His favorite memories are of the long canoe trips that they would take in Wisconsin. On another trip, Roger went fishing in Canada and caught three fish with his bare hands! He believes fishing is better in Canada than in the United States because there are less people trying to catch fish.
Roger has lived in Ohio, New Jersey, Pennsylvania and South Carolina. While living in Malden, South Carolina, he worked at Henkel selling herbicide round up. To this day he says that it was the best job he's ever had and it is one of his proudest achievements.
In his free time, Roger enjoys reading anything on history and military fiction. He also likes watching the History Channel or sports like football, basketball, and baseball.
Roger said the best thing about being at Spring Park was that we are a step above any other assisted living community.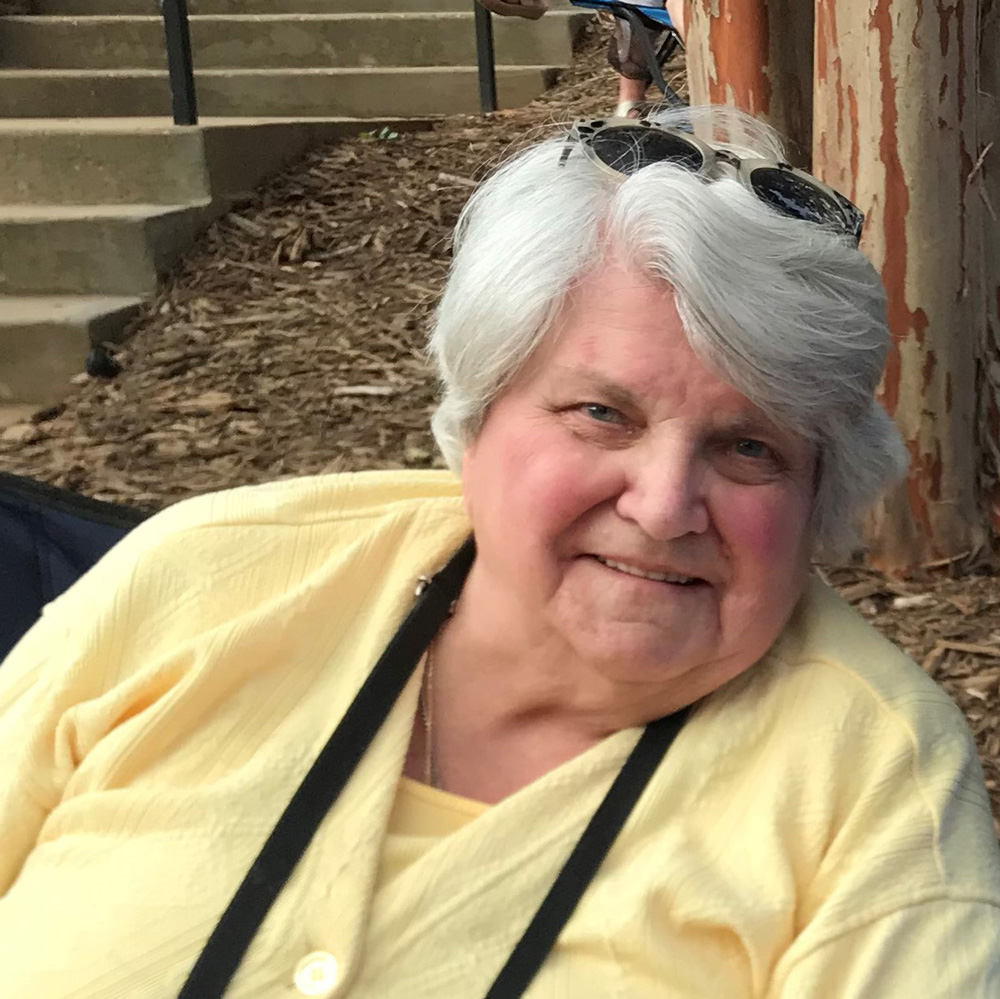 Gloria was born in Springfield, Illinois and lived in Indiana from 1970 to 2016 with her husband, Howard. They were married for 48 years and had three children and seven grandchildren. Before moving to Spring Park, Gloria was a child advocate working with kids who were taken away from their families. Her husband served in the Army. Her most exciting memories are from traveling with her husband throughout their lives.
One of her fondest memories is meeting President Eisenhower. She even had the opportunity to shake his hand and say hello to him! Gloria loves music, arts and crafts, reading mysteries and nonfiction books, and basketball. Her favorite movie is "From Here to Eternity" and she enjoys watching CNN.
She moved into Spring Park three years ago to be close to her son, daughter-in-law, and two grandsons. Gloria has been the Resident Council President now for 2 years and we are lucky to have her. Thanks for everything you do, Gloria!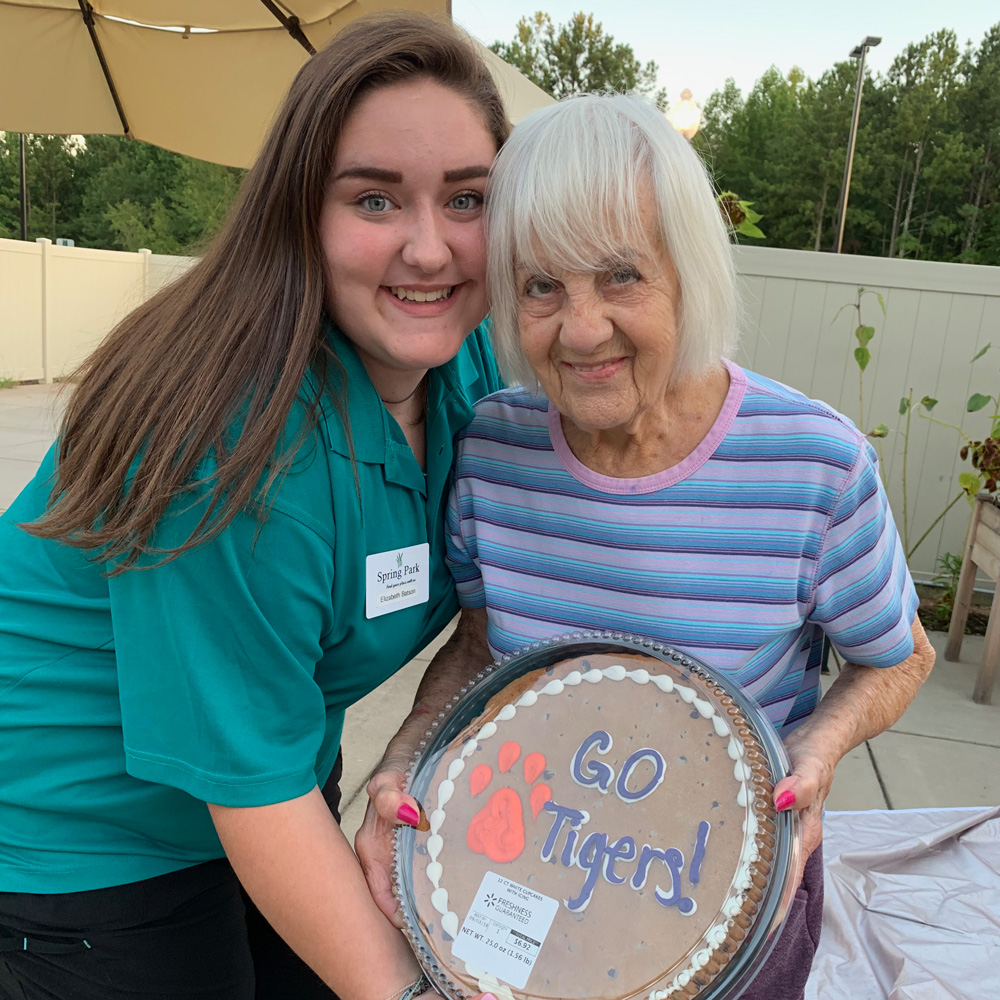 Elizabeth is a high school senior at Travelers Rest. She loves spending her time serving others. In addition to working at Spring Park, she is CPR certified and an EMS Explorer with Greenville County EMS. She enjoys spending time with her family and friends, and loves taking adventures during the summer.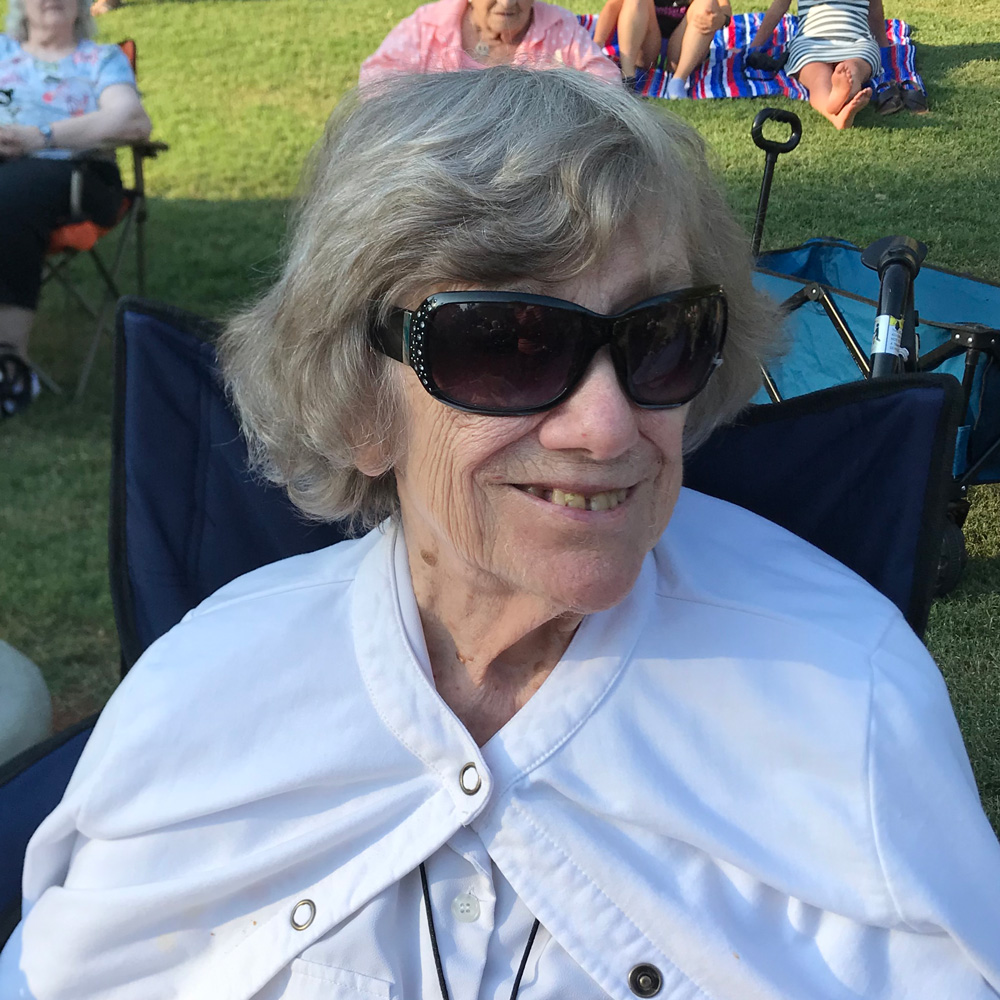 Peggy was born in Oldham County, Kentucky. When Peggy was a teenager, her father died, and Peggy's mother moved to Louisville to obtain work to support the family. After graduating high school, Peggy attended Georgetown College to study music, but she eventually changed her major to business in order to secure employment.
It was at Georgetown that she met her husband, Conrad. Peggy and her husband raised two daughters and a son in the village of Gurnee, Illinois. Peggy's two passions, music and sports, were showered on her children, who became involved in music and dance. Peggy participated in several bowling leagues and encouraged her children to become involved in youth bowling leagues. She and her oldest daughter competed in many mother-daughter bowling tournaments where they made a competitive pair.
Peggy's grandchildren spent a great amount of time with her and are still very close to her today. Eventually, after the death of her husband and due to health issues, Peggy moved in with her youngest daughter in South Carolina. She became active in their local church by singing in the choir, and she enjoyed many wonderful years of church trips and girls-only trips with her daughters and granddaughters, visiting the mountains and the beaches. She also joined a senior bowling league and continued bowling into her 80s!
Peggy has made a new home at Spring Park where she has become good friends with other residents and staff.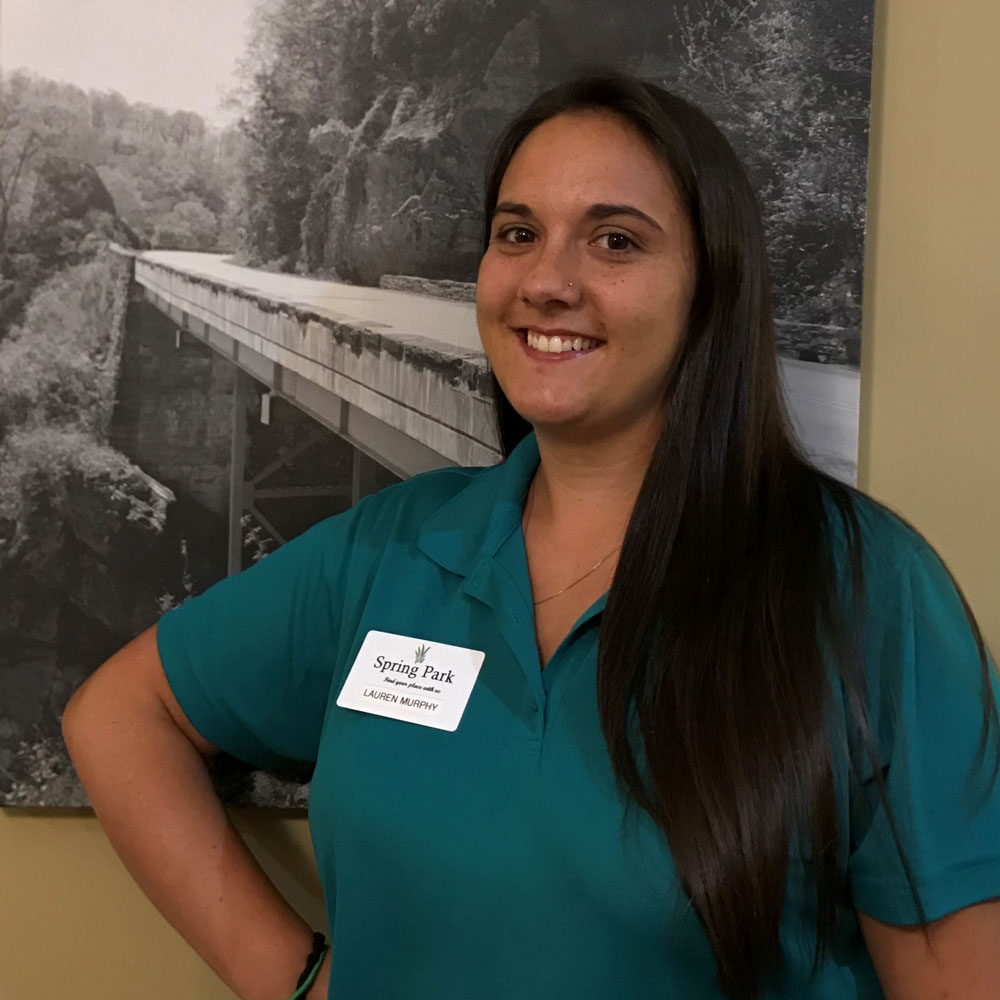 Lauren lives in Travelers Rest with her little girl, Kylee, and loves to spend her free time diamond painting and hanging out with family and friends. Lauren said, "everyday I leave work, there's a good feeling in my heart knowing that I did a good job helping all of my residents." She is very proud to call Spring Park her place of employment, and we are proud to have her as part of our team.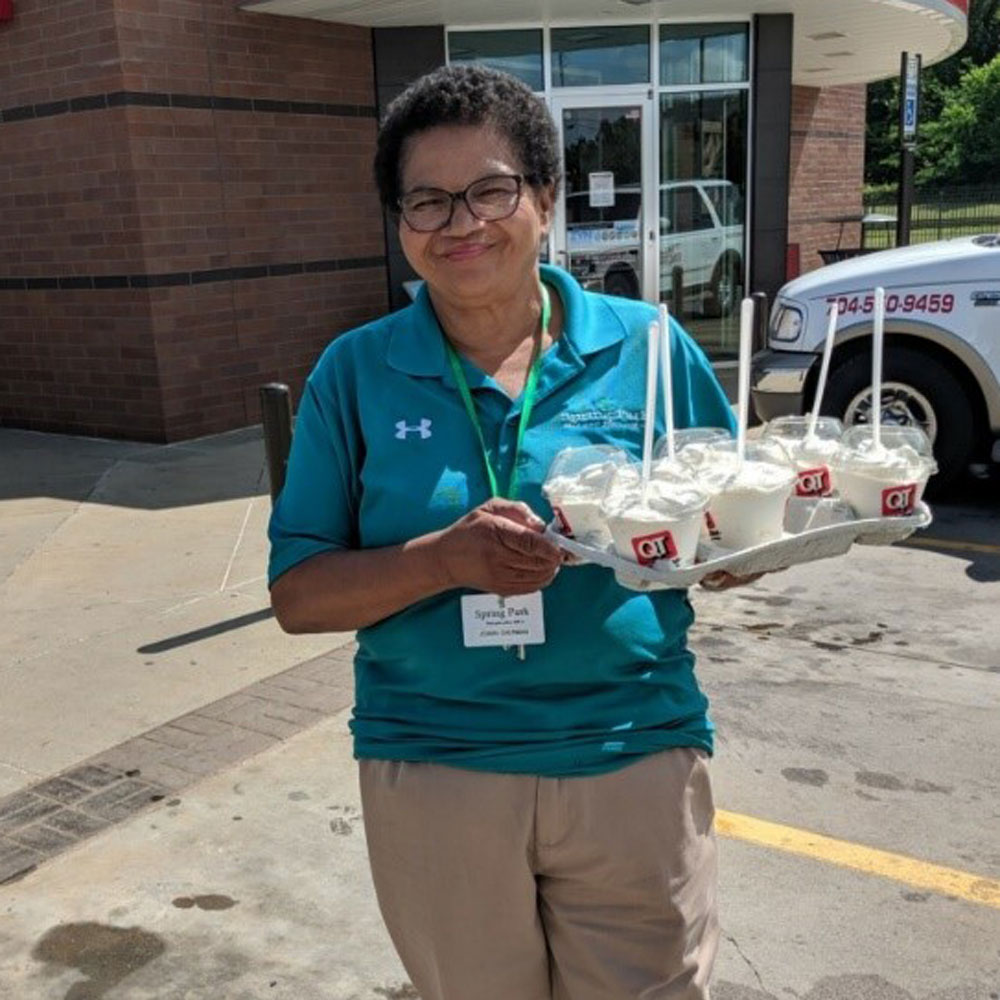 Joanne has worked at Spring Park for a year now. She is from North Carolina and has been married for 50 years to her husband, John. They have five children, 17 grandchildren, and two great grandchildren.
She has always wanted to play the piano and loves singing even though she says she can't sing. Her favorite sport is baseball and in her spare time she enjoys sewing and fishing. One of her most exciting memories was when she caught a 5-pound bass! Another memorable moment for her is the time she met actor Kevin Costner.
One of her goals at work is to take three of her memory care residents on a shopping trip and spend $20 on each one of them. Last Christmas she went out of her way to get all of her staff a present. Joanne has the biggest heart and we love her for it.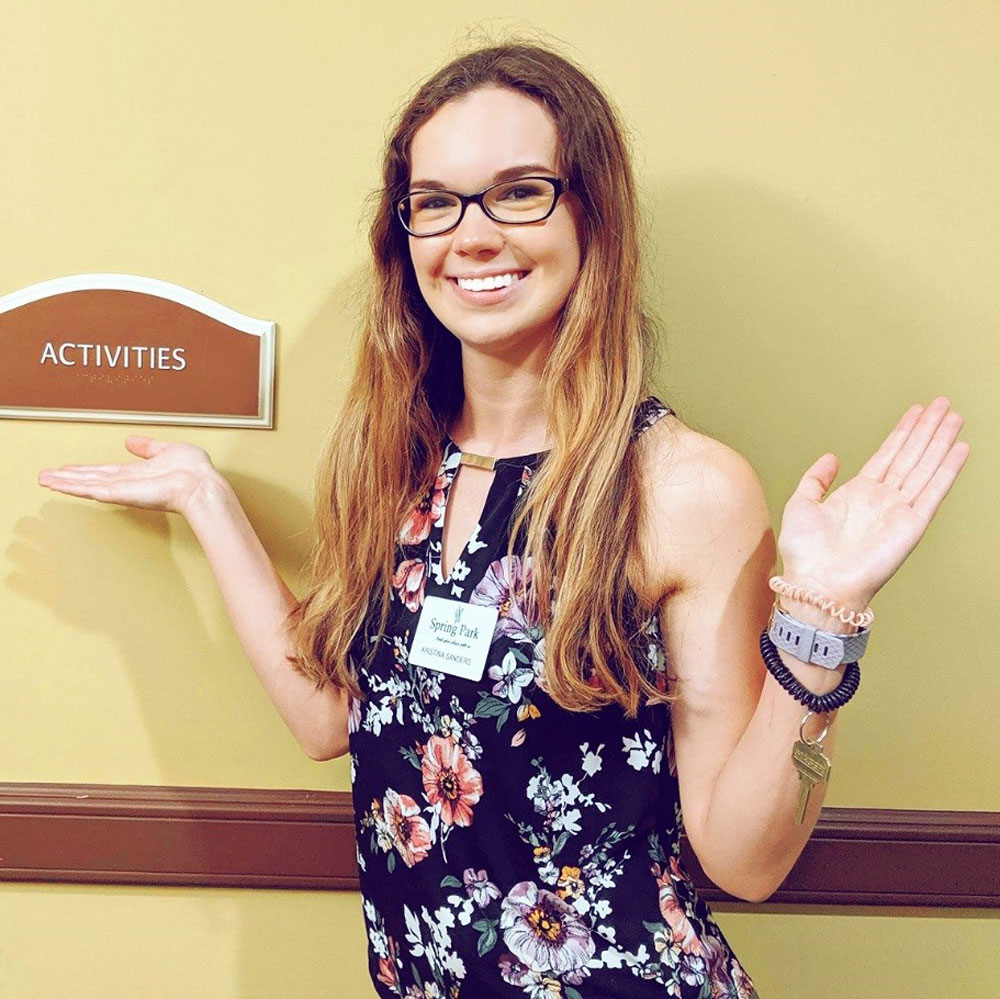 Kristina is our gardens activity director! Kristina is 22-years-old and has two brothers. She has been playing the piano for 12 years and attends Furman University for piano performance. She won the National Library of Poetry's editor's choice in writing and loves to be creative. She has a fun and energetic personality and we are very excited to welcome her to our team!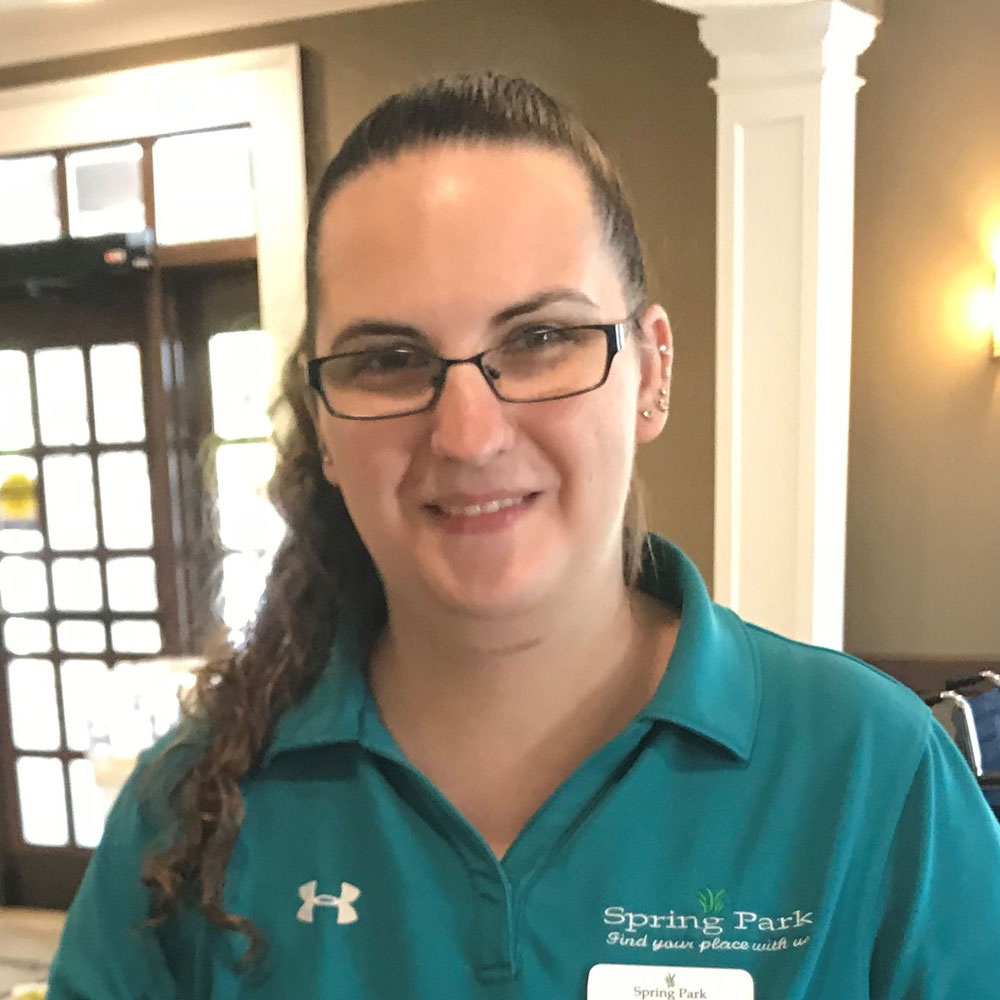 The May Serving Heart of the Month is Kim Seymour. She has been a valuable part of our team for a year now. In Kim's spare time, she enjoys reading and participating in arts and crafts such as diamond painting, pillows, and painting. She has always been a caring person, something she learned from her mom, who is an RN. Kim gets satisfaction from helping others and making a difference in so many residents' lives. She enjoys enriching the lives of our residents and participates in activities and special events. Last year, she won the pumpkin carving contest and the costume contest for Halloween. We are proud to have her as a part of our team.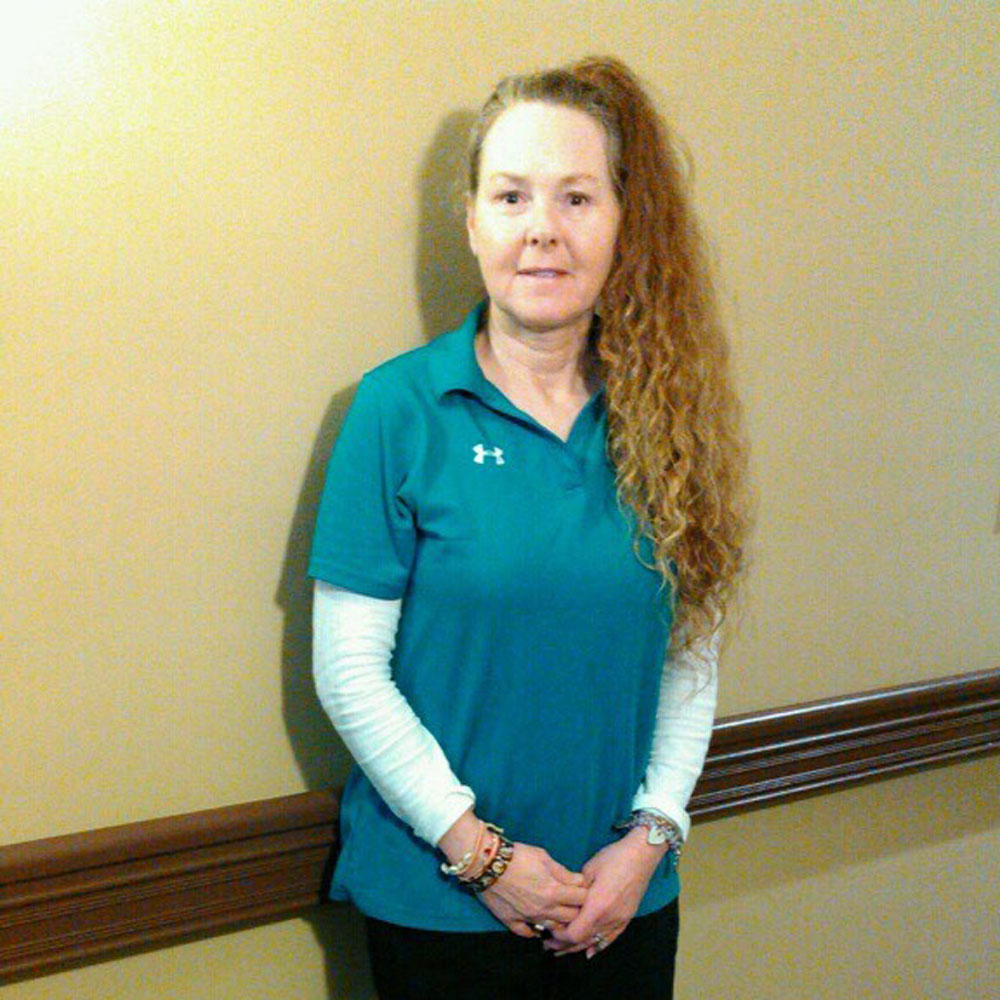 Congratulations to Lisa Allison, April's Serving Heart of the Month. Lisa joined Spring Park in 2017. She is the ultimate team player, and cares about her coworkers and residents very much. She has 12 years' experience in caregiving. She is married with one child and they live in Marietta. She treasures all the stories and wisdom the residents share with her. In her spare time, she enjoys making stained glass windows.