May Resident of the Month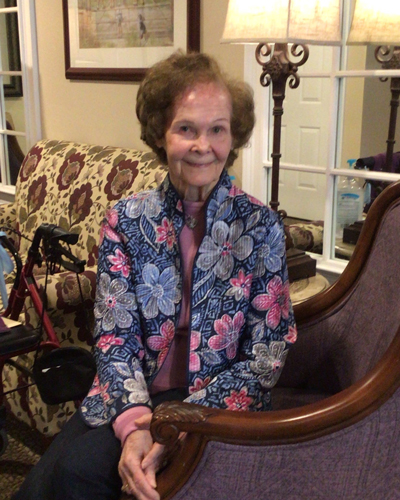 Pat was born in Pensacola, Fl. She married a Navy pilot and they had one son, Gary. Pat enjoyed an exciting life. She travelled extensively, lived in twenty-five states and thirty-five cities, as well as overseas in Germany and Denmark. She has survived four plane crashes in her life. One of them was aboard a flight with Martin Luther King and Jessie Jackson.
She had a fabulous career as a buyer for Glen Turner. A book was written about him titled "Con Man or Saint?" She said he was not smart, but he knew how to make money. One year in the 1960's she received a $10,000 Christmas bonus from him!
Pat's grandfather was a legislator in Washington and her dad was one of the Flying Tigers. The First American Volunteer Group (AVG) of the Republic of China Air Force, nicknamed the Flying Tigers, was composed of pilots from the United States Army Air Corps (USAAC), Navy (USN), and Marine Corps (USMC). They were recruited under President Franklin Roosevelt's authority before Pearl Harbor.
She taught dancing with Arthur Miller and learned how to truly hula while living in Hawaii. Pat is a beautiful, almost ninety-three-year-young woman. She looks forward to being able to go out to do things and see people this year. Often, you will find Pat reading a new article or book. She has an insatiable interest in so many wonderful things.