This recipe came from Jim's mother, Maggie. Maggie was born in 1883 (she passed away in 1992) and the recipe belonged to her mother. So it's been around a while! Jim made this pie every Thanksgiving – it was his specialty. Jim's four kids and his grandchildren all make our sweet potato pie from this recipe.
Preheat oven to 350 degrees.
Prebake 9″ pie crust, homemade or store bought, until golden brown.
Cook sweet potatoes until soft, then place in large bowl and mash.
Add butter while potatoes are hot.
In a separate bowl, whisk eggs until fluffy, then mix in sugar and blend.
Add lemon, vanilla extract, cinnamon and nutmeg to eggs. Mix together, then blend with sweet potatoes.
Pour mixture into pre-baked pie shells (makes 2-3 pies).
Bake approximately 45 minutes.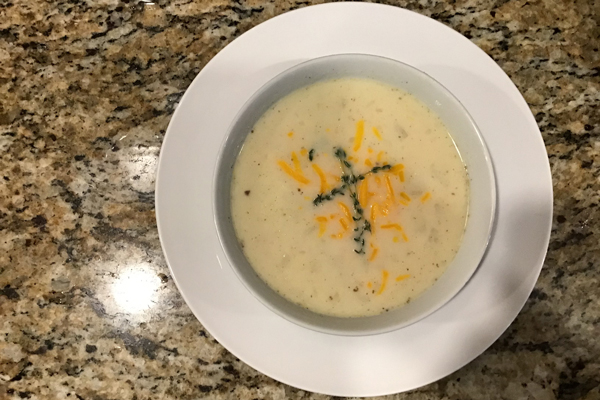 Hazel's Corn or Potato Soup
Put one dab of flour in a big saucepan and add enough milk to cover the bottom of the pan on low heat. Stir until flour dissolves and milk thickens, then add as much milk to pan as you want for soup and keep stirring. Cook over medium heat and add more flour if you want to thicken milk – making sure to keep stirring.
Dorothy's Whipping Cream Pound Cake
Cream butter and sugar well. Alternately add flour, whipping cream and 5 of the eggs to the mixture. Add vanilla and 1 egg to batter at the end of mixing. Bake at 350 degrees for 1.5 hours in a greased and floured tube pan.