May Resident of the Month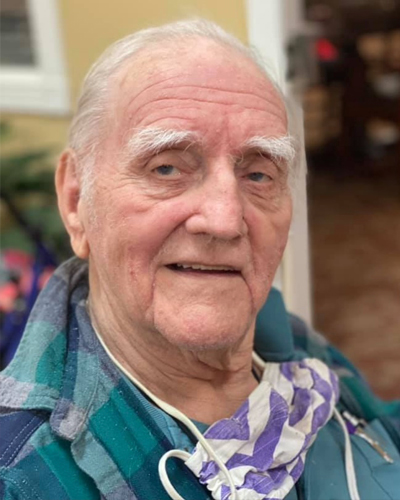 Arne is a first-generation immigrant born and raised in Iowa. Both his parents were from Sweden and settled in Iowa becoming successful grain, hog and cattle farmers. Arne worked on the farm growing up until he attended electrician school after high school. For the next four years, Arne worked as a TV (or "tubes", as Arne jokingly said they were called "way back in the day") repair man. 
It was during this time that Arne met the love of his life, Virginia, or Mama Ginny as we all knew her. The way the two met is one you only hear about in books. Arne went on a double date with a friend. Halfway through the date, Arne knew something just did not feel right and decided they needed to switch dates. Well, the girl his friend had taken on the date just happened to be Mama Ginny. If you ask Arne, this was the best decision of his life as that girl became his wife of 64 years. 
Arne joined the Air Force after a couple years working in the electric field. He was stationed at Reese Air Force Base in Texas where he flew B25s and even become an instructor for them. While he was in training, he was unable to be married and Mama Ginny had to remain in Iowa. As soon as Arne graduated training, he drove the long drive from Texas to Iowa to marry her and bring her to Texas with him. Together the two had three sons. 
After Arne's career in the Air Force, he continued in the electric field. He also became very talented in woodworking, especially wood lathe turning. Currently, Arne is designing his own wall hung desk to hold his desktop computer and printer. 
Arne's favorite quote is "We have met the enemy and he is us."