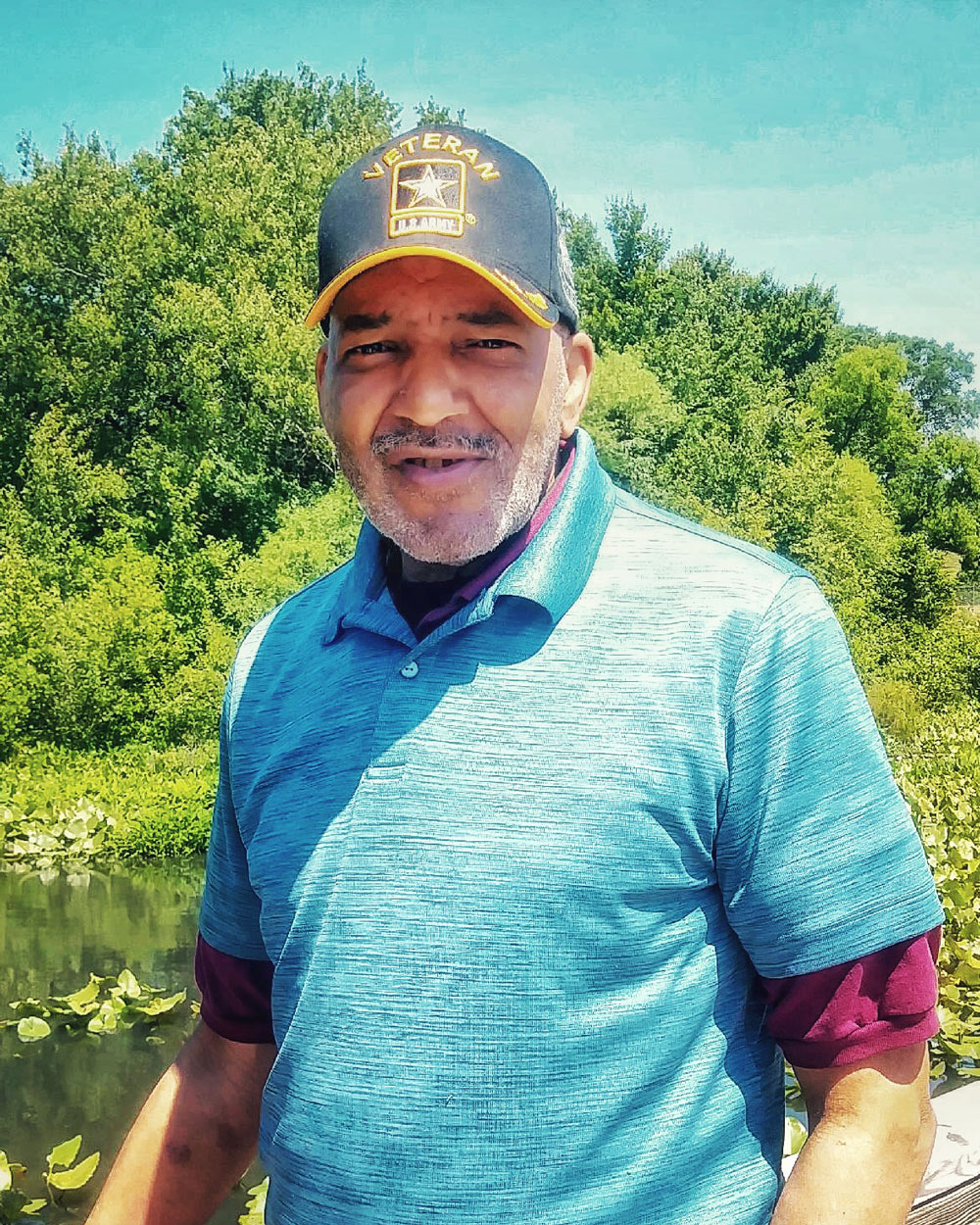 We are proud to announce our July resident of the month, Robert! He is charming, kind and fun. Robert can talk with anyone and will instantly make them smile. He enjoys the many activities at Fairview. Robert attends our destination walk outings and will always go on our joyrides to stop for ice cream. He loves our musical entertainment and sometimes you'll see him up dancing with the ladies.
Born in Forest City, NC, Robert was raised with seven sisters, one of which was his twin. He excelled in school, graduated with honors, and was class president in his senior year. Robert was also great in sports. He played basketball and baseball. After graduating, Robert joined the service and is a veteran of the Korean War.
After returning to civilian life, Robert worked for the textile industry. He went on to marry his sweetheart Martha, move to Ellenboro, NC, and have two children. They would spend summers in Wilmington and go deep sea fishing.
After working for a textile company for over 20 years, Robert stepped away from his job to raise his children. Once his children were grown and out of the home, he went to work for Murata Machinery out of Charlotte. With them he traveled to Canada and Mexico, putting machinery together for other companies. Thank you, Robert, for being part of our Fairview family!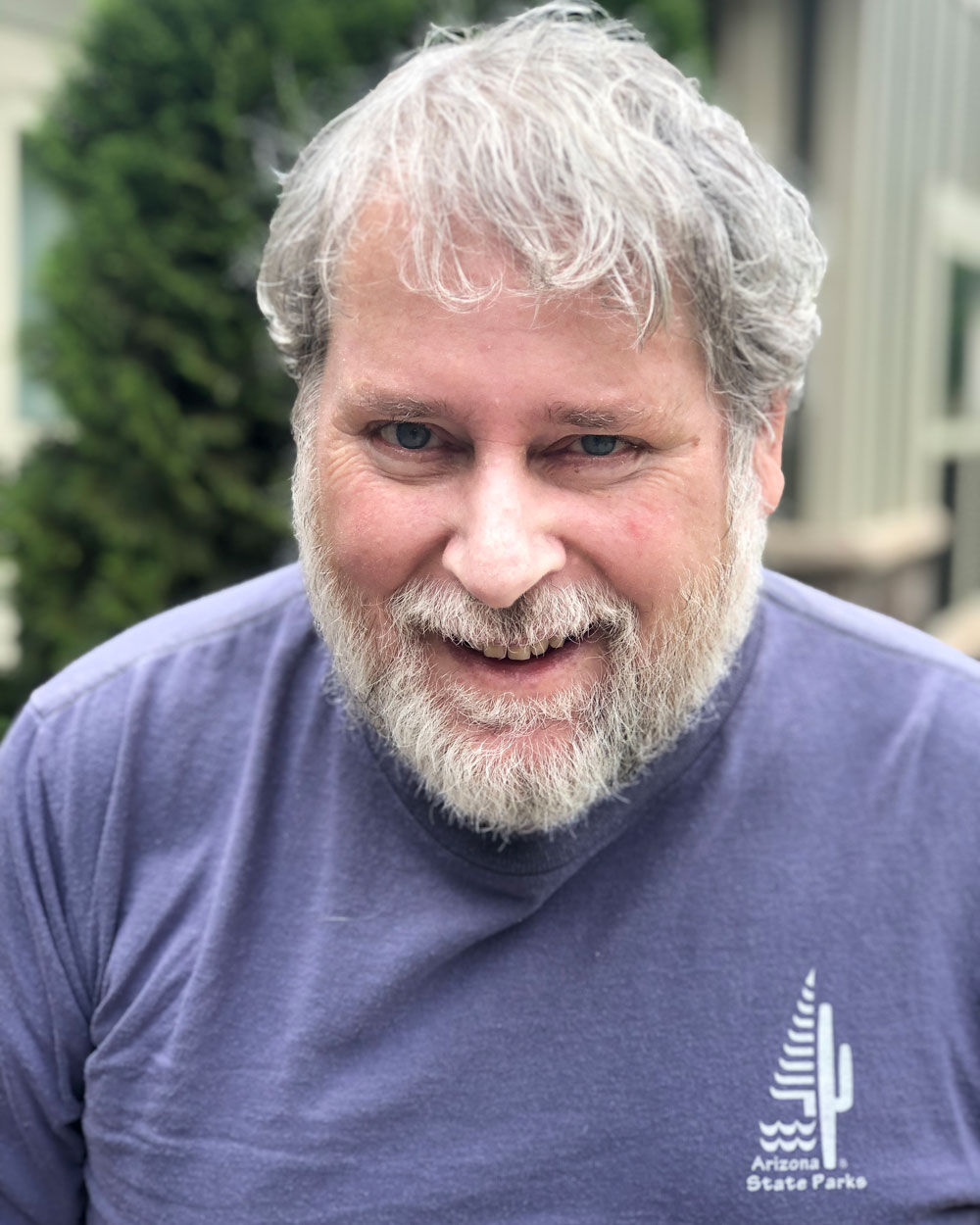 Skip is our resident of the month for June. Skip has been a part of our Fairview Park family since the beginning of 2018, when he said he fell into Fairview Park. A fall is what brought Skip to Fairview, literally. He is one of our youngest residents and adds so much to our family. His humor is quite witty. Skip chose us because of what he saw during his tour. After meeting staff and a few residents, he decided if he had to go into assisted living, Fairview Park is where he wanted to be.
Skip has an older sister in Florida, five children scattered around the country, and a few grandchildren. Skip's closest son, Jason, lives in Atlanta and visits frequently. Jason is a favorite visitor among our residents. He has such great stories, funny jokes to tell, and makes time for everyone. You can see the pride on Skip's face each time Jason surprises him with a visit. 
To say Skip has lead a very colorful life would be a bit of an understatement. He was raised and went to college in Pennsylvania. His careers have been in the culinary field and as an illustration designer with his own company. Skip loved being a chef. You can go on YouTube and see him make his award-winning bread pudding with whiskey sauce on the Regis and Cathy Lee Show. That's right! Our Skip won first place with his recipe, $10,000, and a trip to Hawaii!
After his career as a chef, Skip put his college education to work and became an illustrator for companies and then he began his own business. He did photo shoots, some of which included famous people. Remember when Bill Crosby was the spokesperson for Coca Cola? Skip was instrumental in the photo shoot. And Skip has a great story about his photo shoot with the French skier, Jean-Claude Killy when he was the spokesperson for Rolex. If you look through Skip's portfolio, you would recognize many of his creations. Skip has his design table in our art room and many days you can find him at his table designing and creating. If you see him, stop in and say hi!
Here is a little known fun fact about our Skip. Back In the beginning of the Keep America Beautiful Campaign, he was Captain Greenville. As Captain Greenville, Skip made pubic appearances where he promoted anti-litter programs with children around Greenville. If you look in the archives of Greenville you will see pictures of Skip in his Superhero days! He is an excellent listener and his deep care results in uplifting advice. He's a cheerleader to all and is a quiet man, yet he can talk with the best of them. Thank you, Skip, for continuing to bring humor and creativity and kindness to our Fairview family.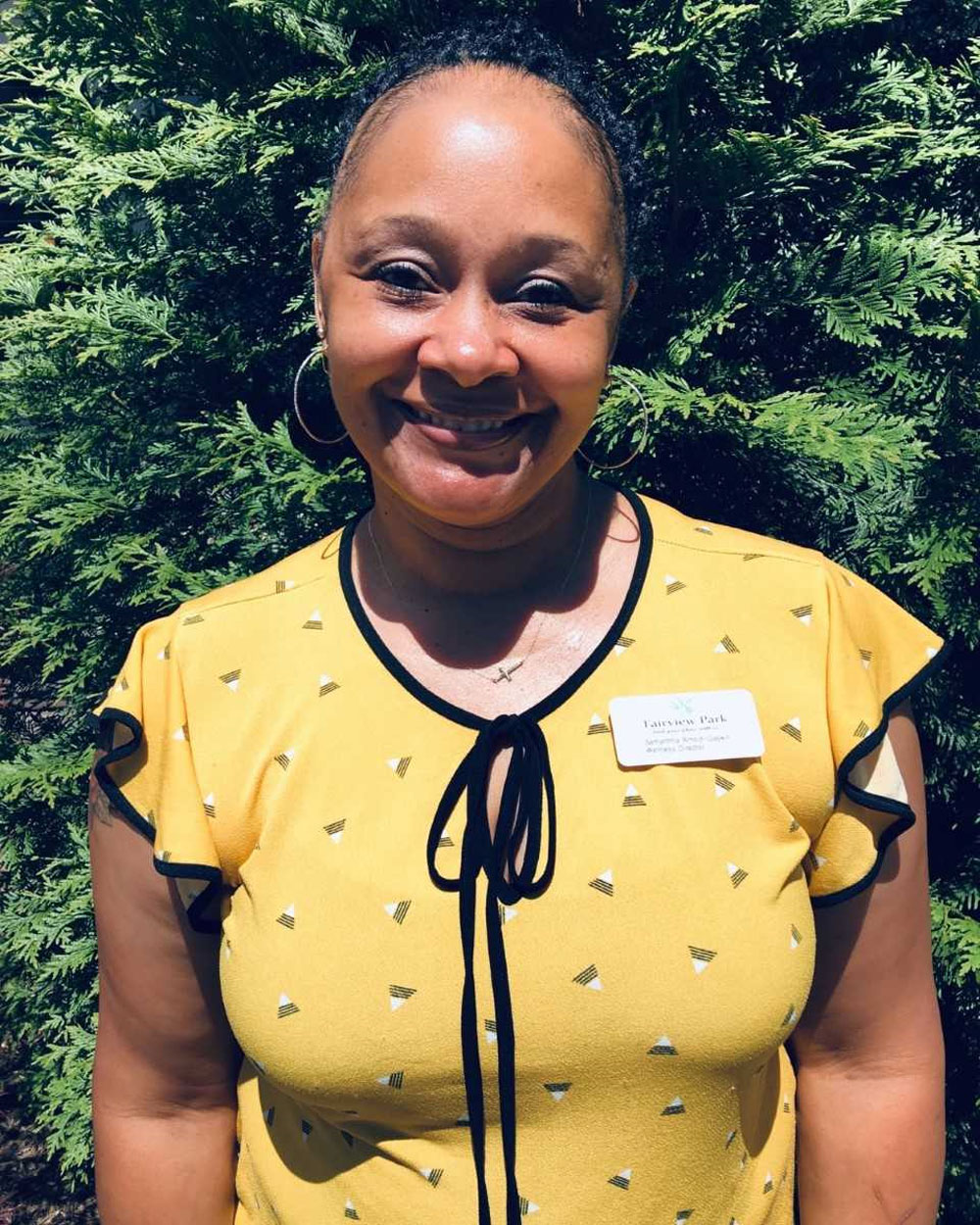 Employee for the month of May 2019 is our nurse, Samanthia. Samanthia was sought out by Fairview Park as her reputation for excellent care and compassion with the elderly preceded her. She has been our nurse since last summer and we are very fortunate to have her on our management team.
Samanthia was born in Greenwood to Sam and Elizabeth Arnold and she had the wonderful benefit to grow up in the country. She has four sisters and one brother. When Samanthia was a child, her mom saw the love and affection Samanthia had for the elderly and predicted she would have a future taking care of the older generation.
She attended Piedmont Technical College and from there she was headhunted by a major healthcare firm who saw her compassion for seniors and her acute attention to detail. Corporate from Fairview Park saw that same talent and asked her to become a part of Fairview Park's management team. Lucky for us she said yes and every day she goes many extra miles to take care of our residents' healthcare.
Samanthia is an award-winning singer and dancer and is the proud mom of a son who is in college. She credits staying grounded to her wonderful husband, Dedrick. Together they make a beautiful couple and he supports her in all her decisions. We here at Fairview Park are blessed to have Samanthia lead our caregiving staff and to monitor every resident's individual care as well as communicate with families, doctors, hospice, and take care of our assessments outside of our facility for future residents here at Fairview Park Senior Living. Thank you, Samanthia for all you do.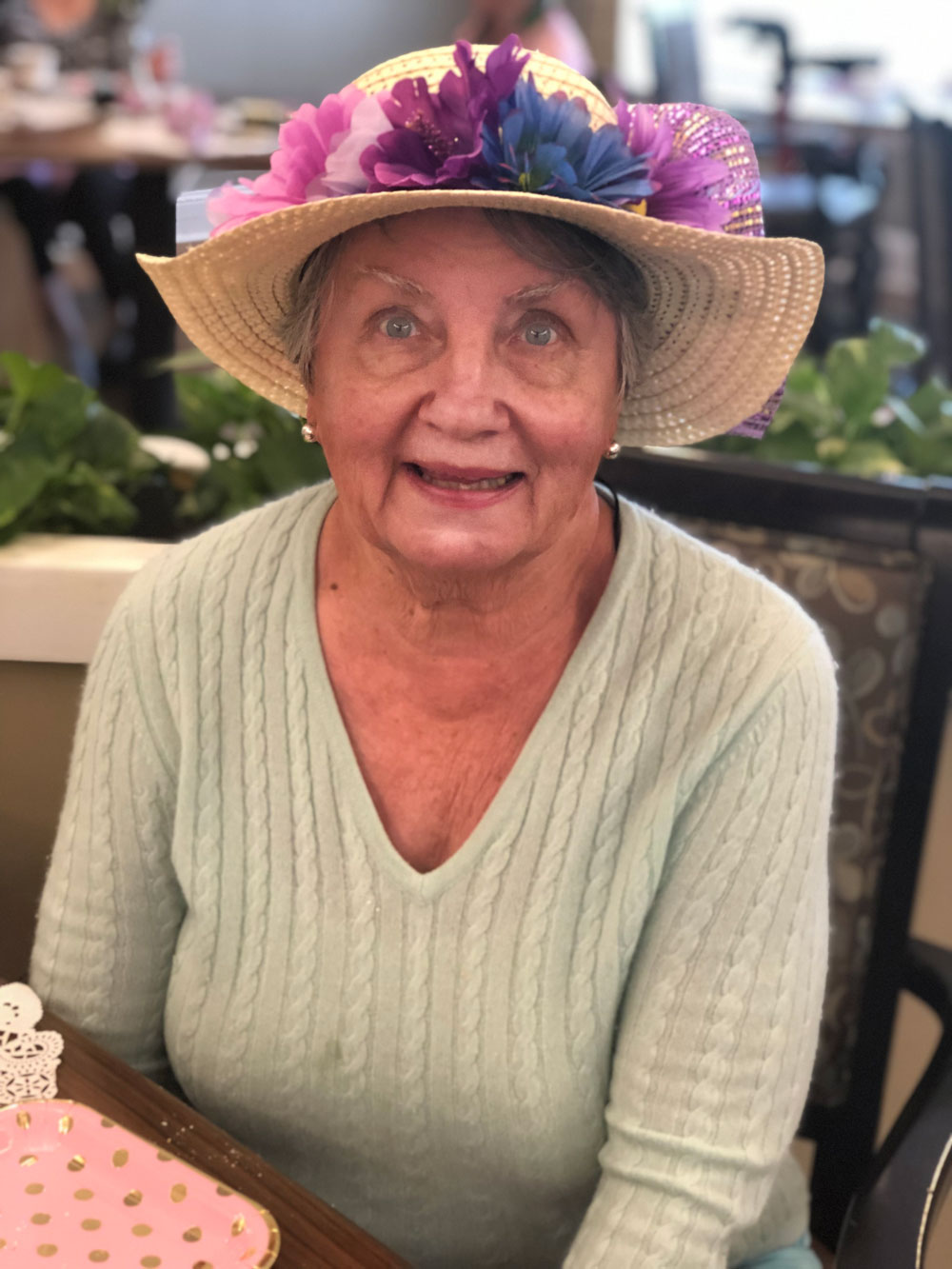 Audrey is our featured resident this month. Audrey made the decision to move into assisted living shortly after losing her husband and not wanting to be alone. Friends from her church took her to tour several facilities and Audrey decided perhaps she wasn't ready for a move from her home.
Audrey said her friends had just one more place to show her and it was Fairview Park. She explains the minute she walked in our front door she knew we were the place she wanted to make her new home. Family was how she described meeting staff and residents. "This is home," is what Audrey said as she stood in our living room.. And she has been with us since, we are happy to say.
Audrey was born in Spartanburg to James and Bessie, and she is the eldest of three girls. She has a daughter, Ashley, who is a nurse in North Carolina. She is grandma to Porter and Woods, her two grandsons. Growing up, Audrey would spend summers with her aunt, a painter. Each summer, her aunt would teach her the details of becoming a painter, which is exactly what Audrey grew up to be.
Audrey studied under Carl Blair, who was a teacher at Bob Jones University and the Greenville Museum of Art. Audrey also studied her art in Europe, including France. Audrey spent two weeks in France, where she was able to paint in Monet's garden in Giverny. We love listening to her travels abroad and the places she painted.
Audrey taught art for several years at Greenville's Museum of Art. She also had a studio with three other women in Charleston, the Pink House. She did many art shows along the east coast and she received awards for her paintings. She is known as Audrey Dillard Price and her paintings are in private collections worldwide and many hang in corporate offices. You may actually look up our Audrey Dillard Price on the internet and see some of her paintings she has sold. Five of her paintings are hanging in her room and she loves to share them with visitors when they find out she's a painter with her oil paintings showing around the world.
Audrey now paints in our art room at Fairview Park where she keeps her easel and oil paints. On any given day you will find Audrey painting. Now she paints and wants to share them, so many of our staff and residents have her paintings hung on their walls. She delights in giving them to people when she sees how happy they are as they admire her painting in the art room.
Audrey also met someone special when she moved to Fairview Park. She and Les have been a couple for over a year now and both bring so much to one another's lives. Both are involved in many of our activities and our outings. Thank you, Audrey, for choosing to join our family.