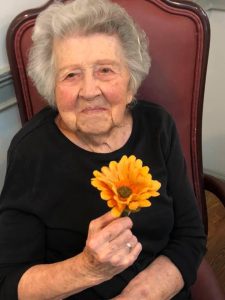 A special lady living at Angels for the Elderly is turning 100-years-old on September 8, and all she wants for the celebration of the century are birthday cards.
At 4'10" and almost 100 years young, this beautiful lady reminds us that powerful things can come in small packages! Spirited, gracious, resilient, and always mindful of her blessings, the Angels memory care community in Montgomery is grateful to call Mrs. JoAnn Brewster a part of the family.
Born on September 8, 1920, in Wisconsin, Mrs. JoAnn has three children, four grandchildren, and five great-grandchildren.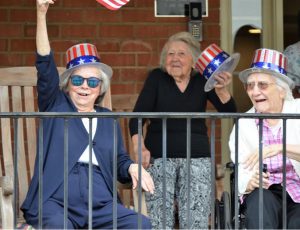 "She's not fussy, except when it comes to doing a job right," said one housemate. "I remember the first time I met Mrs. JoAnn Brewster. She was on the back patio, sweeping leaves and determined to get every inch of the porch as clean as could be!" Angels' staff and residents appreciate Mrs. Brewster's quick wit and easy-going spirit. They say she makes them laugh with her "candid observations" and colorful stories about "the good old days." Whether it's live entertainment on campus or listening to favorite CDs, Mrs. Brewster loves toe-tapping music and is often seen dancing and clapping to the beat. She appreciates bright colors and when others make mistakes, she quickly forgives and "moves on." She says life is too short to carry grudges or be unhappy about what we don't have or can't do.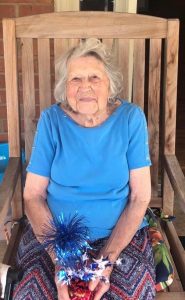 Mrs. Brewster enjoys talking about her Polish heritage—especially her love of sauerkraut, flavorful sausages, and homemade perogies. Her mom came from Warsaw to the US when she was only 17. She didn't speak any English, so Mrs. Brewster grew up speaking both Polish and English. In her teens, Mrs. Brewster moved to the big city of Chicago to work as a waitress in a small diner and that's where she met her future husband.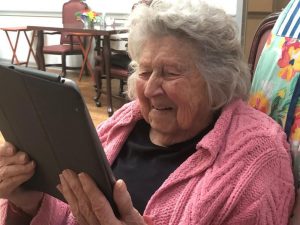 Anyone can wish Mrs. JoAnn the best birthday by sending well wishes and greeting cards our way! The community will save the cards that arrive between today and September 8, then will gift them all to her on her special day.
Angels for the Elderly's address is: 40 Angels Court, Montgomery, AL 36109. Cards can be addressed to "The Birthday Girl." Don't worry … we'll know who it's for! If you wish to join in on the festivities, please note we are following COVID-19 safety restrictions with masks and social distancing.