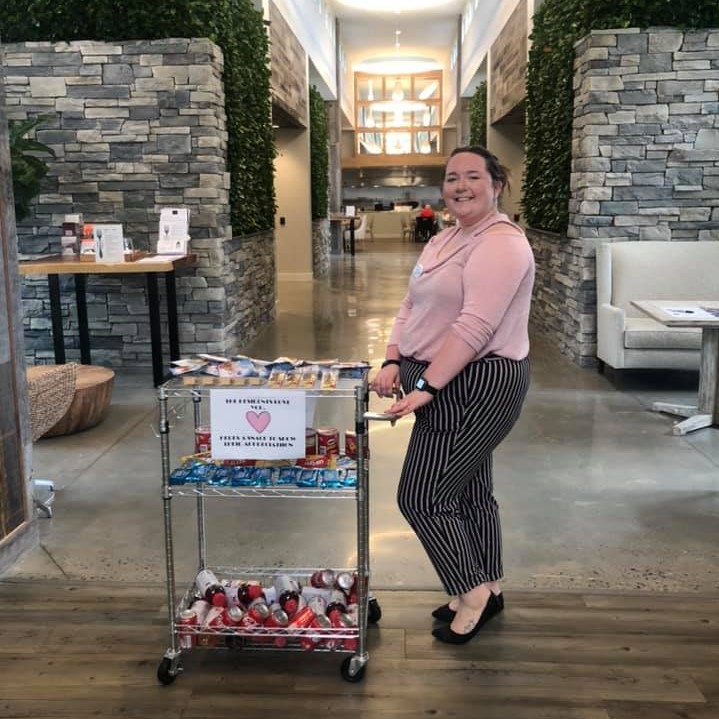 The dining or food service experience is one of the biggest benefits senior living communities provide, especially with the current climate involving COVID-19.
It can get tiresome and stressful for seniors to cook three good meals daily. Just like anyone else who gets tired of cooking, seniors can resort to choosing less healthier options out of convenience. They could also be understandably nervous to visit a grocery store right now and shop.
As a senior, it is important to continue keeping up with your intake of vitamins and foods that are heavy with nutritional value. Senior living facilities can accommodate your food service needs with chef-prepared meals and snacks throughout the day in a controlled environment dedicated to following all protocols preventing spread of COVID-19.
Similar to a dining venue, Atlas community menus offer several options for starters, entrees, sides, desserts and beverages for a complete and enjoyable experience, whether for breakfast, lunch, or dinner.
In addition, our various dining programs are designed to suit our residents' unique needs such as Freedom Dining at our Legacy Reserve communities in Columbus, GA and Lexington, KY, or Home is Where the Food is at Angels for the Elderly in Montgomery, AL, and in many of our assisted living facilities.
Atlas Dining Programs
Atlas communities continue to enhance seniors' lives while maintaining their safety. Our regular programming may be altered to prevent any virus spread, but residents continue to eat, drink and be merry safely while our associates dress and sanitize appropriately with PPE, masks, hand washing and checking temperatures multiple times a day. Programs typically involve group settings, however our communities practice all CDC recommendations and guidelines, including social distancing. Our dedicated teams also deliver meals to apartments securely with snacks throughout the day.
Menus are also reviewed on a monthly basis to incorporate our residents' preferences. Our menu committee meetings encourage residents to provide feedback on the existing menus and how we can make them even better!
Although our dining services offer nutritional and healthy options, we also love sprinkling in our residents' favored, decades-old family recipes. We feature our residents' recipes as often as possible on our community sites to give others inspiration as well.
In addition to our monthly menus that rotate often, our dining teams make our resident birthdays, events and parties more memorable with themed food and beverages, whether Hawaiian, BBQ, or anything in-between.
We are committed to creating an experience for our residents to live the good life! This experience wouldn't be possible without the people serving the food who make the difference for our seniors daily.
The Dining Service Teams at Atlas
No dining experience would be perfect without that unbeatable, passionate service. Our Dining Services teams led by our head chefs go above and beyond to provide a restaurant-style experience that is inclusive, relaxing and enjoyable while residents partake in their meals. With COVID-19, we have only enhanced our dedication to our residents while delivering their meals and ensuring they are eating well.
Tasting the Good Life at Atlas
Our independent, assisted living and memory care communities all work to fulfill seniors' lives. Dining needs to be a modern experience, and our teams provide just that with the meals, atmosphere and camaraderie seniors deserve.
Contact us today to find out more about our dining options or find a community near you!
About the Why Senior Living series: At Atlas, our commitment is to provide seniors their best life despite any circumstance, even during our tumultuous time with COVID-19. We are providing the information seniors ask about most and through this series, we hope to assuage your concerns and answer your questions fully to show the true senior housing experience.