Our menus frequently include a favorite resident's recipe from each of Angels' four houses. Residents and their special guests eat "family style", enjoying heartwarming, home-style cooking. Scroll down to view our mouth-watering recipes!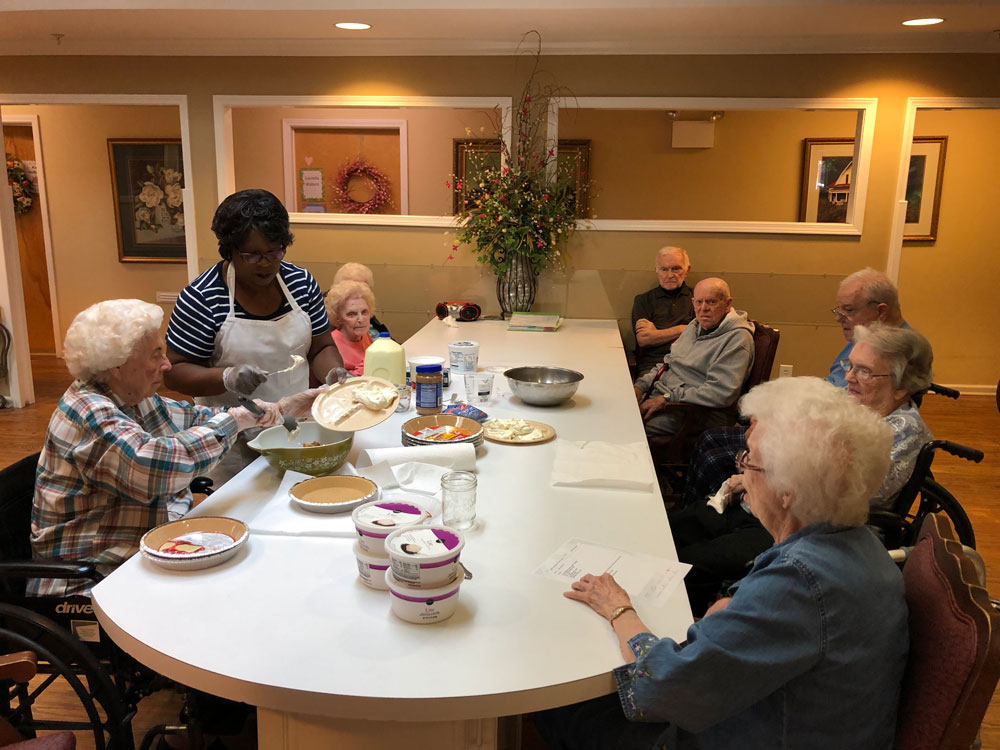 A Special Dessert Made By Everyone
For the first time since introducing Home Is Where The Food Is, Angels' residents made dessert for one of our lunches from start to finish, all by themselves!
Jackie read the recipe while Marialyce stirred the softened cream cheese, peanut butter, milk, sugar and whipped topping. Once ingredients were blended, residents were delighted to help with a taste test. Everyone agreed the pie filling was delicious! Residents needed to make 8 pies so that each of Angels' four houses would have 2 pies. Residents made four "batches" of the recipe, which amounted to lots and lots of stirring.
Everyone agreed that it was fun to make the pies, and the aroma of peanut butter really made Durden House smell wonderful! Even those not directly involved in measuring, blending or pouring enjoyed watching others make the pies.
Even though they weren't actually in the kitchen cooking, residents were happy to be able to contribute to the meal and look forward to more recipes that they can make themselves.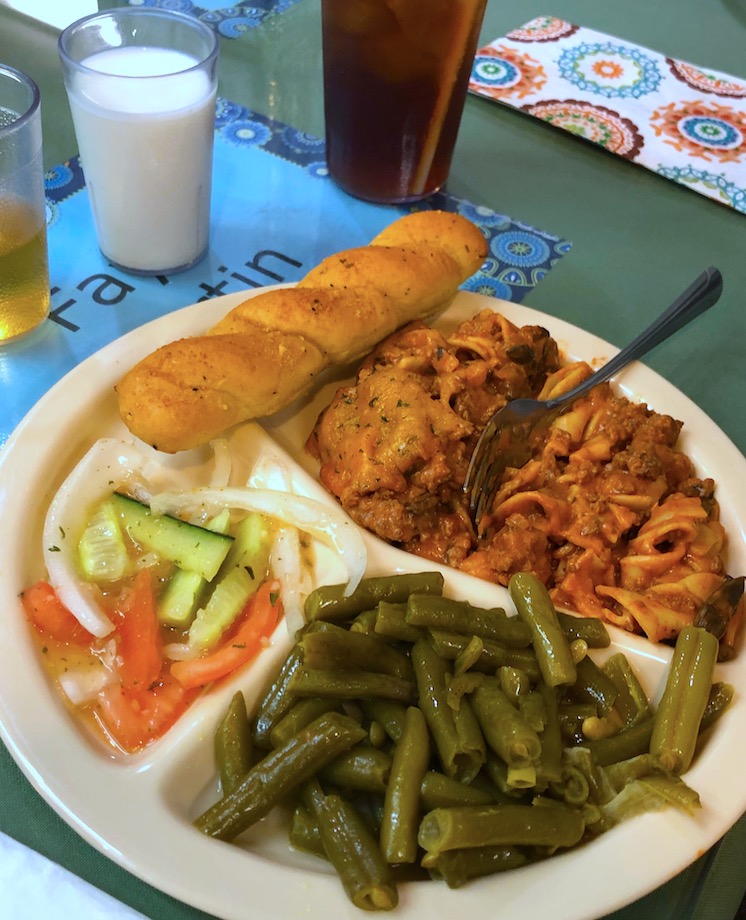 Herman's Savory Noodle Casserole
Ingredients:
1 12 oz. package of wide egg noodles
1 lb. ground round
1 med. onion – chopped
1 carton of sliced mushrooms
1/2 stick of unsalted butter
1 can of Healthy Choice cream of mushroom soup
1 15 oz. can of low sodium tomato sauce
1 small can of low sodium tomato paste
1 reg. can of evaporated milk
2 tspns of minced or fresh chopped garlic
Garlic powder to taste
2 tspns or more of black pepper
Dash of crushed red pepper to taste
3/4 cup of grated sharp cheddar
1/2 cup of grated sharp cheddar for topping
1/2 small block of Velveeta melted into the mixture
Instructions: Cook noodles. Drain and set aside. Brown meat and onions in butter. Add mushrooms last. Stir in fresh garlic and pepper. Add tomato sauce, tomato paste, soup, and evaporated milk. Stir in cheddar and Velveeta until melted. Add garlic powder, black pepper and crushed red pepper to taste at this point. The mixture should be creamy and garlicky. Stir in cooked wide noodles. Put the mixture in 13×9 pan and top with extra cheese. Bake in the oven at 350 degrees until warm enough and cheese is melted.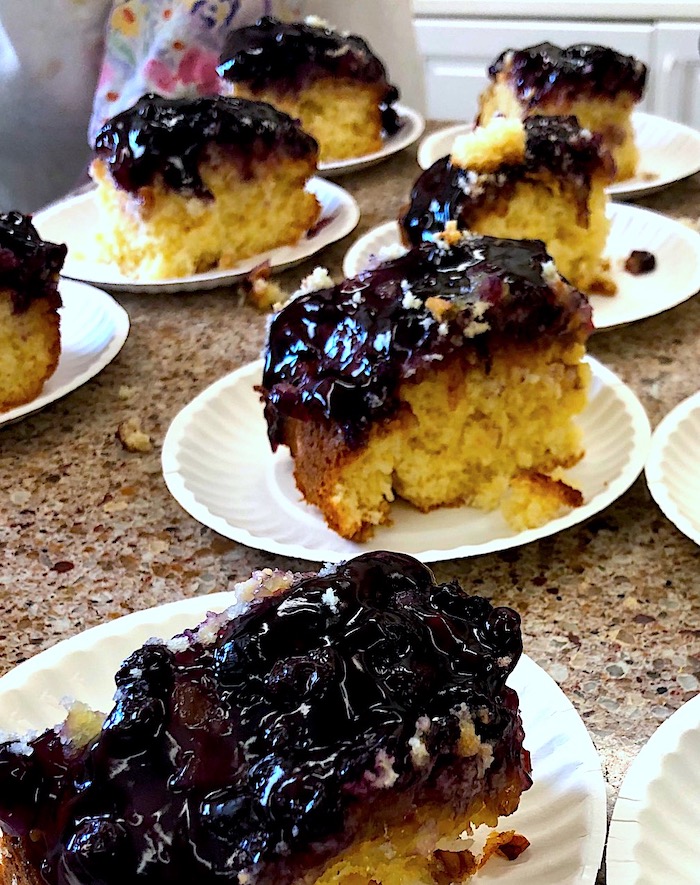 Louie's Pineapple Blueberry Cake
Recipe
1 large can of crushed pineapple (do not drain)
1 can of blueberries (drain) or use fresh or frozen blueberries
1 box of Jiffy yellow cake mix
1 1/2 stick of melted butter
1/2 cup of chopped pecans
1/2 cup of sugar
Instructions: layer all ingredients in order in baking dish. Bake at 350 for 35-40 minutes.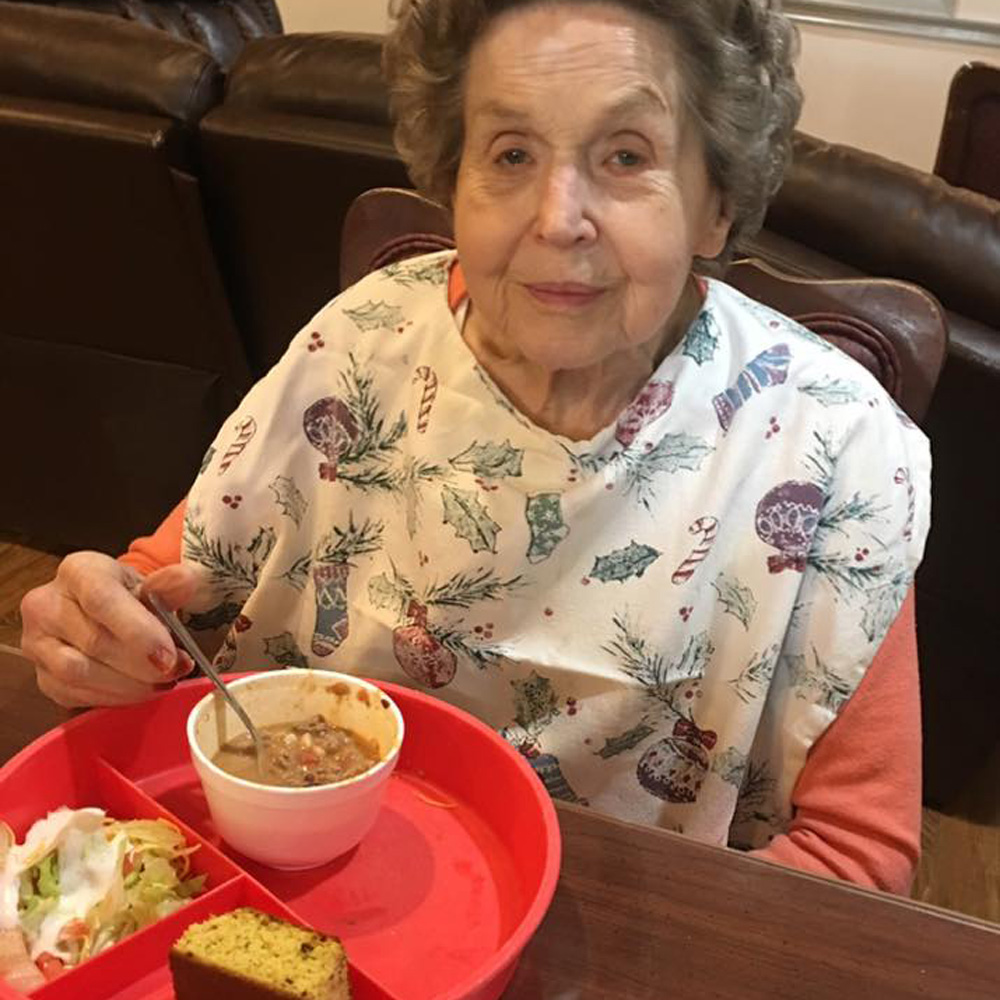 1 lb ground beef
1 large onion chopped
2 packages of taco seasoning
2 cans white shoe peg corn, drained
2 – 1 oz packages of Ranch dressing
1 – 16 oz black beans, undrained
1 – 16 oz can pinto beans, undrained
1 – 16 oz can kidney beans, undrained
1 – 14 oz whole tomatoes
1 – 10 oz tomatoes with chilies, undrained
Brown ground beef and onion, then drain. Put in crock pot or dutch oven. Add all other ingredients. Be sure to drain corn, but don't drain other vegetables. Simmer 2 hours in dutch oven or 6 hours in crock pot.
Serve with favorite toppings: grated cheddar or pepper jack cheese, chopped onions, sliced jalapenos, sliced black olives, sour cream and tortilla strips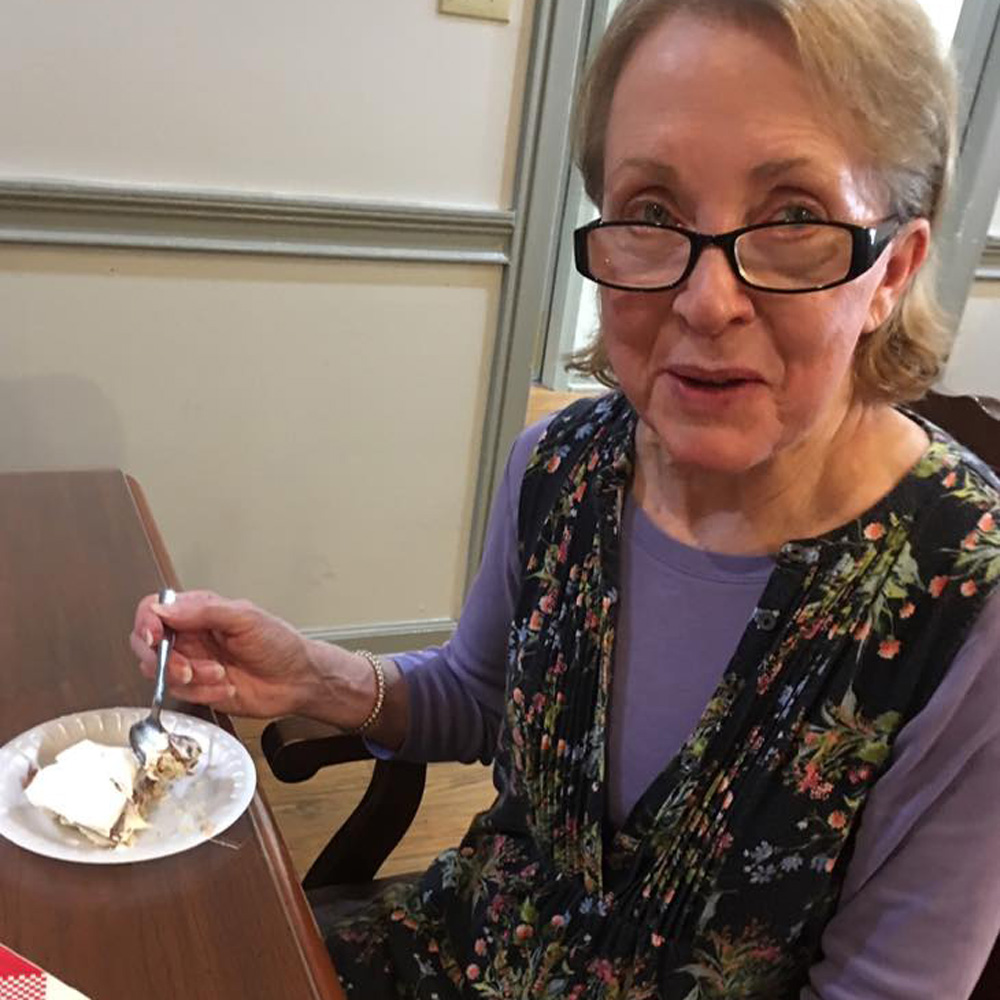 Louise's Four Layer Chocolate Pie
First layer
1 cup all purpose flour
1/2 cup melted butter
1/2 cup chopped pecans
Second layer
8 oz cream cheese, softened
1 cup powdered sugar
1 cup Cool Whip
Third layer
2 small pkgs instant chocolate pudding mix
3 1/2 cups milk
1 tsp vanilla
Fourth layer
Mix first layer and mash into 9 x 13 pan. Bake at 350 degrees for 20 minutes then let cool. Mix second layer with mixer and spread over first layer. Beat third layer with mixer until thick then spread over second layer. Spread Cool Whip over top and refrigerate.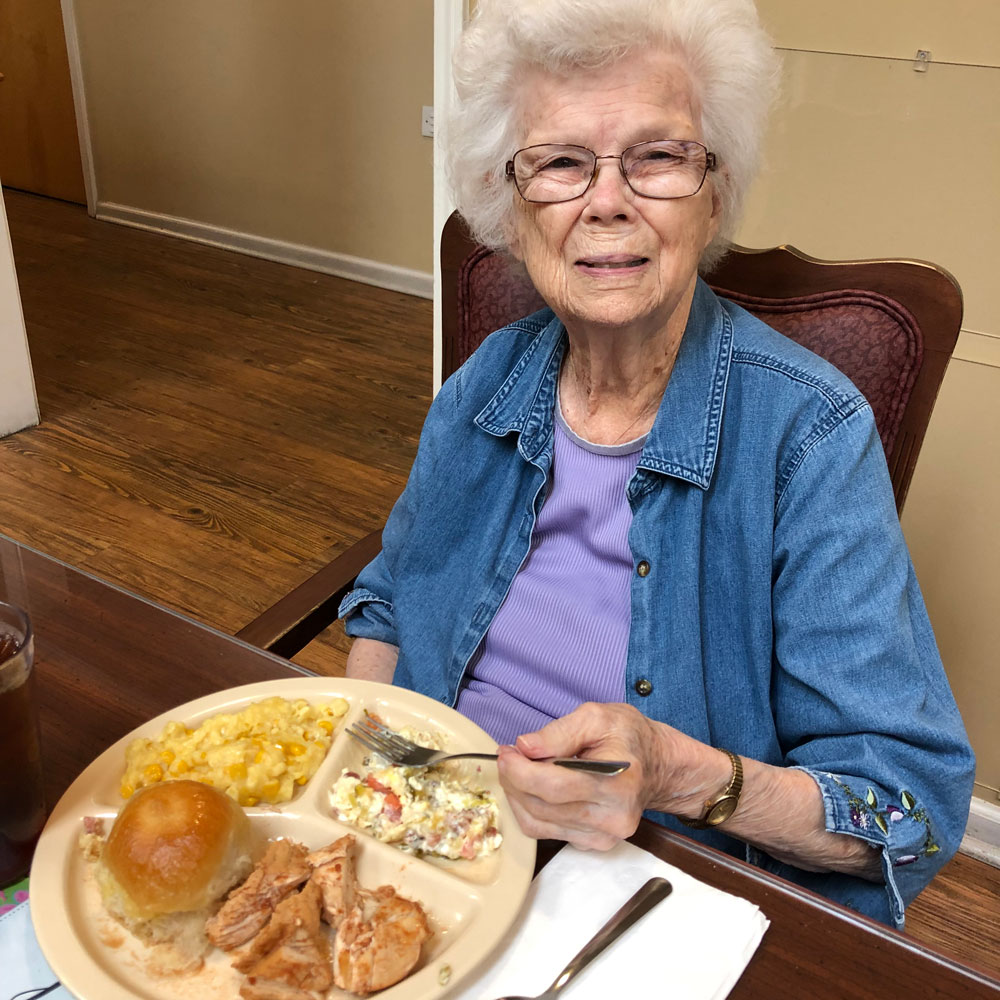 Margaret's Coca-Cola Chicken
1 whole chicken
1 cup of Coke
1 cup of ketchup
1 large onion
Put all ingredients in a large Dutch oven and bring to a boil without water. When it comes to a full boil, turn heat to low and simmer with the lid on. When the chicken gets tender, take off the lid and turn the heat back up to medium. Without the lid, finish cooking until done.
Shake the pot every now and then so the ingredients don't stick. Chicken will take about 1 hour from start to finish.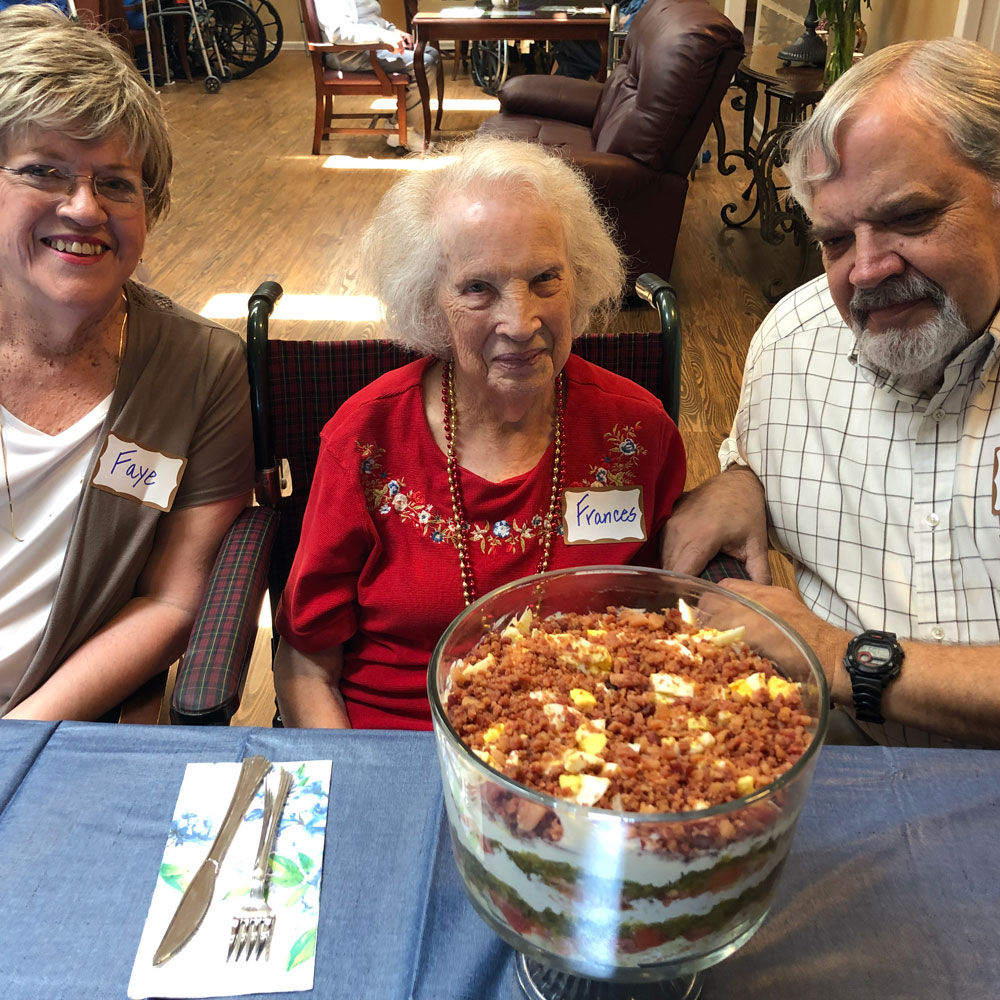 Frances' Layered Tomato Salad
saltine crackers
tomatoes
pickle relish
mayonnaise
boiled egg
bacon pieces, optional
Crumble enough saltine crackers to cover the bottom of the serving bowl. For a medium bowl, this would be 4 to 8 crackers.
Dice or sliver the tomatoes. Cover the crackers with a tomato layer about 1/2″ thick. Sprinkle pickle relish on top of tomato layer and press with the back of a fork. Add a thin layer of mayonnaise about 1/4″ thick over the relish. Top with diced boiled egg and bacon pieces if desired, then garnish with slices of boiled egg as the top layer.
Tips:
Use trifle bowl or other container where colorful layers can be seen.
For 2 people, use 1 tomato and 1 egg, using 1/2 of each per layer. For 4 people, use 2 tomatoes and 2 eggs.
Best when eaten shortly after made, but can be refrigerated for a day.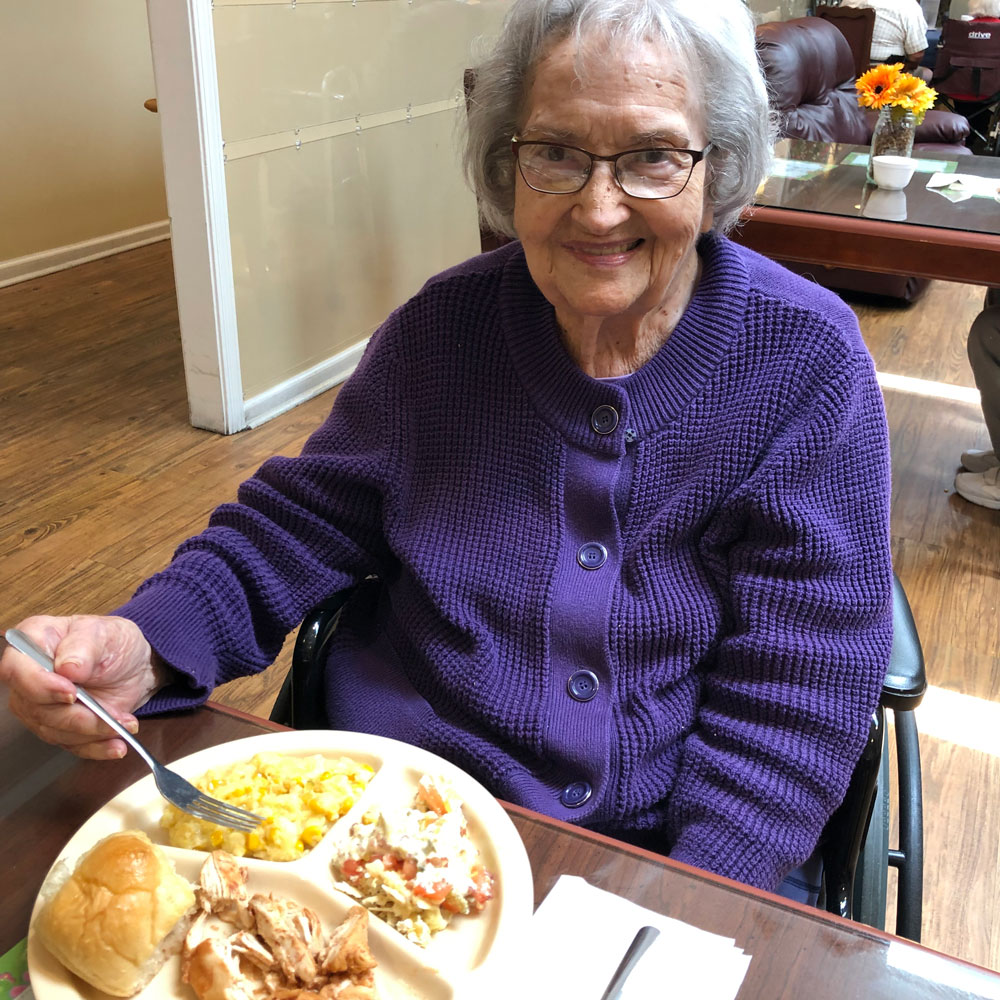 1 stick butter
1 box Jiffy cornbread mix
1 can whole kernel corn, drained
1 can cream style corn
8 ounces sour cream
Mix all ingredients together, then pour into greased baking dish. Bake at 350 for 40 minutes.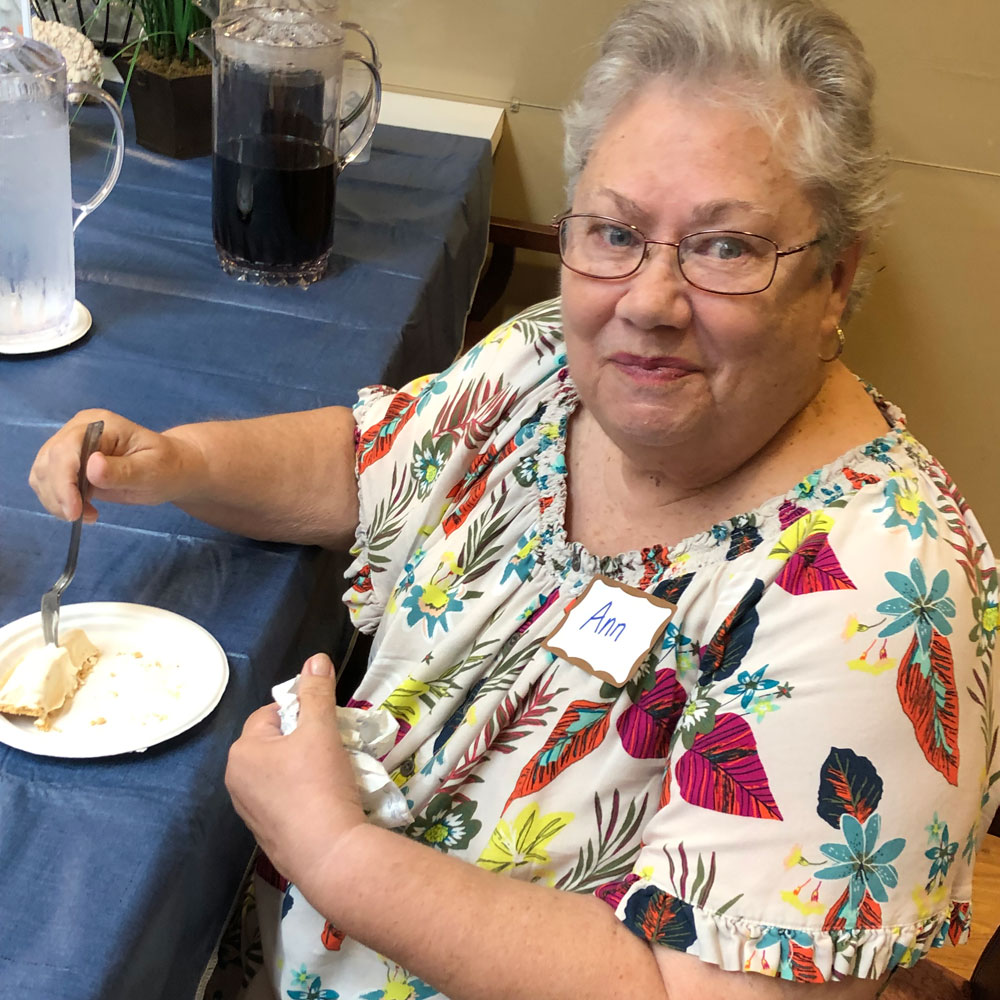 Peggy's Peanut Butter Pie
8 oz Philadelphia cream cheese – softened
3/4 cup crunchy peanut butter
3/4 cup milk
1 cup confectioner's sugar
Large cool whip
2 graham cracker crusts
Mix all ingredients together, folding in Cool Whip last. Spoon mixture into pie crusts.
This recipe makes 2 pies using graham cracker crusts. Put in freezer and take out just before serving.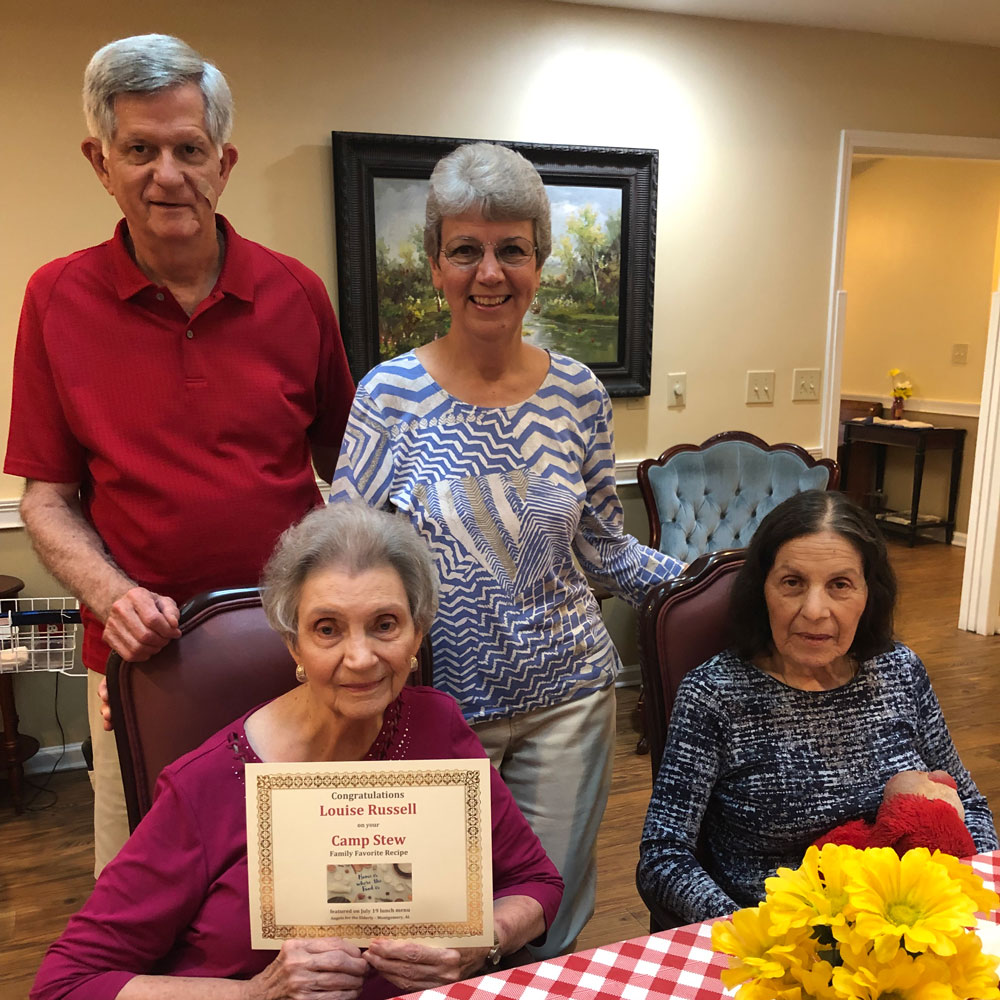 Russell Family's Camp Stew
2 cans Castleberry's BBQ Pork
2 cans Castleberry's BBQ Beef
2 cups cooked chopped or shredded chicken breasts
14 oz can creamed corn
14 oz can whole kernel corn
4 oz can tomato sauce 2 – 29 oz cans petite-diced tomatoes
1 chopped onion
Hot sauce to taste
Worcestershire to taste
Salt to taste
Place all ingredients in a large boiler; bring to a boil stirring constantly. Simmer for about 30 minutes, stirring regularly to make sure it doesn't stick.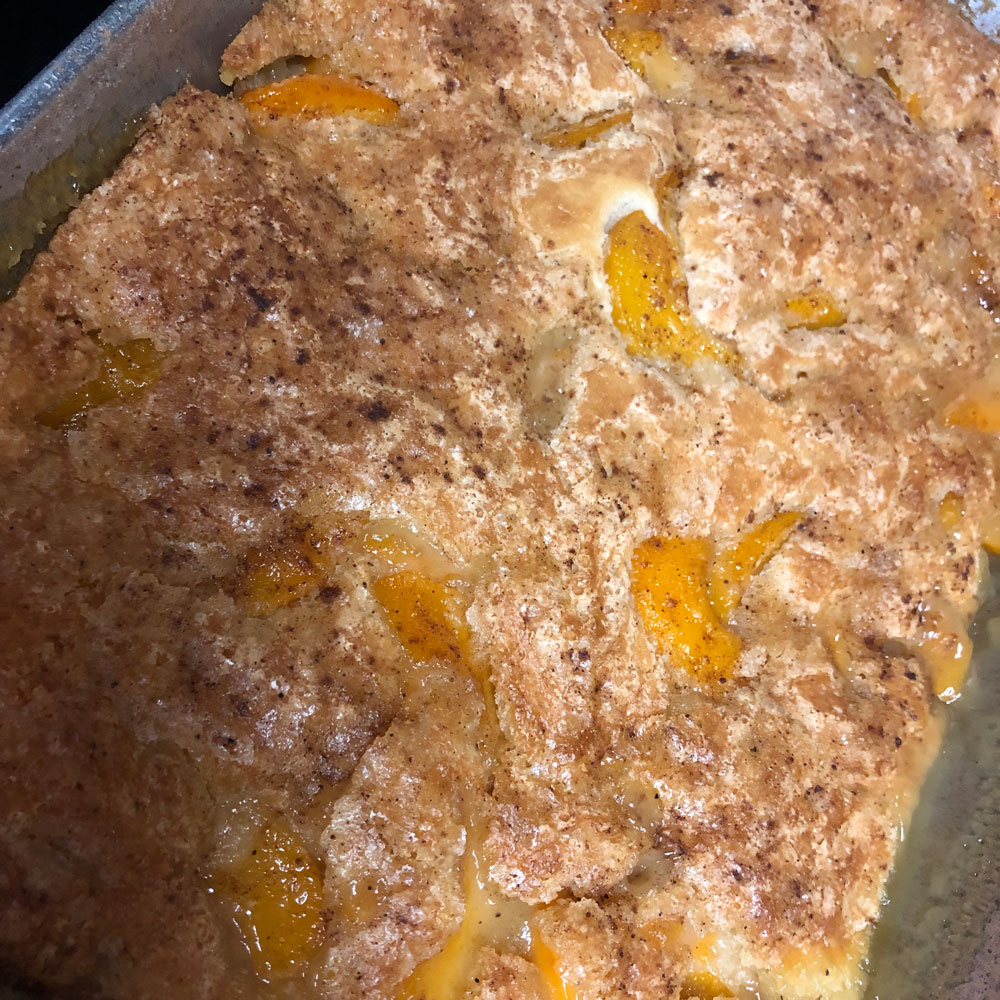 Filling:
8-10 cups fruit (her favorite is peaches)
1/4 stick of butter dotted over peaches
1/3 cup sugar
1 tablespoon flour
Crust:
2 cup flour
1 cup sugar
1 cup softened butter
Put fruit in bottom of 9 x 13 baking dish. Mix 1/3 cup sugar with 1 tablespoon of flour. Sprinkle over peaches. Dot with 1/4 stick of butter.
For the crust, mix flour and sugar together; then mash in butter till mixed well. Pat into approximately 1/4 inch thick patties and cover peach mixture in 9 x 13 inch pan. Bake at 425 degrees for approximately 45 minutes until rich golden brown on top.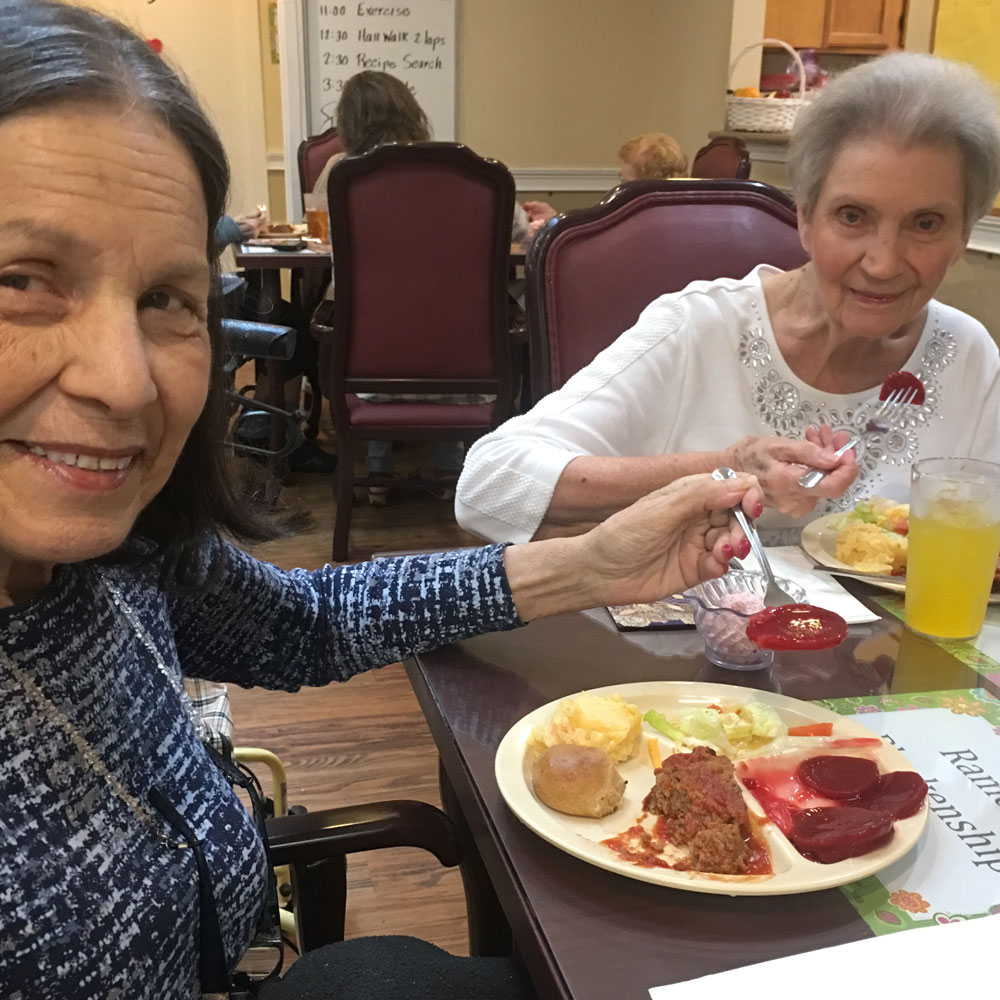 Loaf:
1 1/2 lbs ground beef
1 cup bread crumbs
1 onion, chopped
1 egg
1 1/2 teaspoons salt
1/4 teaspoon pepper
1/2 can tomato sauce
Sauce:
1 1/2 can tomato sauce
1/2 cup water
3 tablespoons vinegar
3 tablespoons brown sugar
2 tablespoons mustard
2 teaspoons Worcestershire Sauce
Combine first 7 ingredients and form loaf. Mix sauce and pour over loaf. Bake at 350 for 1 hour and 15 minutes.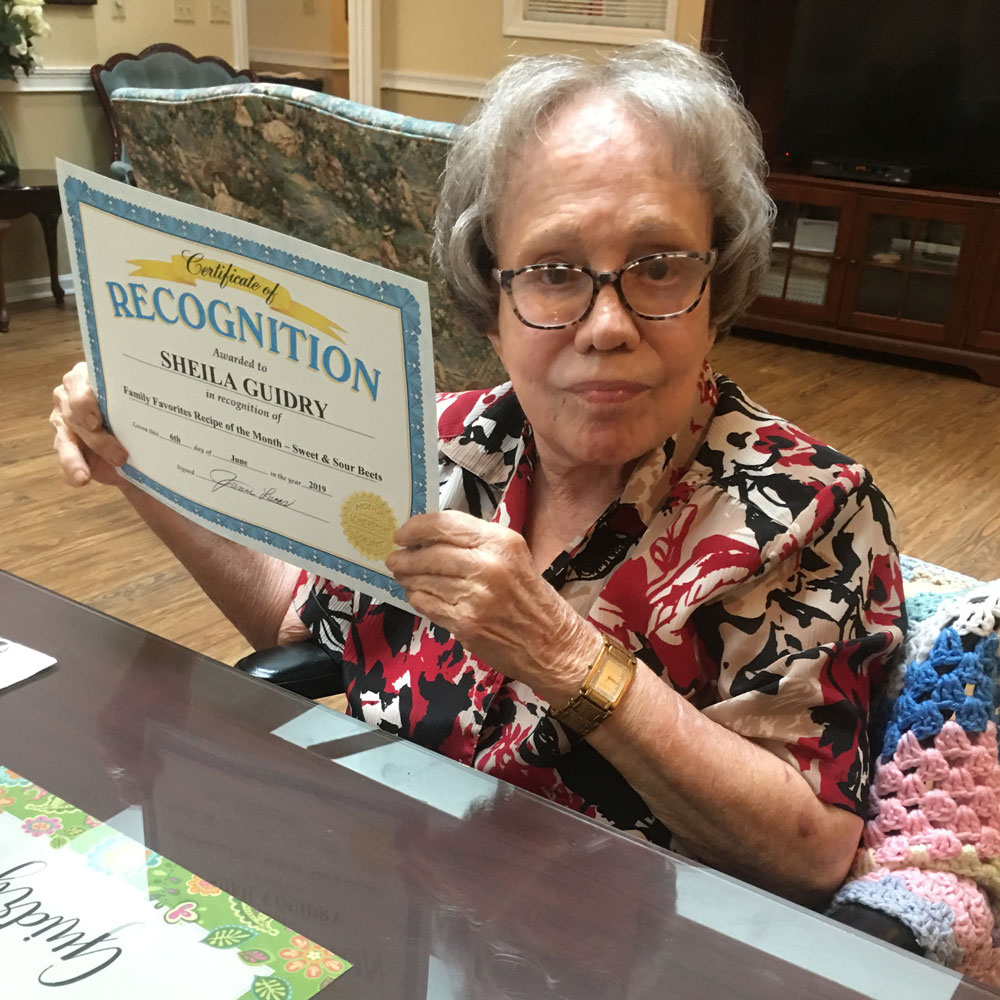 Sheila's Sweet & Sour Beets with Pineapple
1 can of cut beets
1 can of chunky pineapple
1/2 cup white sugar
1/2 cup brom sugar
1/2 cup vineagar
1 cup water
Drain canned beets and pineapple, save the juice from the pineapple can. Mix ingredients together and cook on stove. Add in pineapple juice. Bring to boil until the mixture thickens. May be served warm or cold.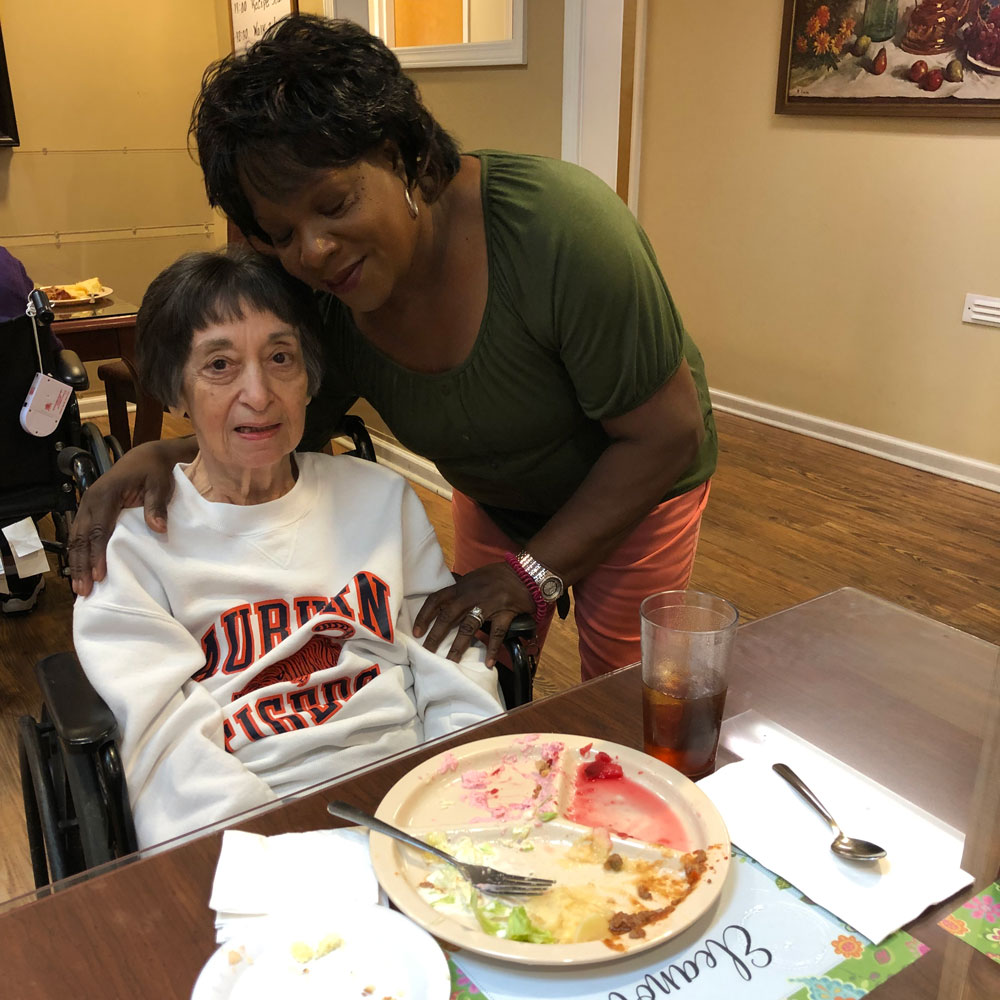 1 small container
8 oz container of Cool Whip
1 can of condensed milk
1/4 cup lemon juice
1 large can of cherry pie filling
1 large can of pineapple tidbits
1 small can of pineapple tidbits
Mix Cool Whip, condensed milk and lemon juice together with a spoon. Once these are mixed, stir in the remaining ingredients. Then place your bowl in refrigerator to chill for about 4 hours before serving.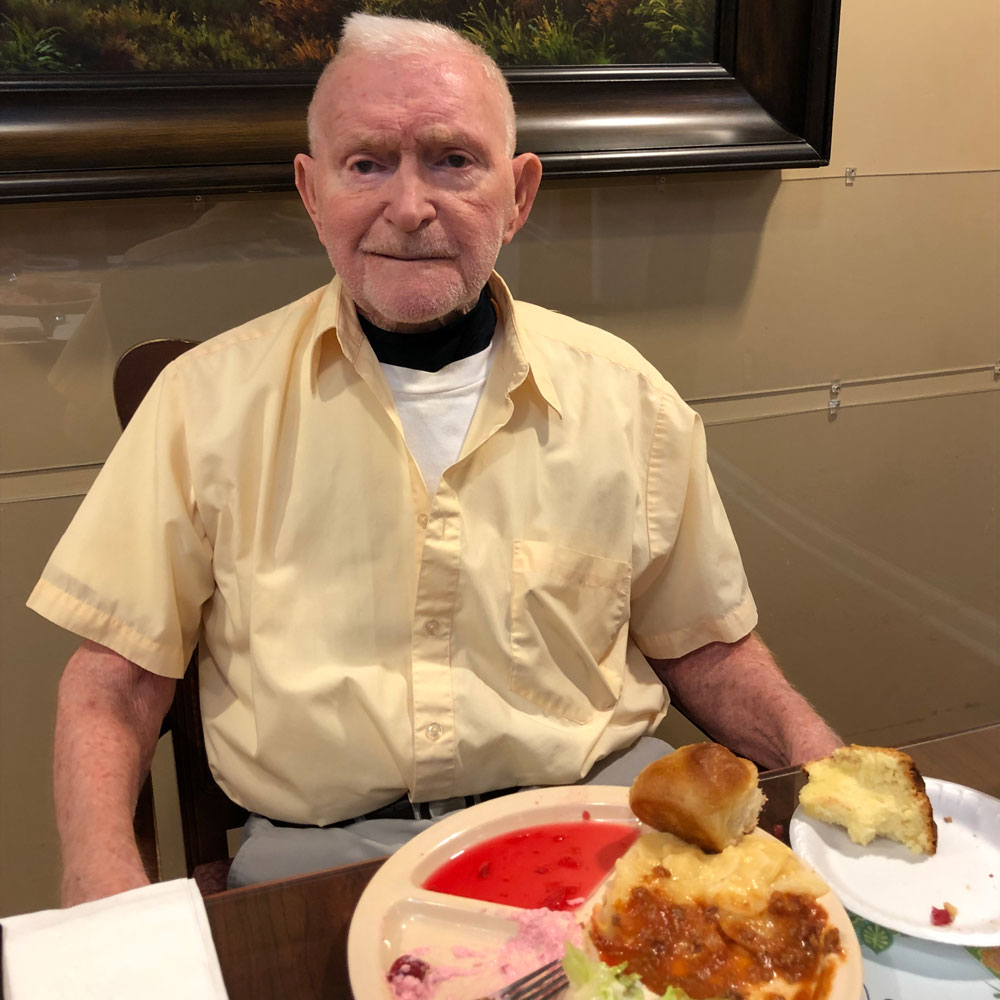 Lucinda's Cream Cheese Pound Cake
3 1/4 cups all-purpose flour
1/2 tsp. salt
1 1/2 cups butter or margarine, softened
1 (8 oz) pkg cream cheese, softened
3 cups sugar
6 eggs, room temp
1 tsp. vanilla
1/2 tsp almond extract
Preheat oven to 325. Grease and flour a 10-inch tube pan.
Combine flour and salt, then set aside.
In a large bowl, mix butter or margarine and cream cheese for one minute. Add sugar gradually after 2-3 mins, then beat in eggs one at a time, mixing well after each addition. Stir in vanilla and almond extract. Fold in flour until combined, do not over mix.
Spoon batter into prepared pan and place on baking sheet in oven. Bake 1 1/2 hours or until toothpick inserted near center comes out clean. Cool on wire rack 10 mins before removing from pan.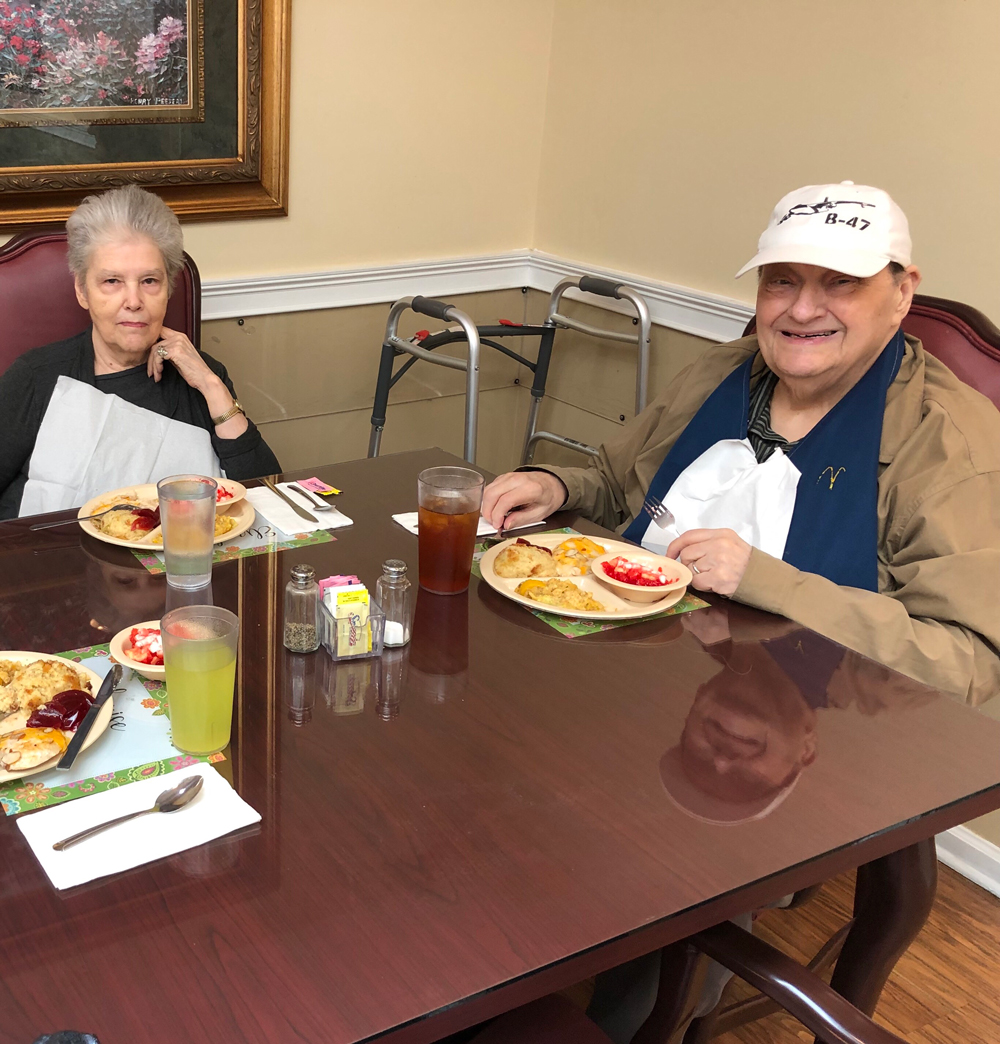 Bob said yesterday's lunch was the best meal he's had since moving to Angels for the Elderly. He and his wife have both been residents for 18 months. He said Rosalie's Caramel Icing reminded him of home and how his grandmother always had kept a caramel layer cake ready to serve.
Recipe
3 tablespoons sugar
2 tablespoons karo syrup
1 stick butter
2 cups sugar
1 small can PET milk
Brown 3 tablespoons of sugar in small pan with 2% Karo syrup. In large heavy boiler, melt butter. Add the 2 cups sugar and PET milk. Bring mixture to a boil, then slowly add melted sugar mixture to this. Cook to a soft ball stage. Cool and beat to spreading consistency.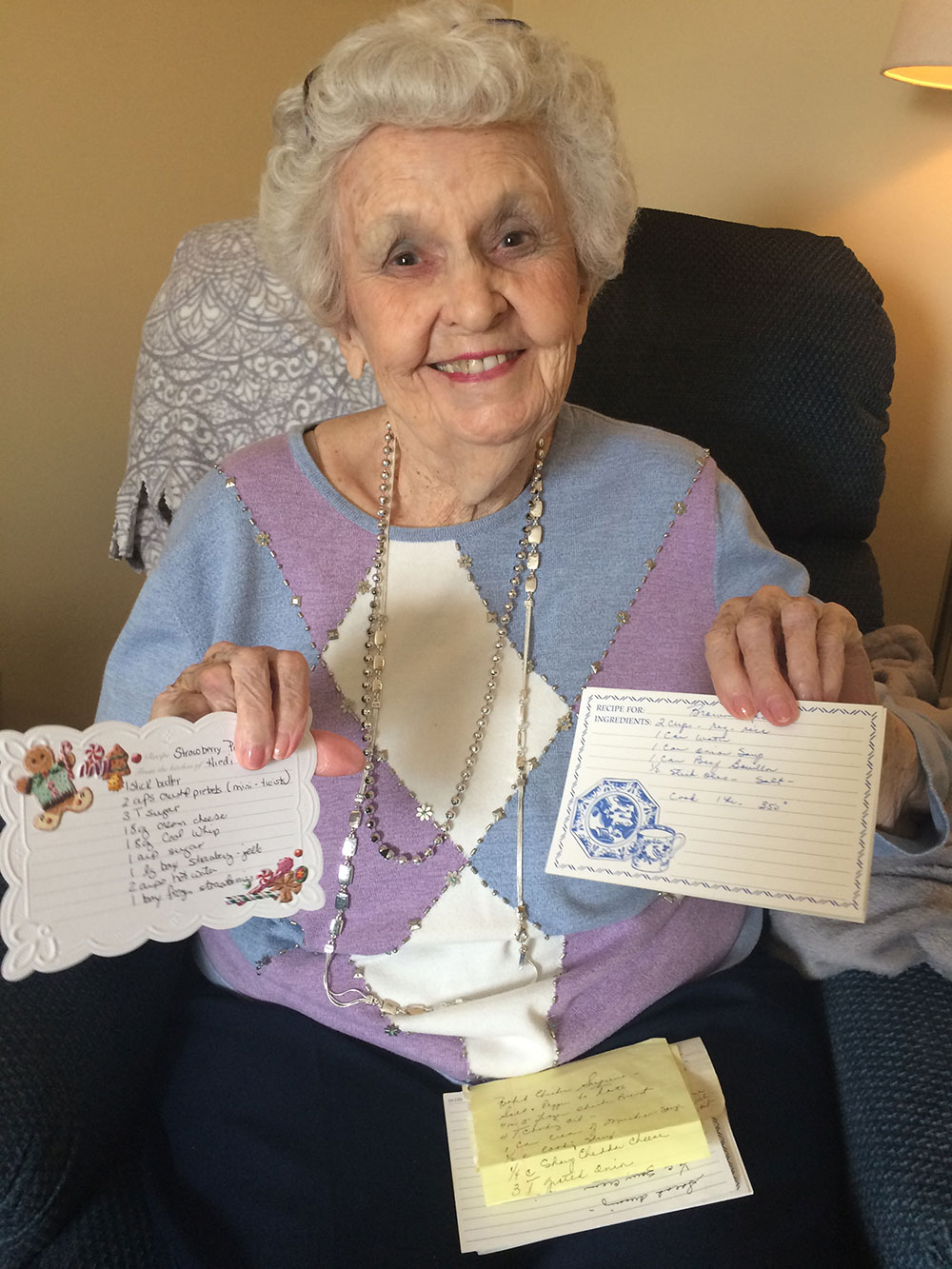 Peggy's Yellow Rice and Corn Casserole
Peggy chose this casserole because it goes so well with everything. She likes that it's colorful and pretty
on a plate and not spicy. She says the corn gives the rice some crunch, which makes it perfect for pairing with chicken or even fish. Unlike recipes that require fresh ingredients, Peggy says this is a quick casserole to put together on the spur of the moment since it contains only a handful of items she usually has on hand.
Recipe
1 stick oleo
1 can cream of celery soup
1 can Mexicorn
1 bag yellow rice
Cook rice as directed on package and add other ingredients. Pour in buttered casserole and bake at 350 til it bubbles.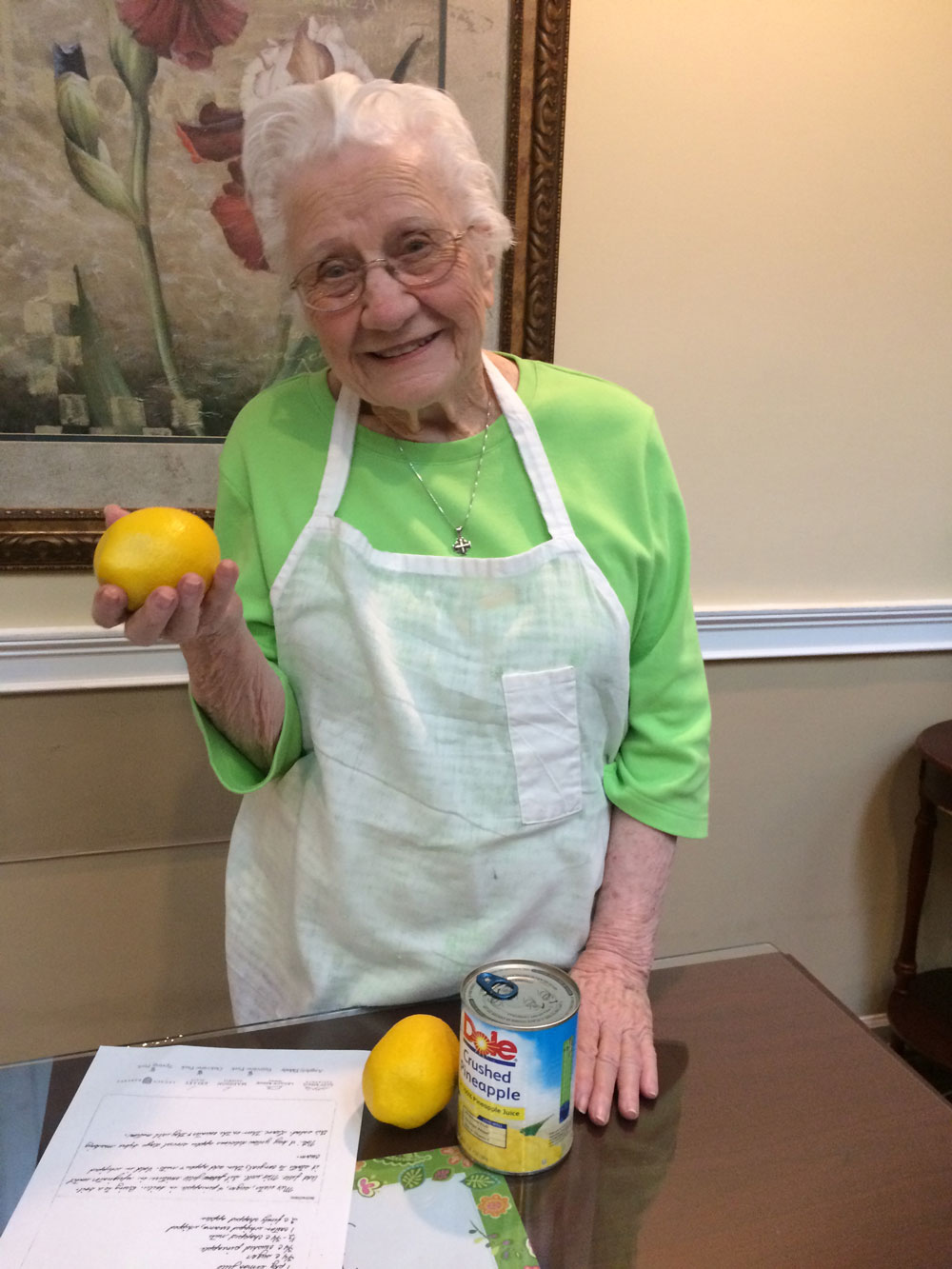 Rosalie's Lemon Jello Salad
Rosalie admits she didn't really learn to cook until she got married. As a young homemaker, she looked through cookbooks and just found recipes that sounded good. She particularly liked making dishes that were a little different—like her! Rosalie likes that this salad combines the crunchy sweetness of chopped apples and pineapple with the tartness of lemon jello. She says she can "make a meal" of eating this family favorite. She looks forward to putting this salad together and hopes her friends in the Mullins House will like it as much as she does!
Recipe
1 cup water
1 pkg lemon jello
3/4 cup sugar 3/4 cup crushed pineapple
1/2 – 3/4 cup chopped nuts
1 carton whipped cream, whipped
2 finely chopped apples
Mix water, sugar and pineapple in boiler. Bring to a boil. Add jello. Mix well. Set jello mixture in refrigerator until it starts to congeal, then add apples nuts. Fold in whiipped cream.
Note: Buy yellow delicious apples several days before making this salad. Leave them on the counter and they will mellow.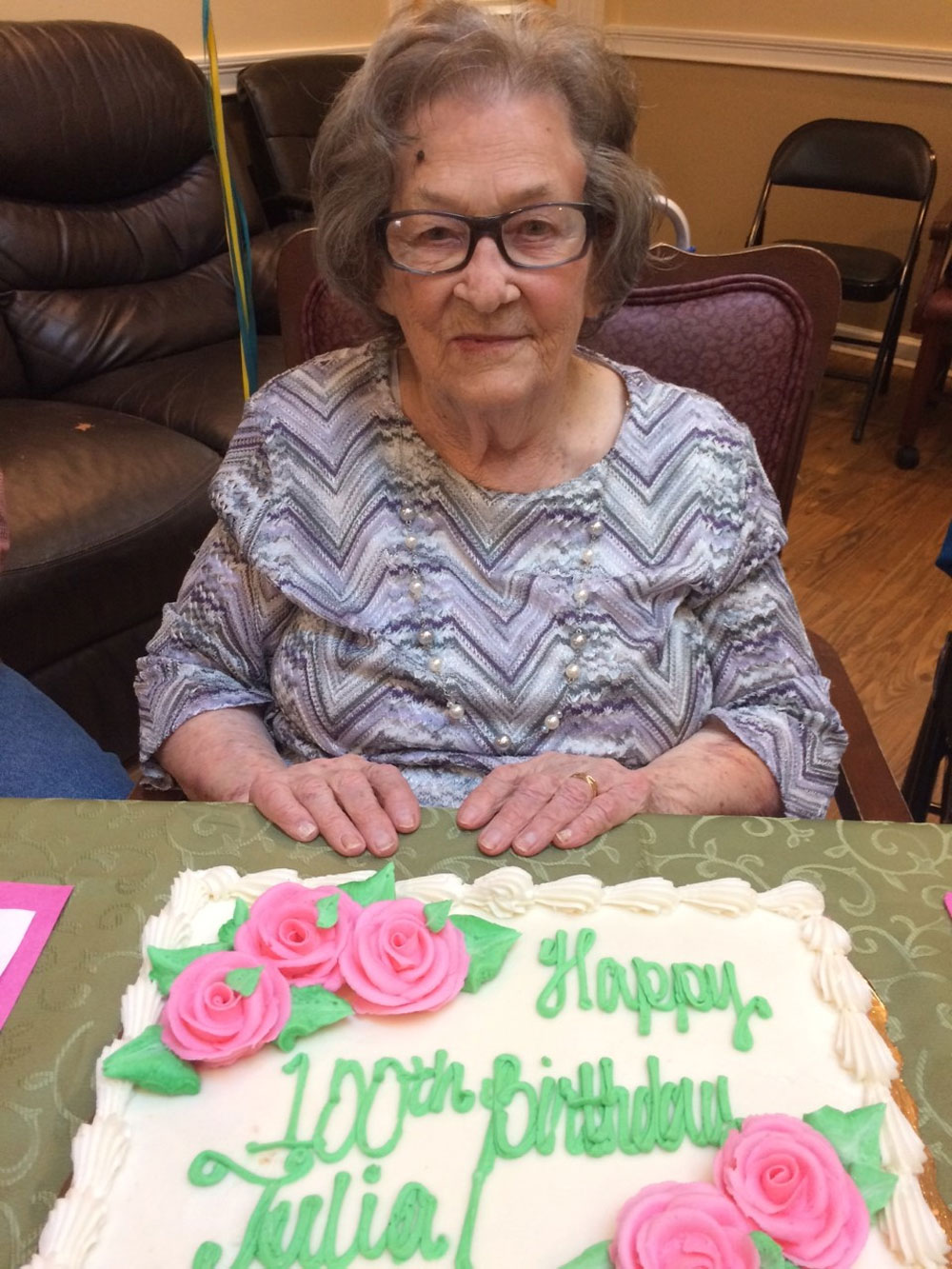 Julia's Blueberry Dream Cake
Julia belonged to a highly skilled ladies quilting group for over a decade. The group met once a month in each other's homes with the hostess providing a delicious dessert. Judy found this recipe in her mother's recipe box and thought it would be perfect for a springtime dessert at Angels. Julia agreed! Both like that it's not a heavy dessert yet adds a sweet finish to any meal. They also like that it "looks pretty," especially when served in a trifle bowl.
Recipe
1 Angel food cake sliced into 3 layers
1 cup granulated sugar
1 cup powdered sugar
1 large package cream cheese
2 teaspoons vanilla
1 8-ounce tub of dairy whipped topping
1 can blueberry pie filling (or fresh blueberries if you prefer)
Cream sugar, powdered sugar, cream cheese and vanilla; add whipped topping and stir. Frost cake and chill. Spoon blueberry pie filling or fresh blueberries over the top.