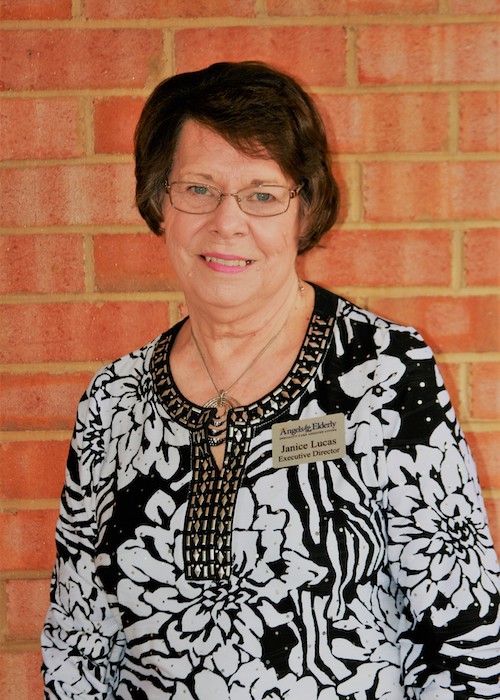 Janice Lucas - Executive Director
Janice became the Executive Director/Administrator of Angels for the Elderly in June 2016. She has held a Category II Assisted Living Administrator License since August 2003 and has been an employee of Angels for the Elderly since September 2004. She began her employment as an Activities Director and then transitioned into being the assistant to the Director of Nursing. Through the years, Janice has served as Dietary Manager, Quality Assurance Administrator, and Administrator Designee. Janice is a former teacher, having retired in 2001 from the Pike County School system with a tenure of 29 years. She had previously taught for two years in the Ozark City School system. Janice is a widow and has one daughter and son-in-law who have two daughters. Her granddaughters are the light of Janice's heart and they keep her very busy. Janice enjoys spending time with her family, reading, and doing crafts when time permits. Janice lives in Troy and says the drive to and from Angels is her quiet time. She enjoys working with the elderly, especially those in need of memory care. She receives daily inspiration from the residents of Angels and their families.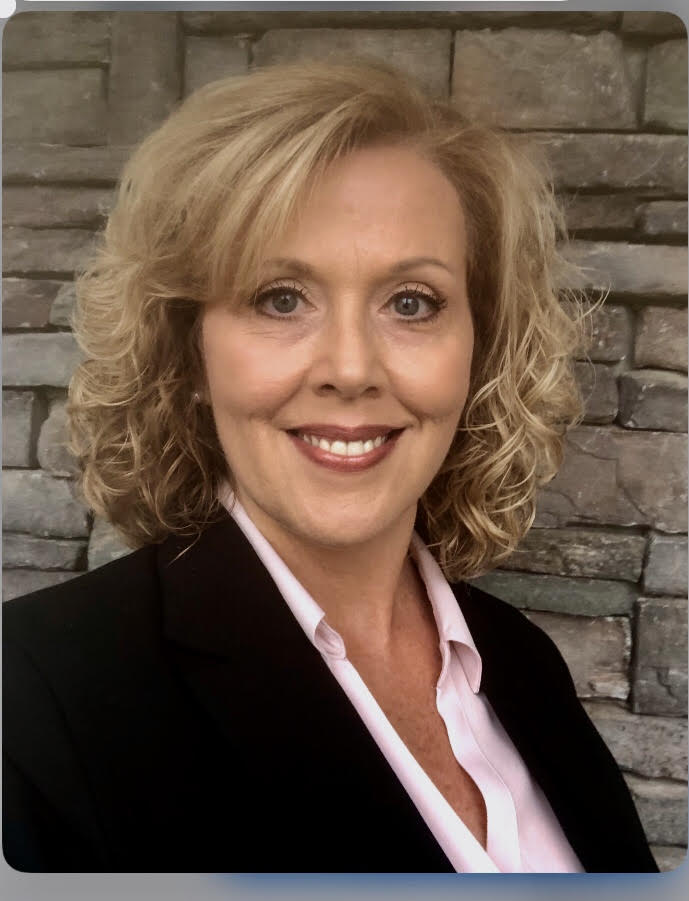 Kim Wilson - Sales & Marketing Director
Kim Wilson began working at Angels in October of 2012 as part of the administrative staff. She is currently the Sales and Marketing Director. Kim has a special place in her heart for the residents of Angels. Kim witnessed the love and compassion her mother demonstrated as she cared for Kim's grandmother who suffered with dementia. This inspired Kim to show the same love and compassion to the residents of Angels for the Elderly. Prior to working at Angels, Kim stayed home and raised her three boys, Blake, Hayden and Connor. Kim also ran a catering business. Kim enjoys cooking, crafts, and spending time with her family.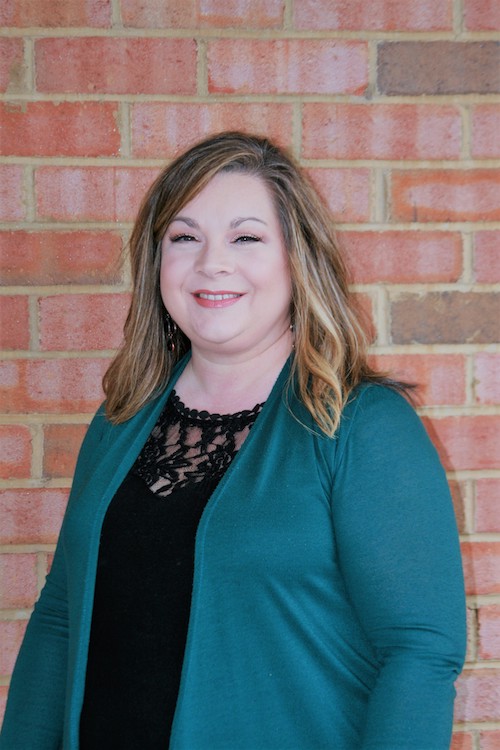 Christy Lawrence
Director of Human Resources
Business Office Coordinator
Christy began working at Angels for the Elderly in March 2012 as an Activity Director and is currently the Director of Human Resources/Business Office Coordinator. Christy came to Angels with the sincere hope of having a positive impact on the residents and enriching their lives.  Christy feels that working at Angels is rewarding and it has enriched her own life in many ways. Having watched her grandfather suffer with Alzheimer's, she has a true passion for those with this disease, as well as their families. Christy grew up in Montgomery and currently lives in Wetumpka.  She is married with three children, two boys, and a daughter in Heaven with her Heavenly Father. She enjoys anything crafty and spending time with her family.
Dr. Donald A. Marshall, Medical Director
Dr. Donald Marshall became the Medical Director of Angels for the Elderly in 2007. He also serves as Medical Director at several other specialty care assisted living facilities, assisted living facilities, long term care facilities, and Hospice of Montgomery. He sees patients in his private practice at Jackson Hospital as well, and is a member of the Jackson Hospital Referral staff. Dr. Marshall graduated with a BS in Zoology from Auburn University in 1969 and then graduated from the University of Alabama School of Medicine in 1973. Dr. Marshall has been very involved in professional and community organizations throughout his career. He currently is serving on the State of Alabama Board of Examiners of Assisted Living Administrators and the Licensure Advisory Board, Alabama Department of Public Health. He is a member of several professional organizations, including American Medical Directors Association and the Alabama Medical Directors Association. He is also a lifetime member of the Auburn University Alumni Association and enjoys Auburn football. Angels for the Elderly is very fortunate to have Dr. Marshall as Medical Director. He makes weekly visits to Angels and is always available when needed to answer calls from the nurses or to talk with residents and their families.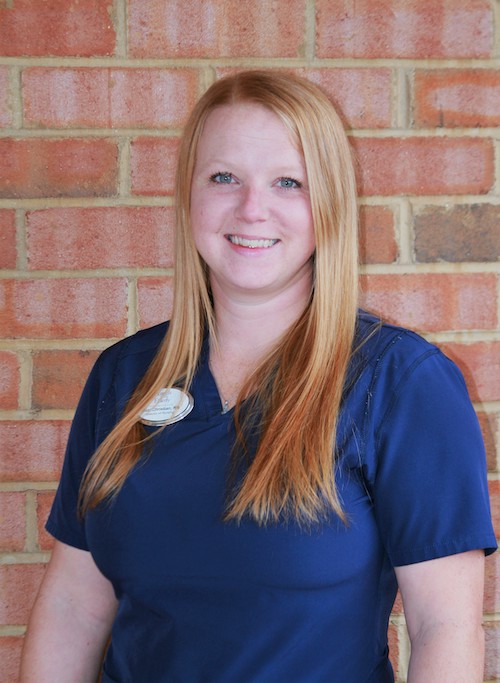 Suzi Christian, RN Director of Nursing
Suzi was hired as the Assistant Director of Nursing at Angels for the Elderly in June 2019 and became the Director of Nursing in November 2019. She graduated from Troy University School of Nursing in 2011. Most of her experience has been in long-term care, but she also has experience in at-home care and acute care. Suzi is married to James Christian and has three sons. She enjoys the outdoors, hunting, fishing, boating, camping, and reading. Suzi has a real passion for working with the elderly, especially those who need extra attention in memory care. She truly enjoys being a member of the Angels family!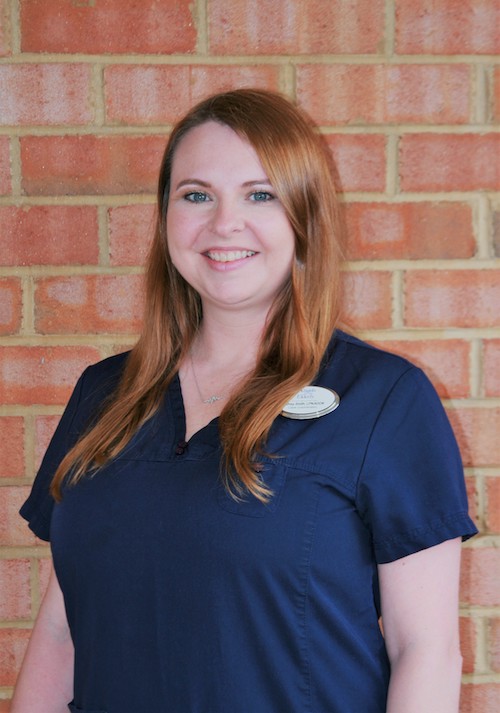 Ashley Smith,
LPN Resident Care Coordinator
Assistant Director of Nursing
Ashley came to Angels for the Elderly in November 2018 as a medication nurse. She became the care coordinator/Assistant Director of Nursing in June 2019. Ashley graduated from nursing school at East Central in Decatur, MS. She has always worked in long term care, specializing in working with residents with cognitive needs. Ashley is married and has two sons and one daughter. She enjoys cooking, photography, hunting, fishing, and spending time with her family.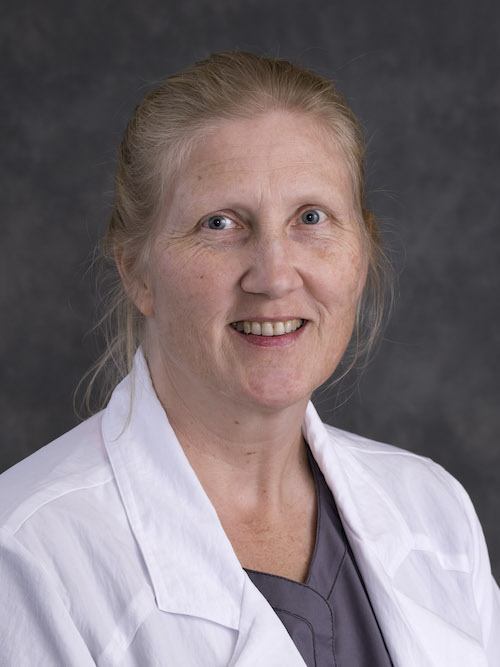 Adelle has collaborated with Dr. Donald Marshall, Medical Director of Angels for the Elderly, treating our residents since 2008. She received her Bachelor of Science in Nursing from Auburn University at Montgomery and became a registered nurse in 1990. She received a Masters of Science in Nursing degree from Troy University in 2007 and a Doctor of Nursing Practice degree from Troy University in May 2014. She has worked with Jackson Hospital and Clinic in Montgomery since 2007 as a certified registered nurse practitioner. Adelle makes weekly visits to Angels to see our residents and is always available if needed between those visits. She has a passion for making sure each resident receives the best care possible.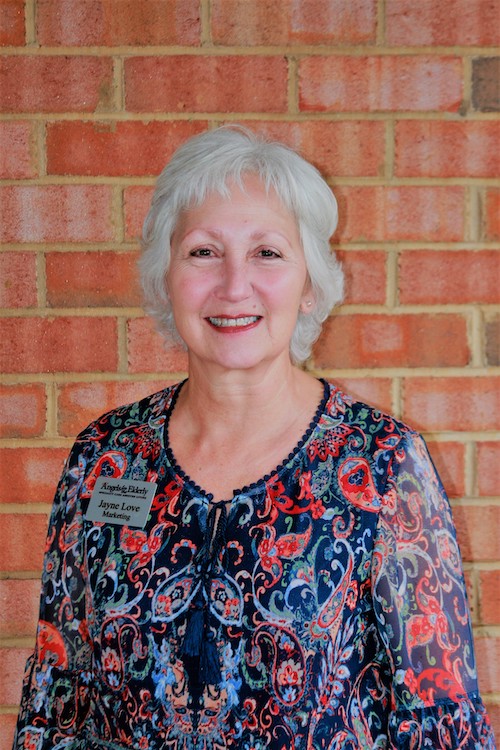 Jayne Love, Activities Coordinator/Marketing
After 37 years as a Career Tech teacher at Lee High School and 3 years of retirement adventures, Jayne Love joined the Angels' staff in January 2018. She and her husband Bill are part of the faith family at Eastmont Baptist where Jayne is church pianist, serves on the Women's Ministry and Guatemala mission teams, and directs the MONTGOMERY PASSION PLAY. Her son Cliff is an RSA accountant, and her daughter Annie is a labor & delivery nurse in VA.
Jayne truly loves working with Martha as they plan enrichment activities that not only engage and entertain but also respect the uniqueness of each resident. According to Jayne, "Enrichment is more than birthday parties and bingo. Carefully planned activities engage the whole person–mind, body and spirit. Sparking joy and sharing life, these activities bring meaning to each new day. One-on-one and group activities are vital to making residents feel at home at Angels."

For years, friends asked Jayne what kind of career she might enjoy after decades in education. She always responded, "I want to work somewhere that I can do two things: be nice to people and talk." Working with the Angels' community, Jayne is proud to call Angels her "home away from home."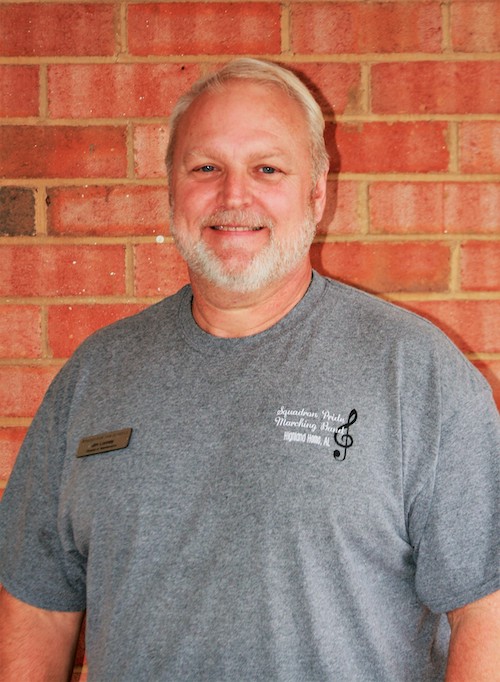 Jim Looney, Director of Maintenance
Jim came to Angels in February 2007 as Director of Maintenance. Not only does Jim keep everything at Angels running, but he also trains employees on proper procedures for fire evacuations and conducts fire drills each month. Jim and his wife Carolyn, who is a school nurse, have been married for over 25 years. They have three grown sons and a daughter who is in high school. They also have three adorable grandchildren. Previously, Jim served as a combat medic in the US Army. He now serves as the Pastor of Danielville Baptist Church and is very involved in supporting his community. Jim shares a special bond with the residents at Angels as his grandmother was also diagnosed with dementia.